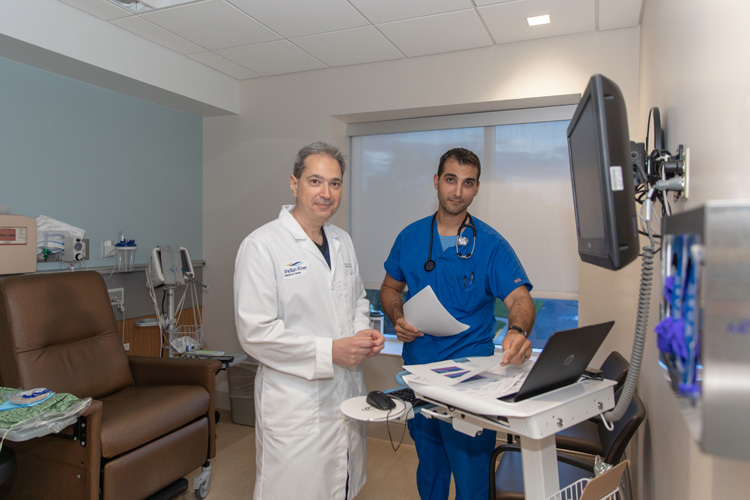 When the $6.1 million Scully Endoscopy Center at Indian River Medical Center opened its doors for the first time this past January, the place was packed.
Today, according to gastroenterologist Dr. Yakov Gitin, there's something other than a ribbon-cutting ceremony bringing people in – some newly acquired and highly-specialized diagnostic equipment.
That new equipment is used for what's known as manometry testing. As Gitin explains, "manometry testing is the way you figure out why people can't swallow."
Or why they have chest pain. Or acid reflux. Or a host of other problems.
"We just got [this equipment] a couple months ago," Gitin continues, "and now that it's up and running, we're very, very busy. Almost every day we have patients scheduled. We also have other gastroenterologists in the area asking us to do this procedure [for their patients]."
That outside interest, Gitin continues, is because "manometry testing is not available everywhere. There are only a few places locally that have the ability to do this, which is why I think we're very lucky to have the foundation get this for us."
Manometry testing uses a specialized endoscope: a thin, flexible, pressure-sensitive tube that can – in most cases – pass easily down the esophagus and measure the rhythmic muscle contractions that occur when patients swallow, providing real-time video images for doctors to study.
So how are people with problems swallowing able to swallow that tube? "Oh, that's a great question," Gitin says. "We had somebody today that couldn't. Most people don't have any problems, [but] there are some exceptions."
The vast majority of patients, Gitin says reassuringly, are able to participate in the procedure.
That's a good thing, because, as the Washington Post reports, upwards of 9 million Americans suffer from a range of swallowing disorders collectively called 'dysphagia,' and these difficulties become more and more prevalent with age.
At least 1-in-5 older adults, says the Post, and nearly 40 percent of all nursing home or assisted living facility residents have some form of dysphagia.
Until quite recently, accurately diagnosing – and properly treating – dysphagia was tricky, at best. Some 50 separate muscles and countless nerves are involved in moving food or liquids from the mouth to the stomach.
Head, neck or chest injuries, cancers, food allergies, inflammation, ulcers, and even the side effects from certain blood pressure, heart and antidepressant medications can all play a role in this problem.
Manometry testing, Gitin claims, allows physicians to properly diagnose the specific problem and then recommend the best available treatment.
"Certain conditions are easy to treat. Others not so much," according to Gitin.
Born in Uzbekistan, Gitin moved to Salt Lake City, Utah, where he went to medical school. He then went on to Harvard Medical School's world-class teaching hospital Beth Israel Deaconess and Boston University for his internship, residency and fellowship work.
Gitin is quick to lavish praise on his colleagues in general, and registered nurse Don Willems in particular.
"Don," Gitin claims, "does 90 percent of the work [involved in manometry testing]. He is the guy who talks to the patients and walks them through the procedure. He is the guy who acquires all the information for us to read."
While simple X-rays used to be the standard diagnostic test for swallowing problems, Gitin points out that with manometry testing, "you can have a longer look and have a much more accurate determination of what's going on with the esophagus."
Specifically, says Gitin, "it allows us to determine which part of the esophagus is responsible for the problem," so the proper treatment can begin.
Dr. Yakov Gitin is with the Scully Endoscopy Center at the Indian River Medical Center. His office is at 3450 11th Ct., Suite 206. The phone number is 772-299-3511.