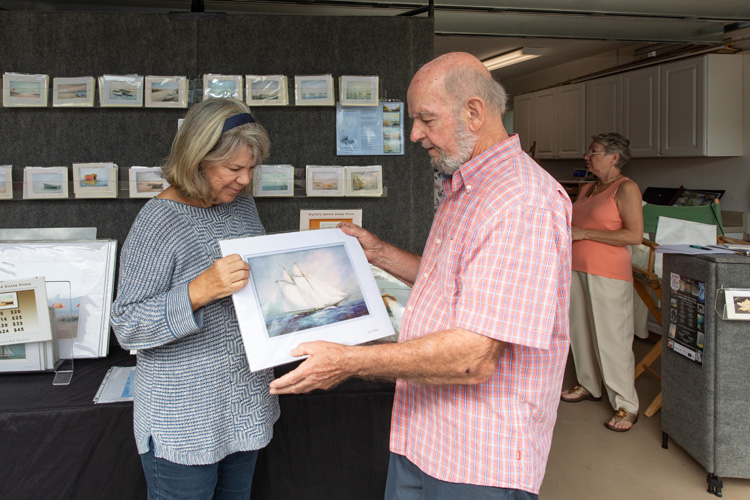 Local artists shared a little of their inner souls last Saturday, giving visitors a glimpse into the magic behind their methods at the 2018 Art Trail, hosted by the Vero Beach Art Club. Ticketholders made their own way to 10 studios throughout Vero Beach, where 13 VBAC members showcased and discussed their works.
Paul Davis, who paints his Davis Marine Art from his Indian River Shores home studio, first became intrigued with the "magic" of mixing colors as a child.
Deciding he didn't want to blend in with everyone else, he switched from painting still-lifes to water, telling himself, "OK, here's the rule. Every single painting you paint has to have water in it. That's all I'll sell."
Davis echoed the sentiments of many of the others when he said "the Art Club unknowingly has made my life. It's just an exciting group."
"Art is therapy," said Heidi Hill, a Flametree Clay Art Gallery artist, who creates pottery, sculptures and paintings from her home studio. "I quit my real job about three years ago to do this full time. I'm usually out here 10 hours a day. It's what I love to do."
"I'm versatile, that's for sure," said Shotsi LaJoie, who paints from her Central Beach home studio and works on clay art at Tiger Lily Art Studios and Gallery. "Right now I'm focusing on larger abstract work. I'm trying to put the paint on in a way that's unique to me."
Ray McLendon's Florida Highwaymen Landscape Art Gallery on 14th Avenue showcased his vibrant work and he also provided space for pastel artist Keri Keen.
"I started with abstracts in the '70s," said McLendon, adding that about 20 years ago he switched to the style of his father, Roy (R.A.) McLendon, an original Florida Highwayman.
"We actually made a bet and I lost the bet. So I had to start painting this. It was kind of funny."
"The artwork that I like to do is historical to Florida," said Keen, a lifelong Floridian. "I like to do a lot of citrus, a lot of landscapes, Florida palm trees, the cracker cattle, the cracker horses."
Well-known pastel artist and teacher Dawn Miller works out of a studio in her Cultural Arts Village house. Of the inspirations for her work, she said, "it has to just have an emotional connection to me." Adding that art is her livelihood, she said "I'm very lucky to be able to do this, both here and at the museum."
Catherine Musham, who paints in oil and acrylics, shared her 100-year-old log cabin studio "fun house" with Sebastian-based artist Sharon Morgan, known for acrylic paintings and intricate mandalas.
"I'm calling these natural abstracts; they're abstracts but I'm drawing from nature in terms of organic shapes," said Musham, a former psychologist. "It's pretty much generated from my unconscious."
"I'm influenced by surrealists. I paint a still-life in my studio and then I make up the background or invent the landscape," said Morgan. "I'm concerned about the environment, so I paint things that talk about destroying the natural lands and overdevelopment."
"I'm whimsical; I think a sense of humor is important," said Ginny Piech-Street, co-founder of Indian River Clay. "The thing about clay is it feeds your soul. Every clay person I've ever met has a big heart."
Vero newcomer Evan Schwarze graciously shared his home studio with Lisa Rose. He prefers oils and she pastels, but their colors and compositions meshed beautifully.
"I like to paint tropical landscape and seascapes," said Schwarze, who began painting as a teenager. He relocated here in July, after exhibiting several times in the juried VBAC Under the Oaks Art Show.
After retiring from interior design, Rose took an art class with Dawn Miller and was hooked. "I just fell in love with it. I was off and running after that and having a ball."
"Art has always been my passion," said Sara Shankland, who creates "wearable art" jewelry using Precious Metal Clay, malleable silver clay that fires to 99.9 percent silver, often incorporating materials collected on their travels such as unusual beads, scarabs, gems and coral.
"We live in this great environment and we need to protect it; we need to love it," said artist Barry Shapiro from his Studio on 60. Shapiro said his current focus is on landscape works with an environmental theme. "It's more about trying to make statements."
Photos by: Denise Ritchie
Click HERE to see more or buy photos