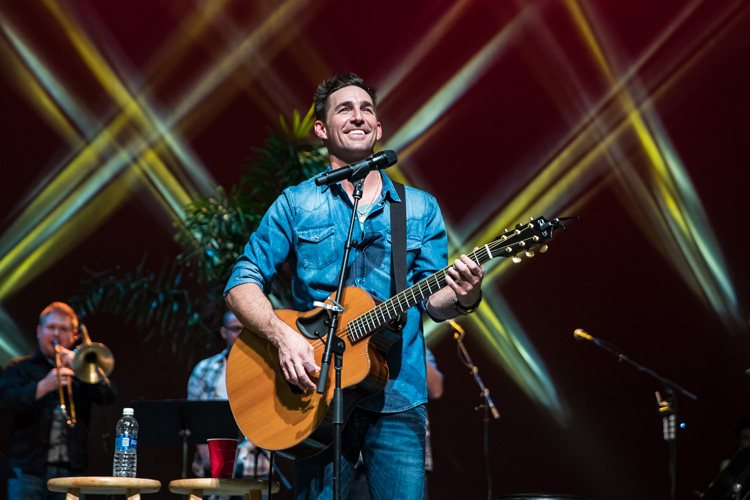 A fun, funny (and award-winning) twist on a Christmas favorite: it's "Jacob Marley's Christmas Carol," coming to the Vero Beach Theatre Guild this weekend, Dec. 7-9, as part of the Guild's Apron Series for Reader's Theatre. This "anthem to human nature and to imagination," says the Guild promo, is the "back story" to Dickens' iconic "A Christmas Carol."
It is the tale of Jacob Marley's heroic behind-the-scenes efforts to save the soul of his old partner, Scrooge, as well as his own. According to tommula.com: The story begins as Marley grumps, "I have to redeem old Scrooge? The one man I knew who was worse than I was? Impossible!" Nevertheless, he sets out with side-kick Bogle, a mean little hell-sprite with an agenda of his own, on a hilarious journey that takes them "from the Jaws of Death to the Mouth of Hell, and beyond!" "Jacob Marley's Christmas Carol" has played in theatres across the country and has been broadcast nationally on NPR for seven seasons. Times: Friday, 7:30 p.m.; Saturday and Sunday, 2 p.m. Tickets: $12.50. 772-562-8300.
Batten down the hatches, wiggle yourself into those skinny jeans, pull on your cowboy kicks and head for the Indian River County Fairgrounds Dec. 8 for the Jake Owen Foundation Benefit Concert – the final stop on his "Life's Whatcha Make It" tour. Singer/songwriter Owen is, of course, our very own hometown country star, born and raised in Vero Beach. Lots of us can remember an early concert here, when – with painted-on jeans and a zillion-kilowatt grin – he blew us all away with his first big hit single, "Yee-Haw!" Along the way, he's scored the Academy of Country Music Top New Male Vocalist for 2009; and, in 2012, the American Country Awards Breakthrough Artist of the Year; and a bushel of hit singles including "Barefoot Bluejean Night," "Eight Second Ride" and "Something About a Woman." Now, several years and a pick-up truckload of fame and fortune down the road, he'll be bringing along a trio of pals: special guests Joe Diffie, Chris Lane and Morgan Wallen. According to Wikipedia, Diffie charted 35 singles on the Billboard Hot Country Songs chart, five at No. 1, including "Home," "Third Rock from the Sun" and "Pickup Man," and a dozen others made the Top 10.  Coincidentally, like Owen, singer/songwriter Lane has a twin brother. Before going solo, he fronted the Chris Lane Band, which charted on the 2012 Billboard Top County Albums. Solo, Lane has opened for a number of top bands, including Florida Georgia Line on their "This Is How We Roll" Tour. Wallen has released three singles: "The Way I Talk," "Up Down," which featured Florida Georgia Line, and his current single "Whiskey Glasses." Gates open: 4 p.m. Concert: 5 p.m. Tickets: $45-$150. jakeowenfoundation.org.
A satisfying and heartwarming holiday tradition: Gather family and friends and share one of the several winter concerts presented by area schools this season. They're a fine way to bolster your holiday spirit, and they wonderfully showcase our community's talented young musicians and vocalists. One such is the "Winter Wonderland" Winter Concert featuring the students of the Vero Beach High School symphonic and jazz bands, chorus and orchestras, Dec. 9-10 at the VBHS Performing Arts Center. The concert promo describes "Winter Wonderland" as "a celebration of warmth, joy and festivity for the entire family." Time: Sunday, 2 p.m.; Monday, 7 p.m. Tickets: $10 and $15. 772-564-5537.