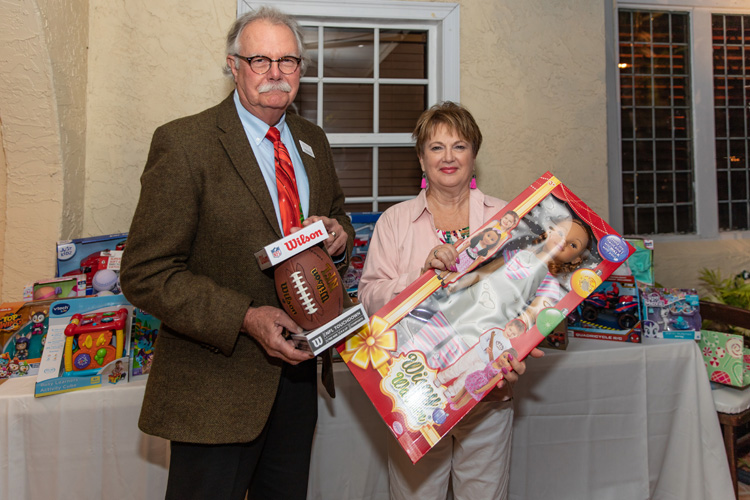 Guests mingled poolside at the Caribbean Court Boutique Hotel last Thursday evening, watching as a pile of toys grew higher at Blondie's 12th annual Toy Drive and Fashion Show to benefit SafeSpace, hosted by Trish Hickey-Jones.
Hickey-Jones, formerly the owner of Blondie's on Ocean, recently launched Blondie's Fashion & Frills, an online boutique, and used the opportunity to debut some of her collection while making the holidays a little brighter for the women and children assisted by SafeSpace.
"One of my models, who's also on the board of SafeSpace, told me a story that made my mouth just fall open; I was in absolute shock," she said, recalling why she first began hosting the annual event. That particularly tragic case involved a badly beaten woman who was killed by her husband after she returned home from the hospital.
"I have all of my same models that I used to have with Blondie's on Ocean," said Hickey-Jones. "I called them and they were thrilled to do it again."
The five ladies – Lisa Green, Melissa Mittag, Lewanda Dupree, Jan Fleischer and Laura Guttridge – each modeled six lovely outfits, shivering a bit in the chilly night air as they circled the pool to show off the fashions, before returning for a quick change and a warmup.
Earlier in the evening, Tom Manwaring, a SafeSpace development associate, spoke a little about their services.
"We're saving and changing lives," said Manwaring. "We really are probably regarded as the most comprehensive provider of resources in the state of Florida, from prevention all the way through to after-care."
In terms of housing, SafeSpace has one 12-person Supported Living facility in Vero Beach for women without dependent children, who would otherwise have no place to go. The women can reside there up to 18 months to stabilize themselves. In Martin County, their Emergency Shelter can house 60 people at a time, generally at a ratio of about one woman to two children. The average length of stay there is 6 to 8 weeks, meaning hundreds of women and children every year.
Toys from the event will be secreted in a room where mothers in the shelter can choose up to five gifts for each of their children.
About four times as many women are assisted through their Nonresidential Crisis Intervention programs.
As Manwaring explained, "We will work out a safety plan and determine lethality – how lethal is he? Does the batterer beat you with a hand, with a bottle; does he torture pets to frighten you? Does he choke you? I always like to say that if a batterer uses choking as a method to control a woman, she is seven times more likely to end up the victim of a homicide."
Comprehensive prevention programs include going to schools to talk about healthy relationships and parenting, and a new legal service with four full-time attorneys provides women with much-needed assistance with injunctions and court appearances.
"This is a marvelous event; it really helps out," said Manwaring. "Many women come in with just the clothes on their back. They're escaping, they're frightened, they're battered; it's terrible, terrible stuff and all too common."
For more information, visit safespacefl.org.
Photos by: Denise Ritchie
Click HERE to see more or buy photos