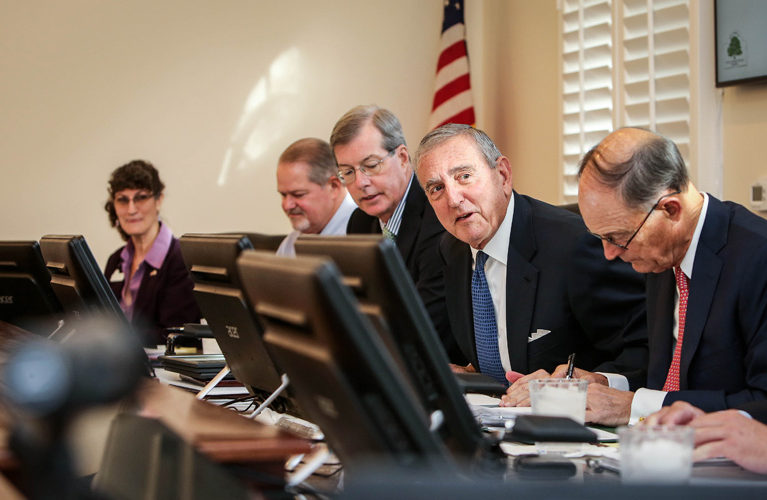 In one of the few elections not marred by litigation or recount, the Town of Indian River Shores elected two new members who were welcomed onto its town council after the November election.
Richard Haverland was term limited and Michael Ochsner was defeated on Nov. 6, vacating two seats now filled by John's Island resident Jesse "Sam" Carroll and Pebble Bay resident Brian Foley.
The new five-member council returned the gavel to Mayor Tom Slater, who took over for Brian Barefoot this summer, and selected Councilman Bob Auwaerter as vice mayor. Auwaerter, in addition to serving on the town council and on the Indian River County School Board Auditing Committee, has played a crucial role in Vero electric utility matters and actively represents the Shores in the Florida League of Cities.
One of the first things Carroll did was to successfully nominate his own replacement, plus a second member of the town's fire and pension board to continue the work he started keeping an eye on that fund, which is the town's largest investment asset, and therefore the taxpayers' largest risk.
Carroll worked for 41 years as an investment representative, most of that time with Morgan Stanley. His board service includes the Oceanside Homeowners HOA, Board of Governors of RedStick Golf Club Vero, and two decades of service on education and church boards, including his undergraduate alma mater, the University of the South in Tennessee.
Carroll has owned property in Indian River Shores for 22 years, and earlier this year made Florida his primary residence. Carroll was moved to run for council, he said, after serving a year on the Town's Police Pension Board, which he said was an "enlightening experience."
Foley has owned property in Indian River Shores for 12 years and been a full-time resident for four years. An attorney for the past 34 years, Foley is licensed to practice law in three states.
In 2016, he retired as Vice President and General Counsel of TriStrata Company Inc. in Princeton, N.J. Before law school, he played professional tennis, and he remains an avid amateur golfer and is a former Chairman of the Board and President of Westchester Country Club. Locally, Foley is a member of the Republican Executive Committee.
A 13-year resident of The Estuary, Ochsner said after the swearing-in meeting that he wasn't sure if he would continue to serve the Shores in an official capacity on a committee right now, that he's "got a lot of things to do."
A retired CFO, Ochsner was active on the town's finance commission prior to and between his two stints on council, once elected and once appointed when Slater stepped down mid-term for health reasons. Ochsner and his local extended family are involved with Calvary Chapel where Ochsner serves as an administrative pastor.
Haverland, however, took no such hiatus. He jumped right back into the fray, applying and being appointed to serve on the town's finance committee. Management of the budget was a top priority for Haverland in his nearly eight years in office.
Haverland's second term was cut short by four months with the town's cost-saving decision to move municipal elections from March to November.
Four major projects – the cell tower, the new community center, the Old Winter Beach stormwater and repaving project and the sale of Vero electric to Florida Power and Light seem to all be in the final stages or at least well underway.
The first major task for the new council will be selecting the next town manager to replace Robbie Stabe, who announced his retirement nearly six months ago but has stayed to provide continuity until a replacement can be named.
The town has hired executive search firm The Mercer Group to recruit and screen candidates for the job, which offers compensation in the $125,000 range, plus benefits. Town council members plan on starting the interview process in the coming weeks.