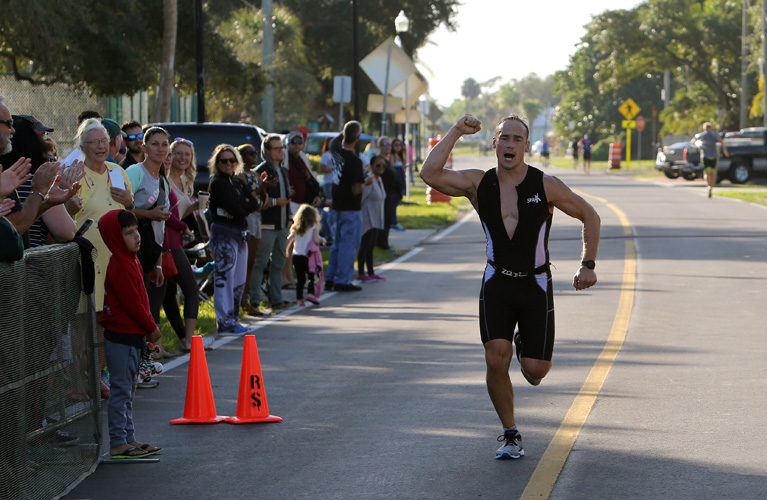 Triathletes rose with the sun recently to answer a challenge to "Get off your ass and save some seagrass!" at the sixth annual Capt. Hiram's River Challenge Sprint Triathlon.
Symbolically, the No. 3 represents harmony, wisdom and understanding. All three qualities also are representative of the goal of the three-sport triathlon – to raise awareness of the perils facing the Indian River Lagoon and raise funds to benefit a trio of organizations looking out for the lagoon's best interests.
At the start of the race, a record-breaking 225 athletes, ranging in age from 13 to 72, plunged into the icy waters of the lagoon from the resort's Sandbar to compete in a 1/4-mile swim, before hopping on bikes for a 12-mile ride and concluding with a 5K run along Indian River Drive. Participants were cheered along the way by friends and family members tooting horns, shaking cowbells and waving signs of encouragement. Once all the race warriors had crossed the finish line, everyone gathered for an award ceremony with live music and breakfast.
"Our goal is to put on a fun and unique race. We have an awesome venue," said Sam Vash, race director. "The race showcases all of our amenities as far as living on the Treasure Coast, highlighting Sebastian. We're giving back to the river and creating a fun environment for people."
The local environmental nonprofits selected by Capt. Hiram's to benefit from the triathlon were the Coastal Conservation Association, the Environmental Learning Center and the Ocean Research and Conservation Association.
Ed Donner was overall winner, with a course record-setting time of 54:39, and Megan Buchanan was the top female finisher at 1:03:25.
Photos by: Leigh Green
Click HERE to see more or buy photos