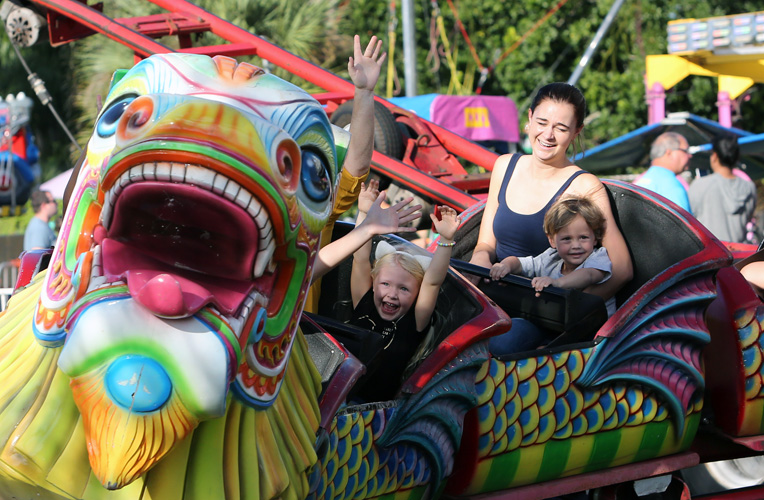 The 54th annual St. Helen's Harvest Festival reaped a bushel of family fun during the four-day event on the grounds of Historic Dodgertown. There was even more to cheer this year with Centennial Celebrations taking place for both St. Helen's Catholic Church and the City of Vero Beach.
As attendees meandered down the midway, they snacked on carny foods while enjoying all the festival had to offer. Little ones rode the carousel with wild abandon, zipped down the super slide and took a spin on the teacups, while bigger thrill-seekers experienced zero gravity and got lost in the house of mirrors.
People could also play an assortment of old-fashioned carnival games, could show off their football and baseball athletic skills, or their muscles as they attempted to ring the bell at the Strong Man's booth. Handcrafted items were snapped up at the Lady Bug Boutique and a cake walk enticed those with a sweet tooth.
"It doesn't get more hometown than this," said Gerri Smith, as she delivered freshly made donuts to a patron. Pointing to Karen Egan, hawking cake walk chances, she added "there are so many people here that have been coming for years. Mrs. Egan used to get my mother to volunteer and now she has me doing it."
It's a family affair for event chair Melissa Frandsen, who said she has been coming to the festival since before she could walk.
"My grandfather, Frank Zorc, made some of the first games for the festival," she said. "My parents brought me when I was little and now I bring my children."
Frandsen said the festival had its origins when one of the parish priests wanted the church to host an event that would connect the church, the school and the community. It has continued to grow over the years and, if the crowds streaming down the midway were any indication, the connection they made is still going strong.
Photos by: Leigh Green
Click HERE to see more or buy photos