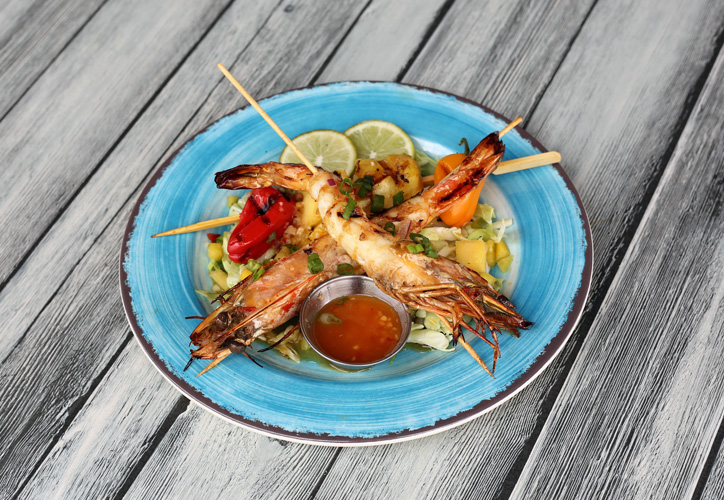 Can two young guys who half a short lifetime ago were classmates at St. Helen's successfully bring the dishes and drinks of Hawaii to Vero Beach?
That's the challenge facing surfer dude Zak Schmitz and David Bedford, two twenty-somethings who a couple of weeks ago opened Ono Luau in Vero's old downtown.
This is the first venture into restaurant ownership for the pair – Schmitz worked at Kountry Kitchen and Bedford at the Lemon Tree – and while these two young entrepreneurs certainly aren't starting small with the large space previously occupied by the Osceola Bistro, neither seems at all daunted by the enormity of the task ahead.
Headline news: For better or worse, this is not your father's Trader Vic's. Chef Zak, who trained at the Culinary Institute of America, is attempting to bring authentic island tastes to Vero. But getting the dishes right is clearly a struggle, and at this stage, Ono Luau does not project much of a Polynesian ambience.
Look & Feel: The attractive iron entry gates of the old Osceola Bistro have now been replaced by a bamboo fence, which from the outside, hides the fact that the lush courtyard garden of the Osceola – once Vero's prettiest, most elegant al fresco dining area – isn't so lush anymore. The Hawaiian Islands are beautiful, and Ono Luau could use some beautifying.
Food: On our first visit, we started with an order of poketacos. This consisted of chunks of poke – the popular Hawaiian marinated raw tuna – stuffed into taco shells, which were set atop smashed avocado and drizzled with a touch of wasabi ($8.95). Very tasty, with just a bit of a kick.
Then I ordered the Huli-Huli Chicken ($12.95) and my husband had Bruddah Zak's Luau Pork ($14.95).
The slow-cooked chicken, turned on the wood grill until it was golden brown, was topped with a guava barbecue sauce. The chicken was moist, had a nice smoky taste, and was very flavorful.
My husband's pork was slow cooked in banana leaves with black Hawaiian sea salt, and came to the table wrapped in a banana leaf pouch. It was very much like Cuban pulled pork. All entrées are served with rice and a choice of sides.
On a second visit with a companion, we tried two appetizers: the poketacos again (not as good as the first time) and pork potstickers (also $8.95). Stuffed with pork and cabbage and deep fried, the potstickers were served with ponzu sauce.
Then for entrées, I tried a half-rack of the imu ribs ($18.95), my husband ordered the teriyaki salmon ($18.95), and our companion went for the macademia nut crusted dolphin ($19.95).
The ribs, slow smoked in banana leaves and bamboo shoots, then charred on the wood grill with guava barbecue sauce, had a smoky taste and the meat fell off the bone. But neither my husband nor our companion thought their seafood dishes were anything special.
Drink: While Ono Luau offers a variety of creative Polynesian drinks, it has at this point an absurdly limited wine selection: a choice of pinot grigio or pinot noir. What it features is a medium-bodied wheat beer with a pineapple taste from the Maui Brewing Company.
Service: Service was very attentive, but the restaurant was far from crowded.
Prices: Prices for starters range from $4.95 to $8.95, with entrées running from $10.95 to $22.95.
Initial impressions: Ono Luau is an extremely ambitious undertaking for two eager young restaurateurs. Can they pull it off? Time will tell.
I welcome your comments, and encourage you to send feedback to me at tina@verobeach32963.com.
The reviewer dines anonymously at restaurants at the expense of Vero Beach 32963.
Ono Luau
Hours: Daily 11 a.m. to 10 p.m.
Beverages: Full bar
Address: 2045 13th Avenue, Vero Beach
Phone: 772-999-2657