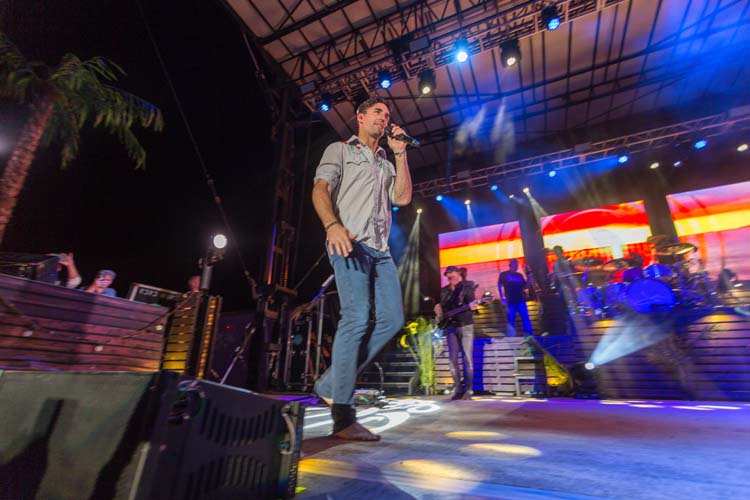 VERO BEACH — The Vero Beach and Indian River business communities are coming together for one of their own, country music superstar and Vero Beach native Jake Owen.
A record number of area business and individuals have signed on as sponsors for the Jake Owen Foundation Benefit, December 7-9, in Vero Beach. Bud Light and Miller's Ale House are the newest additions to the sponsorship roster, each signing on this week as an Official Sponsor.
The annual charity event will continue the successful history of increasing awareness and raising funds to assist youth nationwide through St. Jude Children's Research Hospital, and in Indian River County through the Boys & Girls Club of Indian River County and other local charities. Today, the Jake Owen Foundation has expanded its mission of helping people in the places they call home while supporting the beneficiaries who have been a part of the Foundation since its inception. Founded in 2010, the Jake Owen Foundation has raised more than $1.4 million since its' first fundraiser in Vero Beach.
"The business communities in Vero Beach and Indian River are truly one-of-a-kind," said Steve Owen, Vice President of the Jake Owen Foundation and Vero Beach resident. "These partners all ask how they can help, and then they step up and do it. Their support for Jake and his mission of helping children in need is tremendous."
Steve Owen is also expecting a great turnout from country music fans. "We are hearing from fans all over the state who are excited about the concert with Jake, Joe Diffie, Chris Lane and Morgan Wallen at the Indian River County Fairgrounds on December 8. A concert ticket not only gets them an exciting show, but it will go a long way to make a difference in the lives of children."
The charity weekend kicks off Friday night at the Vero Beach Country Club with "An Evening with Jake", a VIP reception and performance sponsored by Dale Sorensen Real Estate. Guests will enjoy a dinner, auction and a special intimate Jake Owen performance.
Hale Groves, Florida's largest gift fruit shipper, is the title sponsor for the two-day golf tournament at Vero Beach Country Club, December 8-9. The lineup for the Hale Groves Indian River County Grapefruit Golf Pro-Am Invitational Tournament is expected to include Owen, NASCAR Champion Kevin Harvick and PGA star John Daly.
Teams for the Hale Groves Indian River County Grapefruit Golf Pro-Am Invitational and tickets for the VIP event are sold out, however event organizers have added a few limited sponsorship packages which are available for both by calling C & H Events at 561.394.9190.
The backing of the impressive lineup of sponsors and patrons will result in an equally impressive concert lineup for thousands of country music fans when Owen hits the big stage at the Indian River County Fairgrounds on Saturday, December 8, for the Jake Owen Foundation Benefit Concert. The benefit concert will be the final stop on Owen's 2018 "Life's Whatcha Make It" Tour. Owen will be joined by the legendary Joe Diffie, chart-topping country star Chris Lane and platinum-selling country breakout artist Morgan Wallen. Gates open at 4:00 p.m., with the concert set to begin at 5:00 p.m.
Tickets for the Jake Owen Foundation Benefit Concert are available at the Jake Owen Foundation website (www.jakeowenfoundation.org) or by calling 866.333.7623. General admission tickets are $45, with premier reserved seats available for $100. After the original allotment of pit passes quickly sold out, concert organizers have opened up a limited number of additional pit passes for $100. A VIP ticket package is also available for $150, which includes a reserved premier seat, a limited-edition Jake Owen Foundation t-shirt and early entry. The Jake Owen Foundation Support Sponsor ticket package includes eight reserved premier seats in the first 10 rows, a listing on the sponsor board and a limited-edition Jake Owen Foundation t-shirt for $1,200.
The VIP Reception sponsor for An Evening with Jake is Dale Sorensen Real Estate. Official event sponsors for the Jake Owen Foundation Benefit include Bud Light, Hale Groves, Miller's Ale House, Riverside Café and iHeart Radio (WAVE 92.7). Gold sponsors are George E. Warren Corporation, RiverView Senior Resort, Gibson Produce, Jim & Billie Ellis Foundation, John's Island Real Estate, Cheryl Martin, The Pitcher Family, Bob and Marta Schneider, VERO Spin, and Jennifer M. Watson. Silver sponsors are Addiction Campuses, Proctor Construction, Proximo Spirits, Seaside Construction and The Yates Family.
The Vero Beach Country Club is the host venue for both the VIP event and golf tournament, and the Kimpton Vero Beach Hotel & Spa is the host hotel for the weekend.
For more information on the Jake Owen Foundation, please visit www.jakeowenfoundation.org. For sponsorship opportunities and VIP packages, contact Michele Cope at 561.394.9190 or via email at MLCope@chevents.com.