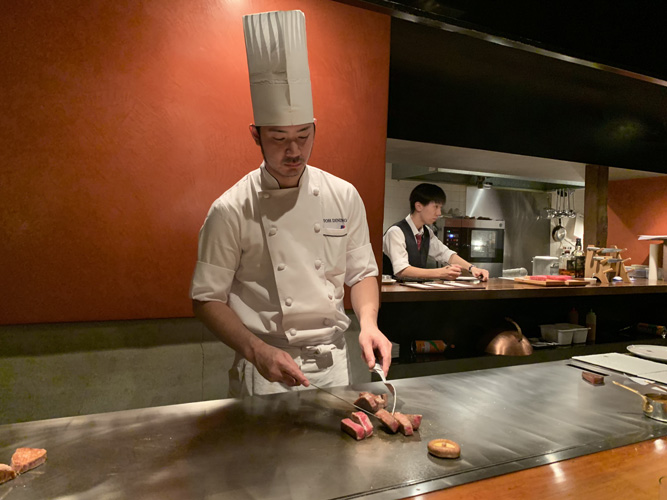 On a visit to Japan, it seemed like the thing to do was try real Kobe beef. Not the Australian wagyu, nor the American wagyu misleadingly passed off by many restaurateurs as "Kobe-style" beef. The real A5 Kobe beef from the Tajima breed of cattle raised in the prefecture of Hyogo.
And for a two-fer, what better place to try it than at a Japanese outpost of celebrity Chef Nobu Matsuhisa?
To achieve this, our guide helped us book a reservation at Itoh Dining by Nobu – an unpretentious restaurant in a traditional Japanese townhouse in the geisha section of Kyoto.
Once we had made it down a dark alleyway, we were ushered into a surprisingly bright, modern restaurant. To our surprise, we were invited to take two of the 10 chairs at a long counter in front of the teppanyaki-style grills where all the action takes place. What a treat!
Rather than ordering a la carte, we decided to go with the six-course prix fixe menu.
The first course we were served consisted of autumn salmon and vegetables tartar, with dill and botargo. The veggies used in this dish came, we were told, from farms near volcanic Mount Fuji. Extremely flavorful.
Next came a bowl of porcini and mushroom soup. I love mushrooms, and this was a wonderful mushroom soup. The third course was pescatore – a mix of Japanese noodles and seafood.
The fourth was grilled fish served with a Yuzu miso sauce and ginger. While Chef Nobu's signature dish is black cod with a miso sauce, the fish on this occasion was seabass freshly caught, we were told, off the Japanese island of Shikoku. Perfectly seared.
Then came the piece de resistance – 100 grams of Kobe beef served in a half-dozen bite-sized chunks with a wasabi and pepper sauce. Cooked to perfection with a couple of garlic chips on top, it struck me as being just a tad leaner than the Kuroge steak (also an A5 from Japan, but from a different breed of cattle) that we sampled at Citrus Grillhouse a few years ago.
In this case as at the Citrus, the beef was so rich and buttery you wouldn't want an Angus-prime-sized portion. The largest Kobe offering on the Itoh menu was 150 grams.
Finally, we finished with a cassis and chocolate millefeuille. A great end to a decadent meal.
While this wasn't inexpensive (nothing in Japan is), and I suspect there are a half-dozen chefs in Vero as talented as those who actually preside over the many global restaurants that have sprung from the entrepreneurial inclinations of Chef Nobu, I now have checked genuine A5 Kobe beef off my bucket list of culinary experiences.
And I've had my Asian food fix. Next week: Back home in Vero.
I welcome your comments, and encourage you to send feedback to me at tina@verobeach32963.com.
The reviewer dines anonymously at restaurants at the expense of Vero Beach 32963.