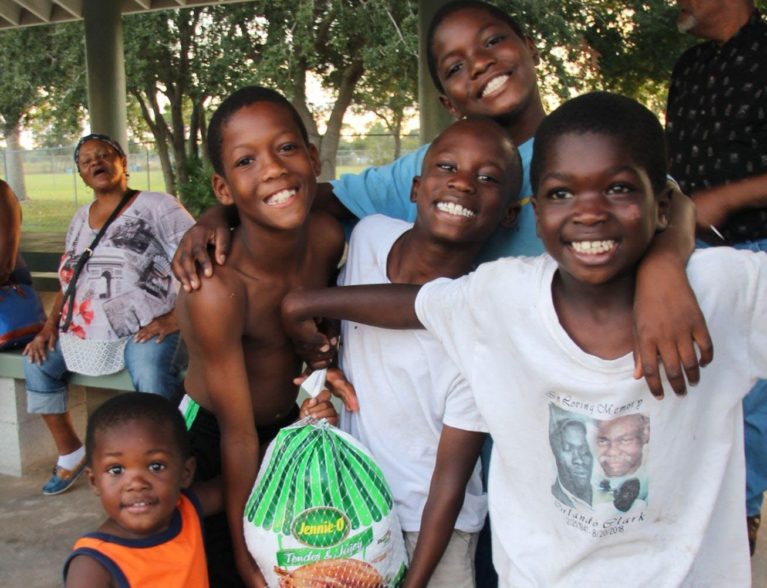 Photo provided by GYAC of the Noble family receiving their turkey at the giveaway event.
GIFFORD — It started with a knock on the door.
Children inside a Gifford home Tuesday came to the front door to see community leader Freddie Woolfork standing with a box of food and a fresh turkey. While no adults were home, the children, who knew Woolfork, allowed him to bring the food inside.
"No one answered but I could hear children inside," said Woolfork, director of public relations for the Gifford Youth Achievement Center, in a statment. "I told them that I know they were not supposed to open the door, but it was Mr. Woolfork and I was bringing them food for Thanksgiving."
Woolfork was among other community volunteers and donors who came together Tuesday to make sure families in need were not left out this Thanksgiving holiday. The group hosted a turkey giveaway at a park pavilion and went door to door delivering holiday meals, officials said.
Pastors or neighbors gave Woolfork information about which families were in need of turkey or food. Some of the families had run out of options.
Woolfork, a longtime community leader, received a call from the children's grandmother later that evening.
"She said, 'I could not go to bed tonight without calling you and thanking you. You are an angel,'" Woolfork said in a statement. The grandmother told Woolfork, "When I got home and saw that box of food, I said 'Thank you Jesus!"
"If someone had not been watching out for that family and told me about them, they might not have had food for their Thanksgiving dinner," Woolfork said. "It literally gave me chills to know how much it meant to them."
Woolfork, his wife, and Indian River County sheriff's deputy Teddy Floyd delivered food to homes in the neighborhood. The GYAC, the local NAACP branch and the sheriff's office also gave away more than 200 turkeys Tuesday to families in need at the Victor Hart Sr. Community Enhancement Complex, 4715 43rd Avenue.
Woolfork and Floyd helped to coordinate the 12th Annual Thanksgiving Turkey Giveaway, officials said.
The Mardy Fish Children's Foundation, along with community partners and individuals, assisted with payments for the event. Tom and Sally Fish of the foundation came to the giveaway and presented Woolfork and Floyd with a $1,000 check to cover half of the turkey budget, officials said.
It cost at least $2,000 to buy the turkeys.
"We're just really excited to help," Tom Fish said in a statement. "It's a great cause; Teddy and Freddie are true heroes of the community and they're doing all the hard work.  The Mardy Fish Children's Foundation is excited to be here."
For organizers, however, the hard work is not over just yet. Floyd and Woolfork plan to start the Gifford Christmas Toy Drive this week.
Photos provided by GYAC