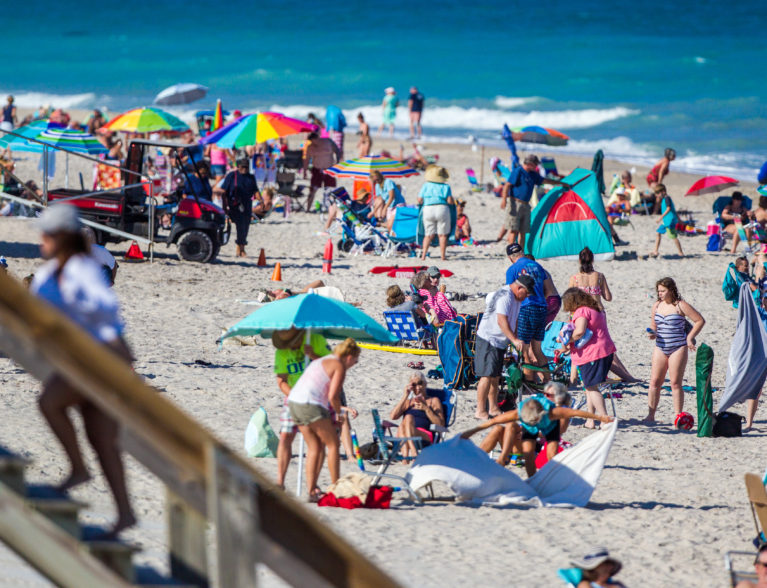 Vero Beach got hit by red tide in the second half of October, but the fleeting infestation of toxic algae in the ocean along our shores failed to dampen the island's powerful luxury real estate market.
Seven oceanfront or ocean-adjacent homes priced at more than $1 million, with a combined listing value of $19,289,000, went under contract while  number of islanders were coughing, sneezing and rubbing red eyes.
Brokers and agents who continued showing houses did a good enough job explaining that red tide is a naturally occurring phenomenon that is very rare in Vero Beach – its last appearance was 10 years ago – that buyers were still willing to sign on the bottom line to purchase homes up and down the island, from The Moorings to Orchid Island.
Premier Estate Properties Broker-Associate Cindy O' Dare put two of her listings under contract in the red tide period, between Oct. 15 when it first arrived and Oct. 31 when beaches reopened, one on Ocean Drive listed for $4,695,000, and one on Seaspray Lane in Orchid Island listed for $2,999,000.
"Everyone remarked on it," says O'Dare, "but when I told them it was natural and how long it had been since we've had it, that reassured them."
Agents at Dale Sorensen Real Estate, including Sarah Tafoya, Tripp Hernandez and Elizabeth Sorensen, put three island homes listed at more than a million dollars each under contract while the algae was sloshing around offshore.
Judy Hargarten at The Moorings Realty Sales Co. and Kim Thorpe at Treasure Coast Sotheby's also put million-plus listings under contract, Hargarten on Windward Way, just a few hundred feet from the ocean, and Thorpe at 1019 Gayfeather Lane, an oceanfront townhome in the East End development. Berkshire Hathaway HomeServices agent Dan Downey brought the buyer in that transaction.
"It was difficult to show oceanfront properties and some people wore masks while doing so," says Berkshire Hathaway Managing Broker Carol Prezioso. "Most, however, just made a beeline from their car to the front door. Our realtors did continue to show oceanfront homes and we did have several go under contract during that period."
"For my clients, there weren't necessarily long-term concerns – more so short-term concerns," says Elizabeth Sorensen. "I had one client postpone their trip to view property, but the rest made the effort to see property even when coughing and sneezing. There were a number of questions about how often we have experienced red tide."
Sorensen addressed concerns by giving buyers "research that our broker provided to all agents about red tide. I also had a few long-term Vero residents and clients available to speak with customers about their experience with our beaches and algae blooms in the past.
"All in all, my clients were aware and concerned, but it did not deter them from making Vero their home!"
The red tide algae, which killed tons of fish and put a sting in the island's air for two weeks, cost beachside hotels and restaurants nearly a million dollars, according to the Indian River Chamber of Commerce.
It arrived in Vero Beach after an unusual confluence of storms and currents combined to carry the algae around the bottom of the state, through the Keys to the Atlantic, where the Gulf Stream carried it north.
Happily the gulfstream also eventually swept it away, returning our beaches to their usual beautiful condition and leaving the island sub-tropical air fresh and sweet.