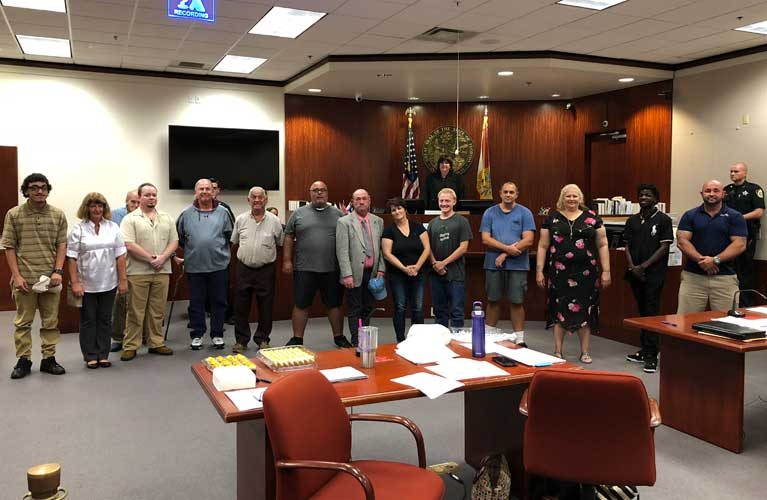 According to Judge Cynthia Cox, it's saved Indian River County millions of dollars and made the community safer. At the same time, the county's Mental Health Court program has helped hundreds of people often marginalized by society become productive citizens by providing them services, instead of jail sentences.
The program, which was launched in 2014, put its success on display with a recent graduation ceremony that honored 20 participants who have completed the program's rigorous requirements.
"I'm so proud of each and every one of you," Cox told the graduates, who gathered in her court chambers at the county courthouse on Oct. 30. "Today is the beginning of a new phase of your life and it is a day you should be proud of."
Since the program's inception, 90 participants have graduated by completing therapy, residential treatment, taking prescribed medications and abstaining from illegal drugs. Another 137 people are currently enrolled in the program, which is powered in part by the incentive that criminal charges against graduates are dropped.
Participants must complete workshops that help them develop better communication and decision-making skills, learn anger management, develop self-confidence and learn how to search for and secure jobs.
The average participant usually takes about 18 months to complete the program. Some people have completed it in as little as six months, others take longer.
"It hasn't been an easy two years," said Candance Clifford, one of the recent graduates. "I've participated in other substance abuse programs over the years. But nothing ever stuck because I was just going through the motions."
The difference is the ongoing services provided through the Mental Health Court program and the accountability it requires, she said.
Clifford, who suffers from severe depression and mood swings, spent many decades attempting suicide, drinking heavily and getting into brawls. The medications she takes now help control her moods and her new coping skills have made her more confident.
"Having a team to back me up, a great therapist, a wonderful sponsor, is the difference," Clifford said. "That's why I believe this time I'm going to be successful. I realize now the importance of having a strong support network."
Even though she has completed the court program, Clifford plans to continue seeing a therapist and attending support groups while living with her daughter and 13-year-old grandchild.
"I want to have the kind of relationship with my daughter that we've never been able to have before," Clifford said. "I want my grandson to be proud of his grandma."
It was Cox and Sheriff Deryl Loar who worked together to launch the program in Indian River County. That effort was prompted by a shared concern that they often saw the same people return repeatedly to their courtroom and jail cells. An overwhelming majority of those repeat offenders suffered from mental illness.
Several years in, their efforts appear to be working.
Mental Health Court graduates have maintained a recidivism rate of less than 8 percent verses an 80 percent rate in regular felony court.
That reduction has saved the county millions of dollars in court costs and by freeing up jail space, Loar and Cox said.
It's also saved lives.
Marshall Morton of Port St. Lucie, who graduated from the program in October, was one of those repeat offenders for many years.
Like many of the other graduates, Morton's story is a painful one. As a child, he was the victim of sexual abuse and bullying at school. He kept those incidents a secret, never telling his parents or anyone else about it.
Despite the pain his memories cause him, Morton, 46, was eager to share his story. He hopes by speaking out, others will find the strength to report what he didn't.
"Over the years I took that hurt and pain and let it define who I was," Morton said. "I hated, no, loathed myself. Drinking was the only way to numb myself."
Participating in the program allowed him to address the things that had happened to him, he said. He also learned to forgive those who hurt him, and make peace with himself.
He now works for an agency that helps other people who have addiction programs and mental illness.
The Mental Health Court has several funding sources, including $200,000 annually from the county commission, funds that Loar is credited with lobbying for. The program also receives up to $25,000 per year from the Indian River County Alcohol and Drug Abuse Trust Fund for indigent drug testing.
An additional $400,000 state grant pays for one case manager, a therapist and two peer specialists. It also pays for some housing and drug treatment, Cox said.
Capt. Adam Bailey, from the sheriff's department, is one of 10 representatives who form the program's core team. The core team meets regularly to make sure the various agencies involved are working well together and providing the needed services.
"Everyone has an important role to play," Bailey said. "It's unique to have a law enforcement collaborative like this – everyone is involved, including the state attorney's office. But it's Judge Cox who makes it all work.
"She has a lot of compassion that you don't always find in many people in her position."
"I love the program," Bailey added. "It's a breath of fresh air to see people stay out of jail."