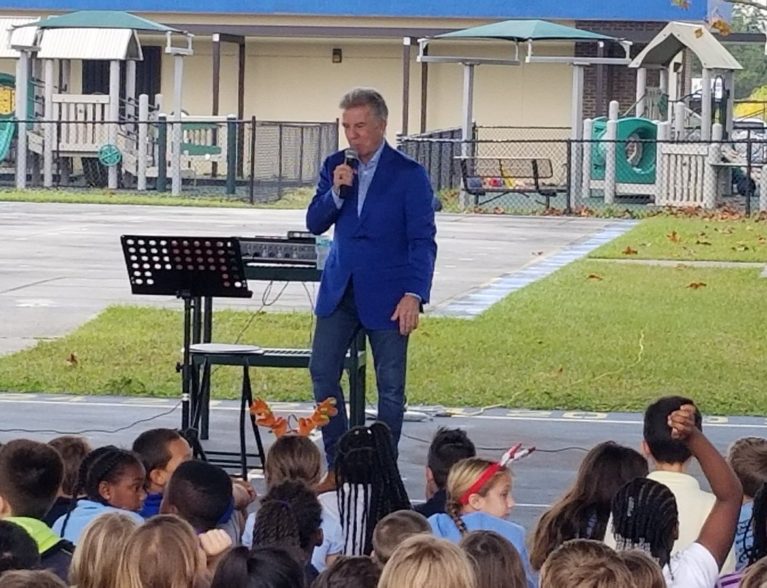 Photo of John Walsh previously taken by IRC School District at Pelican Island Elementary Dec. 21, 2017
Victims' rights advocate and Vero Beach resident John Walsh filmed at a downtown restaurant Tuesday for a new crime television show that will premiere next year, police said.
Vero Beach police provided security and traffic control from 8:30 a.m. to about 2 p.m. Tuesday for the production at Off the Rail, 1327 21st Street, police spokesman Brad Kmetz said. Walsh will star in the television show, called "In Pursuit with John Walsh."
The Investigation Discovery channel announced they were teaming with Walsh for the new television show in an April news release. The series will follow Walsh's lifelong mission of locking up fugitives, finding missing children and leading the public to help law enforcement, the release states.
Walsh experienced his own loss after his 6-year-old son, Adam, was abducted from a mall in Hollywood, Florida, and murdered in 1981. Since then, Walsh and his family dedicated their lives to becoming advocates in helping to find missing and exploited children.
"My life was unfortunately catapulted into the world of crime, and out of that pain I have made it my mission to ensure all criminals pay for the lives they've ruined," Walsh said in the news release. "I respect the projects that Henry Schleiff and his team at Investigation Discovery have created over the past decade to bring victims' stories to the national spotlight, and I'm looking forward to furthering this impact by igniting ID's fans to help actively put the bad guys behind bars."
"In Pursuit with John Walsh" is set to premiere early 2019.
Background
Walsh previously spoke to students at Pelican Island Elementary in December 2017 about what they should if approached by a child abductor or if they become lost in a public place.
Walsh is most known for hosting the television show "America's Most Wanted" on FOX, which helped law enforcement capture more than 1,200 criminals and rescue more than 50 children, according to reports. Walsh also appears on the investigative series "The Hunt with John Walsh" on CNN.
After the death of their son, the Walsh family created the Adam Walsh Child Resource Center. The family also organized a political campaign to help find missing and exploited children.
This story will be updated.