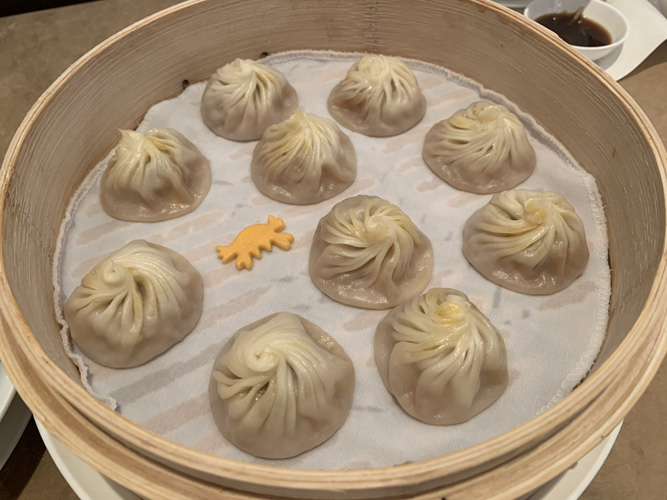 Just as San Francisco's iconic dish is cioppino, Kansas City's is barbecue and Philly's is cheesesteak, Shanghai's signature food is xiao long bao – a delicate steamed dumpling containing a savory pork meatball and luscious juice (the soup).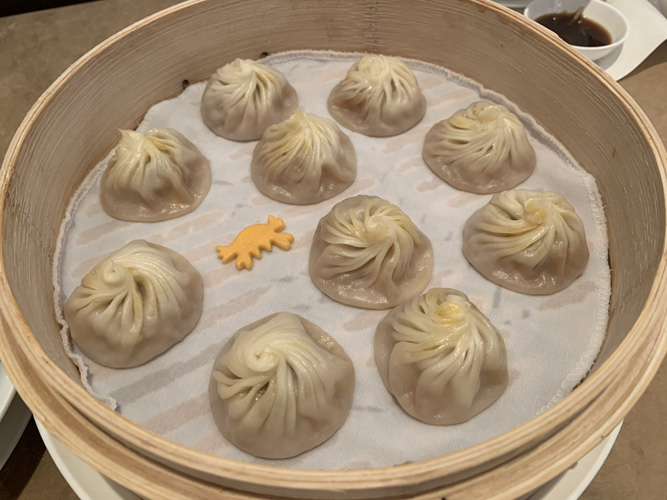 I just love dumplings, so on a visit last week to the Mecca of xiao long bao, at the top of my "to do" list was digging into a steaming bamboo basket (or baskets) of this Chinese delicacy.
While there are literally thousands of dumpling joints in this incredibly large city – and it would have been wonderful to go where the locals go – the better part of valor led us to Din Tai Fung in the French Concession area of Shanghai for our xiao long bao fix.
This restaurant actually originated almost a half century ago in Taipei, started by a Chinese expatriate who had fled the mainland. But notwithstanding the Taiwanese connection, Din Tai Fung – with 10 outposts in Shanghai – is regarded in local food circles as the place synonymous with xiao long bao.
For starters on our visit, we ordered a basket of the basic pork dumplings.  You pick these delicate dumplings up with a Chinese soup spoon – so you do not prematurely rupture the delicate skin with your chopstick – and then puncture them to capture the broth in the spoon. After savoring the broth, you pop the dumplings into your mouth.  It's almost a religious experience.
Next, we tried a dumpling stuffed with pork and hairy crab (it was hairy crab season and these fresh water crabs – a huge autumn delicacy in Shanghai – were featured on menus everywhere. It seemed about as big of a deal as stone crab season in Florida).
This dumpling apparently added the hairy crab roe and meat to the basic xiao long bao.  It was not my favorite.
But finally we had a couple of baskets of pork and black truffle dumplings.  I absolutely loved these – sensational, with the truffles imparting flavor to the soup.
Along with our xiao long bao, we had a plate of stir-fried jai lin, a vegetable also known as Chinese broccoli that was accented with slivers of garlic.  An excellent accompaniment.
We greatly enjoyed dining at Din Tai Fung, which has an open kitchen allowing those interested to observe the art of dumpling-making.
One of my Shanghai food critic colleagues noted that the price of the dumplings at Din Tai Fung –which we thought quite reasonable – "runs about 10 times the going rate of a street-side stall."  While that may be true, the high standard of these beauties was well worth it.
Din Tai Fung has expanded globally in recent years, so if you have no immediate plans to visit China, you can find a branch somewhat closer to home in Seattle or Los Angeles.
But find one you must, for the xiao long bao are wonderful.
I welcome your comments, and encourage you to send feedback to me at tina@verobeach32963.com.  
The reviewer dines anonymously at restaurants at the expense of Vero Beach 32963.