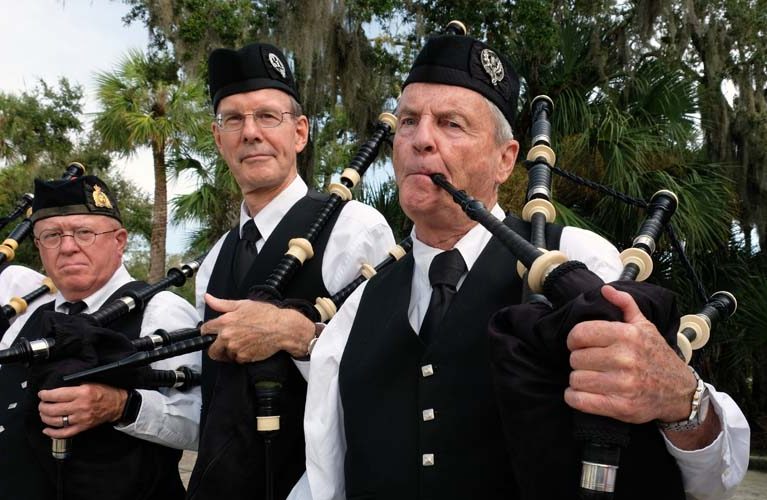 Love it or hate it, there is no mistaking a bagpipe's distinctive sound. To some, it's akin to a caterwaul, but to others, its rich resonance can elicit a range of emotions, from poignant tears while listening to an emotional lament, to a swelling of fierce, cultural pride as a band marches by during a parade.
Our own home-grown Vero Beach Pipes and Drums formed in 2015 and, under the direction of Pipe Major Jacob Craig, Drum Major John Thompson and Pipe Sergeant Jack Anderson, currently numbers 12 bagpipers and five drummers.
Craig, who is also an accomplished pianist, is director of Music and Arts at First Presbyterian Church of Vero Beach, where the band holds its practices. He credits piper Ian Clark with the band's creation, adding that it took a little over a year to develop a core group committed to the idea of weekly rehearsals, performances and eventually competitions.
The youngest player is Liam Ritchie, now 13, who started from scratch with Craig three years ago. Craig also provides instruction to some of the other band members, including Stephen Mallow, 17, who comes down from Melbourne every week.
"We're a traditional regimental Scottish pipe band," says Craig, stating that they hope to enhance the community by expressing culture through music. The band frequently plays at community and private functions, and will be highly engaged in Vero Beach Centennial activities.
On Nov. 10, the band will be joined by the Vero Beach High School Celtic Club String Ensemble for its only fundraiser of the year.
"It's going to be the two groups for the whole night. We're going to be doing some collaborative pieces and some individual pieces by the pipe band and the Celtic Club," says Craig. The concert also includes a fiddle performance by Vero Beach High School graduate Emri Stenn, home for a semester from Ireland where he's pursuing a degree in Irish Music at the University of Limerick.
Over the next five to 10 years, Craig says they hope to accomplish three goals: to become competitive, to begin a juvenile pipe band, and to possibly host a Scottish Games here in Vero Beach. "If that's a 10-year plan, let's make that year nine," says Craig with a smile.
"There's a town in Florida that has captivated the whole pipe band scene over the last year and that's Dunedin," says Thompson. "They have set a model up for how a community embraces the whole pipe band concept and the tradition of that. They have pipers in the middle schools, they have pipers in the high schools and they have their community band."
Thompson says they would like to do something similar here, offering instruction to students and establishing a juvenile pipe band that could feed into the community band. "We've got some really good guidance already. There's no reason why Vero Beach can't become a Dunedin as far as the pipes go."
"What we really want to do is compete," says Craig. "Every one of us is striving to get better with our instruments, whether it be pipes or drums. The best way to mark your progress is through different types of performances and, of course, competition."
Competitions, whether as bands or individually, take place at sanctioned Highland Games, including the five that are within three hours Vero – Orlando (Winter Park), Sarasota, Dunedin, Jacksonville and Fort Lauderdale.
Bagpipes of varying designs and construction date back several millennia – by some accounts to Egypt before 2500 BC – with numerous nationalities boasting their own versions. Bagpiping angels and shepherds are even in paintings celebrating the birth of Jesus.
But it's surely the Scots who can be credited for making them famous.
"Playing the bagpipes is unlike a lot of other instruments. It's really strongly tied to a deep and rich culture; almost more than any other instrument," says piper Alex Ross, the group's treasurer. "And that's a very important element of it. What we're bringing is not just music; we're bringing a rich traditional culture to a society that has rejected a lot of deep, rich, cultural traditions."
"If you think about the rich tradition of the tunes that we take for granted – 'Amazing Grace,' 'Scotland the Brave,' 'Old Lang Syne' – these things all originated from our roots," says Thompson in agreement.
"All of us have some ancestral heritage. At some point we have to consciously choose to embrace it. Pipe bands allow an opportunity for an awakening of that; or a reclaiming of it in some fashion. For me it was just a personal thing; I really liked the bagpipes," says Craig, whose family is Scottish "on both sides all the way back as far as we can go."
"It takes some work; the pipes are more intimidating from the start than a lot instruments are," Ross explains.  "It's very simple instrument when you look at it; it's barely an octave. But while you can sit down at the piano and in a few minutes play a couple of simple tunes, you can't do that with the pipes."
"With the bagpipes, there's not an option to dabble. You have to dedicate yourself fully until you can actually make a sound," agrees Craig, explaining that there is no option to just try it out. "In order for you to play tunes on the bagpipes, just to make the instrument function, you have to have already learned fingering, tunes and those types of things. It's probably a minimum of a year before you can make any sound that's actually close to good."
"The more you get into it the more you realize that it's really complex and compelling," says Thompson.
"It's very difficult to put into words," Craig adds. "There's a very unique, quality of pride that comes from the fact that you can say you're a piper.  There's something very specific about it but something very hard to make tangible."
As drum major, Thompson leads the band in marches and appreciates its traditional regimental aspects, explaining: "Because I'm the drum major, I'm the guy who has to do the drilling and the deportment. I've got a military background so I like that aspect of marching."
He remarks that dress is also very important, noting that their kilts are custom made in Scotland using the Ancient Ramsey Blue tartan. The thought behind that choice was that the color is reflective of our beachside location. The downside is that it's only available in heavy wool, more conducive to the wilds of Scotland than the tropics.
Thompson says they are seeking to hire a drum sergeant who could grow and take over the drumline, which currently has two bass, two tenor and one snare drum. "To be a competitive pipe band we need two snares," he explains.
They also gave a shout-out to Annie Padnuk, an accomplished piper among other instruments, who plays in Kilt the Messenger, a "Celtic punk and all-American rockabilly" band. "We'd love to have her," says Craig. "She's outstanding. We love Annie!"
Noting that the reception the band receives has been astounding, Ross says, "I think it's because there's something so different about this instrument. It's really interesting and fun. People are really drawn to it."
The Vero Beach Pipes and Drums fundraising concert with VBHS Celtic Club String Ensemble takes place 7 p.m. Saturday, Nov. 10 at First Presbyterian Church. No ticket needed; $10 donation appreciated.
Photos by: Leigh Green
Click HERE to see more or buy photos