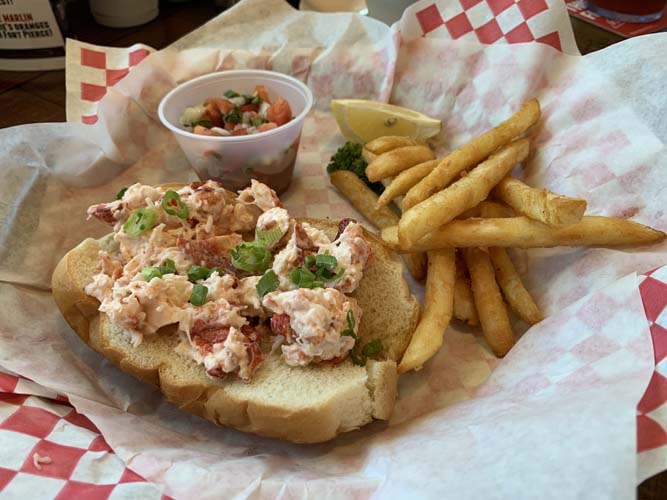 You know those big white trucks from the New England Fish Market that you see delivering seafood to many of Vero's fine-dining establishments?
Well, their home port is about 40 minutes south of here in Jensen Beach. And there, they also operate a retail fish market and their own restaurant.
The New England Fish Market restaurant is hardly fancy. No white table cloths or linen napkins here. This is a simple, no-frills eatery very much like the ones you find up north – dress is casual, people put on lobster bibs, and pig out on New England clambakes. The service is fast and friendly.
We have had great experiences here over the years with the fresh fish (not just from the North Atlantic; their hog snapper from the Keys is some of the best around). But what drew us there a couple of weeks ago – when we were shopping in that area – were their New England offerings.
My Boston-born husband loves fried whole belly clams, and rates those at the New England Fish Market the best around. So we stopped in for an early dinner.
For starters, my husband naturally ordered a cup of New England clam chowder ($5.25) and I decided to start with what they call Gloustah Cay Chowdah (this is the half-and-half mix of clam chowder and spicy Bahamian conch chowder that seems to go under a different name in every restaurant). Actually, even I am compelled to agree the straight New England chowder is better.
Then for entrées, my husband ordered the whole belly clams. I couldn't decide which of their lobster entrées to order – over the years, I've enjoyed them all – and finally decided to simply have a New England lobster roll with French fries.
The fried clams, I'm happy to report, more than lived up to my husband's expectations, and the New England Fish Market's lobster roll was an excellent rendition of this classic dish, big chunks of lobster with fairly little mayonnaise – as good a lobster roll as we have found anywhere between Boston's  North Shore and Bar Harbor.
Depending on which of the many options you choose, dinner for two – with a bottle of decent white wine – will run you anywhere from $70 to $90 before tax and tip.
Even for those not well acquainted with the area, the restaurant is not hard to find. It is approximately a mile east of U.S. 1 on the street that serves the old Treasure Coast Square Mall, where Vero residents used to shop before our own mall opened in the mid-1990s.
If you have a hankering for New England seafood favorites – or for fresh fish from southern waters – you should give this unpretentious restaurant a try.
I welcome your comments, and encourage you to send feedback to me at tina@verobeach32963.com.  
The reviewer dines anonymously at restaurants at the expense of Vero Beach 32963.   
New England Fish Market and Restaurant
Hours: Monday-Saturday 11 a.m.- 9 p.m. , Sunday 11 a.m.-8 p.m.
Beverages: Beer & Wine
Address: 1419 NE Jensen Beach Blvd., Jensen Beach
Phone: 772-334-7324