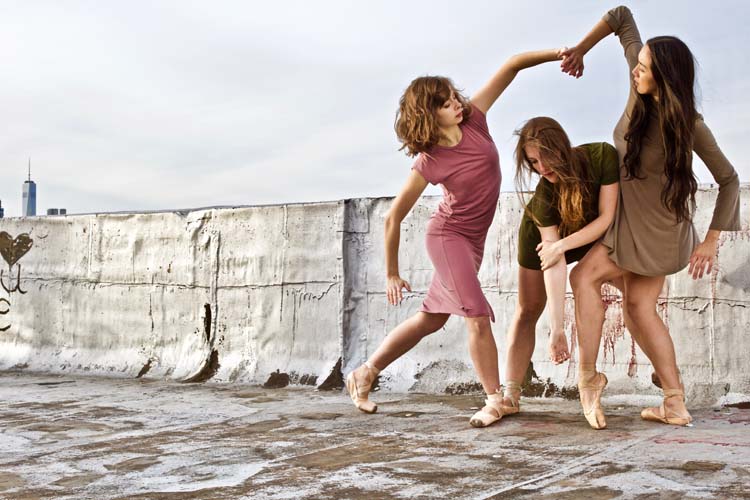 Since its inception, Ballet Vero Beach founders Adam Schnell and Camilo Rodriguez have relied on their friendships with dancers to fill the stages here in Vero. So when New York City Ballet's legendary ballerina Wendy Whelan visited here for a Ballet Vero Beach benefit last fall, it was almost a given that the friendship that developed was bound to benefit audiences at some point.
That moment has come. Next Wednesday, the trio of women founders of the young New York company konverjdans will offer a program of the company's original choreography in the Vero Beach Museum of Art's Leonhardt Auditorium.
Audiences are used to seeing different companies perform in late summer at Riverside Theatre in conjunction with the Riverside Dance Festival, a two-week summer intensive which Schnell and Rodriguez teach alongside the guest company's dancers. During Ballet Vero Beach's winter and spring performances, they have imported dancers from their sister company, Ballet Nebraska, now called American Midwest Ballet.
This is the first time Ballet Vero Beach has brought in a different company. The konverjdans dancers will be joined in one dance by Rodriguez, in a work they will choreograph collaboratively over the course of their one-week visit to Vero.
Like Rodriguez, all three women have strong ballet backgrounds; Rodriguez danced internationally with Les Ballets Trocaderos de Monte Carlo, an all-male company that performs en travesti – in drag. Rodriguez will dance on pointe with konverjdans' three dancers.
Those three, who also direct and choreograph, are the company's only full-time dancers. But since their beginnings in 2016, they have garnered a long list of collaborators, including not only dancers – male and female – but musicians, artists and even clothing designers. Hence the name – converge-dance.
Konverjdans came together through a three-way best friendship between Amy Saunder, born in Zimbabwe and schooled at the North Carolina School of the Arts; Jordan Miller, Indiana-born but a New Yorker since the age of 15; and Tiffany Mangulabnan, who grew up in the Philippines.
At 15, Miller began two years of training at the School of American Ballet and was eventually asked to become an apprentice with the New York City Ballet, performing at Lincoln Center for a year and a half. She is now a freelancer dancer, having danced with such company as Pennsylvania Ballet and BalletNext and soon to perform with Aspen Santa Fe Ballet. She is also a teacher of Pilates.
"All of this experience, personal and professional, is suddenly compounding into this burst of inspiration, or motivation, to create something out of this thing I do," Miller writes on the company website. Placing an emphasis on "we," she marvels at the possibilities of collaboration. "We make statements, we can make art, we can use our medium as a voice and have conversations with other artists in this space we've created together."
Saunder began dancing at a very young age in Harare, Zimbabwe's capital and biggest city. She moved to the U.S. in 2001, and was accepted into the North Carolina School of the Arts. While training during the school year in at the highly regarded Wake Forest academy, she spent her summers at various ballet intensives including Pacific Northwest Ballet, Chautauqua Institute and Harid Conservatory in Boca Raton. After two years as a trainee with Richmond Ballet, she became a company member at the Suzanne Farrell Ballet in Washington, D.C. Like Miller, Saunder also danced with BalletNext, another collaborative company whose artistic director, Michele Wiles, was a principal dancer with American Ballet Theatre.
Mangulabnan danced for five years with the Philippine Ballet Theatre, whose conservatory she trained at as a child. In her first five years with the company, she went from the corps de ballet to a soloist. In 2010, she became a principal dancer, starting with the dual role of Odette/Odile in "Swan Lake." Beyond the great story ballets, she also danced in contemporary works.
She cites as her mentor a San Francisco-based Filipino choreographer, Enrico Labayen, whom she met as a teenager almost burned out on ballet. When he taught a class at her studio, the spark ignited. As she told a newsletter in the Philippines, "Boom! Everything just made sense to me. He made us dance with all our souls."
Later, in San Francisco, she danced Labayen, in the contemporary dance company, Lines Ballet. Like her fellow konverjdans founders, Mangulabnan too danced with BalletNext.
As for the dance being created with Rodriguez, ballet master of Ballet Vero Beach, he says they have the basics of a concept, even without meeting. "We have selected our music and we have an outline of how the piece is going to go. Then we'll have five studio days to put it together when they arrive on the 30th."
"The new work is only a third of the program," says Rodriguez. "They're bringing some new work that they've developed recently. You will learn what the company's about. That's always important to us."
Adam Schnell has stayed in touch with Wendy Whelan since her visit. "I won't put words in her mouth, but she thought it was great that we were trying to develop a dance community. So I asked, would you like to help? You're up there in New York, you have a big name, just throw me an organization I should be look at that hasn't quite exploded onto the national scene and could use the exposure."
Whelan suggested konverjdans, and Schnell checked out the company's videos. "I was intrigued when I watched what they did," he said.
"A lot of people throw around the term contemporary ballet, but very few people use ballet vocabulary in a truly 'now' sort of way. Most people say contemporary, and they'll throw on a pointe shoe, but they're really doing modern dance. I'm encouraged to see three artists who are exceptionally talented and have an amazing ballet pedigree say, 'We would like to create our own dance voice in the dance world.' In my opinion, their voice is unique. It's important to foster that."
Whelan, who gave her last performance with New York City Ballet in 2014, has developed a passion for modern dance and contemporary ballet. Her documentary "Restless Creature" was screened as part of a benefit for Ballet Vero Beach.
Whelan predicted then it wouldn't be hard to attract dance talent to Vero. "Florida in the winter? They'll be flocking here," she said.
Konverjdans performs Wednesday, Nov. 7, at 7 p.m. at the Leonhardt Auditorium in the Vero Beach Museum of Art. General admission seats, $35, are available through the Ballet Vero Beach website, www.balletverobeach.org. Subscribers to the ballet's full season get a discounted price of $30.