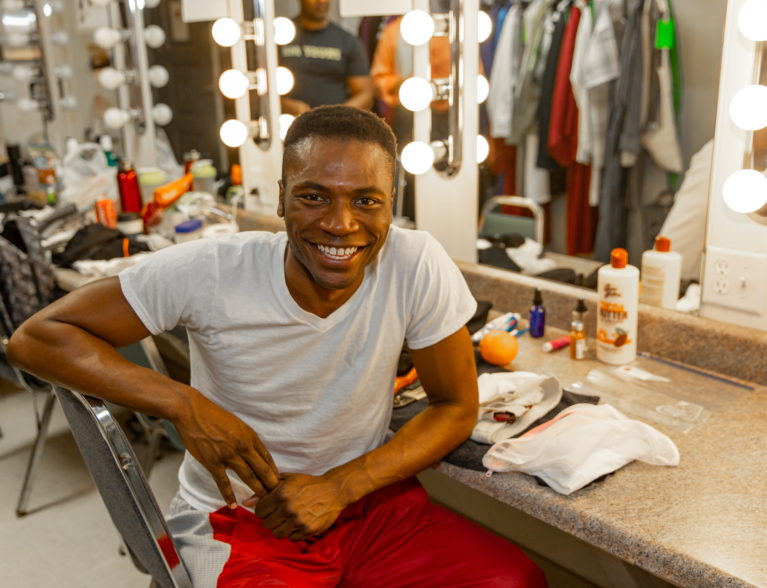 The stars have aligned well for Jamari Williams.
A talented young man who grew up in Vero Beach, Williams was once a fixture with the Gifford Youth Orchestra. In high school he took the stage in starring roles at St. Edward's School, and he started booking gigs almost immediately after graduating from the American Musical and Dramatic Academy near Lincoln Center.
Now, at the tender age of 24, he's returned to Vero Beach to star in "Smokey Joe's Café," which opened the new season at Riverside Theatre on Oct. 23.
"This is completely incredible," said Williams, who was taking care of a sore throat.
"I'm taking all the things – lots of tea, honey, Echinacea, natural things, even some antibiotics," he said. "But the voice is still here."
Thrilled to be back in his hometown, Williams said this means more of his family can come see him perform. That includes aunts, uncles, cousins, a great-grandmother and his two beloved grandmothers – "Grandma Willie and Grandma Theresa." His parents have moved to Georgia, but they could make it as well.
Although family wants him to stay with them while he's in town, he's staying with the rest of the cast in a hotel room close to the theater, which makes it easier to get to rehearsals.
"I love my family, but I'm here to do the shows," he said. "I've been in and out of rehearsal but try to see them as much as I can."
And then there are the friends who didn't get the chance to see him in the national tour of "Memphis," or the shows he originated at Bush Gardens in Williamsburg, Va.
An old high school friend, Callie Schnur, now the local sales manager for Treasure and Space Coast Radio, shrieked when she saw him walking in for a radio interview.
The two of them performed musicals at St. Edward's together, including "Beauty and the Beast." She was the Tea Pot, he was the Beast.
"He is extremely talented," said Schnur. "He has been since he was so young. I know from the community everyone is excited to see him back in town performing and we can see how far he's come."
Riverside's show, "Smokey Joe's," is a musical revue featuring the works of famed song writing duo Jerry Leiber and Mike Stoller, who were responsible for an array of iconic rock 'n' roll songs including "Yakety Yak," "Hound Dog" and "Spanish Harlem."
Williams, who appears throughout the show, said the favorites among those he sings are "Poison Ivy," "Stand by Me" and "On Broadway."
He was cast in the show in New York City; the auditioners had worked with Williams before in a Motown tour.
"Smokey Joe's" director DJ Salisbury, who also directed last season's hit show "The Mystery of Edwin Drood," was at those auditions. He said Williams wowed them.
"Jamari was incredibly impressive in our New York City auditions," Salisbury said. "We brought him in to audition for the role that featured dance specialty, but when we heard his low vocal range, we asked to look at the role that sings bass."
Both his low "basement notes" and strong dance ability inspired Salisbury to charge up the big dance number in act two.
"Additionally, and more importantly, Jamari has an electric, natural charisma which I believe to be what each of the nine performers in 'Smokey Joe's Café' must possess. I had no idea he was from the area until the first day of rehearsal."
His success at this audition was a far cry from his first big audition a few years ago in New York City. That was to try to get into the Juilliard School, an audition experience that still makes Williams laugh.
"That taught me a lot," he said. "It's not plain and simply how to audition but also how to take direction.  At AMDA, it's a bunch of kids who are the cream of the crop in their schools. They come to New York, the big world, and it's almost a slap in the face."
For sure, he was a big star in his hometown when he was growing up.
At age 9, Williams joined the Gifford Youth Orchestra and stayed with them for 11 years. That experience was crucial in discovering his musical talent. He started out learning to play violin, then quickly picked up the viola and cello. He discovered Wagner and learned to thrill with the bowing.
Later, he picked up the tuba, trombone, piano and eventually voice.
"The Gifford Youth Orchestra brought music into my life and my love for music," he said. "It skyrocketed my growth. And my singing got me into theater and where I am today. It's a domino effect."
Then, another door opened – St. Edward's School. Williams was awarded an academic scholarship through the generosity of philanthropists Bill and Marilyn Scully, who are also patron producers at Riverside Theatre. The John's Island couple has been offering academic scholarships to St. Edward's for "quite a while," he said.
"We're very pleased he's had this career path," said Bill Scully. "(The scholarship) gives kids a great opportunity. It opens their lives to be able to do different things."
Just as the Gifford Youth Orchestra exposed him to music, St. Edward's exposed him to even more.
"If I had not gone to St. Edward's I would not have discovered theater," he said. "My family did not go to many plays as much as they do nowadays. When I went to St. Edward's, I started an improvisation class. That involved so much craft and artwork that it made me fall in love with acting. Jennifer Patty, the theater director, saw something in me."
In the school's production of "Little Shop of Horrors," Williams was the comic, demanding voice of the plant, Audry II, who has a big Motown voice and sings out "Feed me, Seymour!"
"It's my favorite musical to this day," Williams said. "It ran only a weekend, but it was one of the best weekends of my life."
In addition to musicals, Williams has also done straight plays, including taking on the big role of Petruchio in Shakespeare's "The Taming of the Shrew."
When he's not in rehearsal or performing or taking a class, he's in the gym. He says one of the most important things an actor can do is take care of their body. Eating healthy, getting exercise and sleeping well is paramount, he said.
"Everything in moderation, but there's a level you want to get to. If you want to rise to that level you have to take care of yourself. That's the Capricorn in me coming out."
His dedication and hard work does not surprise Schnur, who remembers how loved and admired Williams was back in school.
"He has the brightest aura when he walks into a room," she said. "I only expect he will become more of a star."
"Smokey Joe's Café" runs through Nov. 11 at Riverside Theatre, 3250 Riverside Drive, Vero Beach. Tickets start at $35. Call 772-231-6990 or visit RiversideTheatre.com.