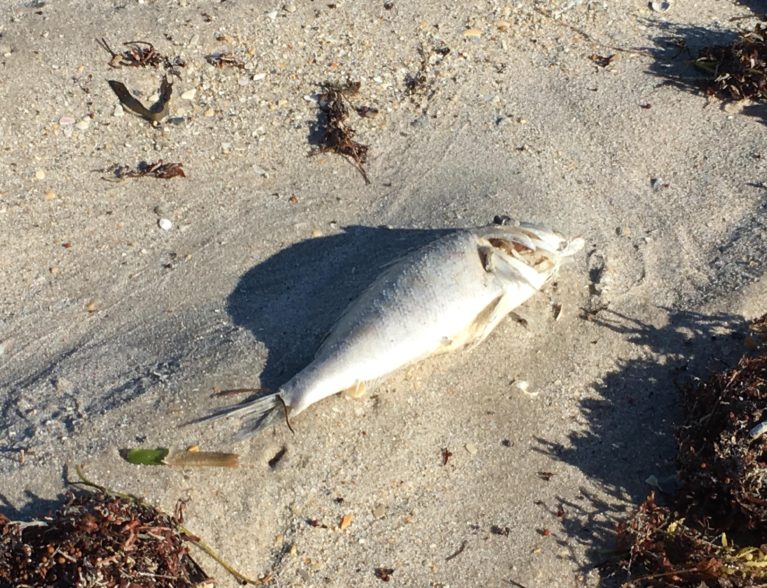 INDIAN RIVER COUNTY — All beaches in the county – now including Round Island Beach Park – were closed Monday as a contractor helped to remove dead fish caused by red tide, emergency services officials said.
Red tide, a toxic algal bloom, made its way through the county last week, killing at least 60,000 fish. The algal bloom also caused some people near the beaches to suffer from eye irritation and coughing.
The beaches will be closed until further notice.
The emergency contractor – Ceres Environmental Services – was cleaning up beaches Monday located along State Road A1A between Indian River Shores and Vero Beach, according to the Indian River County Emergency Services Department. Ceres Environmental Services plans to have its crews canvass about three miles of beach each day, including 23 miles of coastline.
The marine debris removal work crews began the cleanup process Saturday at Tracking Station Beach Park. The dead fish removal will be a rolling operation from Monday through Saturday, emergency officials said.
The county was working with the city of Vero Beach, Indian River Shores and the Town of Orchid to secure a $145,000 grant from the Florida Department of Environmental Protection to cover the cost of the operation, Administrator Jason Brown said. The dead fish will be taken to the county landfill on 74th Avenue.
The toxic algal bloom spread north to Brevard County last weekend. But, its presence – in the water and the sea mist – has not left Indian River County.
A Florida Fish and Wildlife Conservation Commission map on Monday showed there were still high and low levels of red tide in different areas within the county. People, especially those with respiratory issues, should stay away from beaches for the next two to 10 days, emergency services officials said.
Residents should not eat dead fish and should be cautious of sea life caught from the southeastern coast of Florida, emergency services officials said. Individuals should not eat any shellfish of any kind caught in the area until the red tide passes.
Those who have more questions on red tide should contact the Indian River County Emergency Services Department at 772-226-4000. The department will take questions from 9 a.m to 5 p.m.
For more information on harmful algal blooms, visit the Indian River County government website.