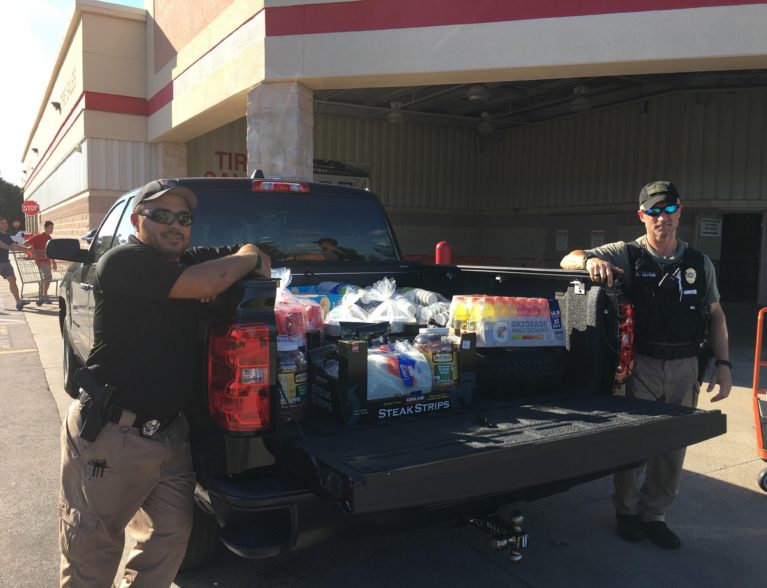 Photo provided by Indian River Shores Public Safety Department
Two local officers will return Friday after traveling to the Florida Panhandle to deliver supplies to the victims of Hurricane Michael, Indian River County officials said.
Hurricane Michael – a category 4 storm – swept through the panhandle last week, killing at least 18 people, damaging homes and causing short term flooding in some areas. Officers with the Indian River Shores Public Safety Department traveled to Panama City Thursday to deliver much-needed supplies to residents in impacted areas, Director of Public Safety Rich Rosell said.
The officers are Lt. Albert Iovino and Officer Bryan Levering.
The public safety department partnered with the Sebastian Police Department in the hurricane relief efforts. Sebastian police gave Shores police a trailer to deliver the supplies, Rosell said.
"Thanks to Chief Michelle Morris from Sebastian police for lending us the trailer," Rosell said.
Shores officers purchased the supplies using monetary donations from town residents, Rosell said. Some of the supplies include generators, socks, underwear, shovels, work gloves, wheelbarrows and toiletries.
"Knowing of the generous and benevolent nature of Indian River Shores residents, I made a plea for assistance Wednesday," Rosell said. "In less than an hour, money started rolling in and has not stopped."
The Town of Indian River Shores sent out an email blast Wednesday to residents asking for monetary donations. Rosell said officers will travel to the panhandle at least two more times starting next week.
"We're going to keep making these trips until the money runs out," Rosell said.
Morris said Sebastian police will be collecting toiletries and paper products to send to the panhandle at its community night out event, scheduled from 5 p.m. to 7 p.m. Oct. 23 at Riverview Park at U.S. 1 and County Road 512. It was unknown when Sebastian police will travel to the northwestern part of the state.
"It's important for all of us Floridians to support one another when we have a natural disaster," Morris said.
Indian River County Fire Rescue crew members were deployed to the panhandle last week to carry out the same mission. The firefighters delivered pre-packaged meals to residents and battled home fires.
The four firefighters will switch out with another four crew members who will travel to the storm-battered region this weekend, Battalion Chief Kyle Kofke said.
First responders are not the only agencies helping those affected by Hurricane Michael. The School District of Indian River County will send mobile cafes to north Florida Saturday to hurricane victims.
School officials said they will also send $10,000 worth of scholastic books to children who are in hurricane shelters, or dealing with the aftermath of recovery.
Not all agencies were able to immediately assist. Some were pressed to keep personnel in Indian River County for various reasons.
"We need our people here," Fellsmere police Chief Keith Touchberry said.
Indian River County sheriff's spokesman Maj. Eric Flowers said the sheriff's office does not have plans at this time to assist. He said the Florida Sheriff's Association has dispatched deputies from around the state as needed.
Vero Beach police have volunteered to assist with Hurricane Micheal relief efforts. Police are waiting for the Florida Police Chief's Association to see if they are needed, police spokesman Officer Brad Kmetz said.
Photos provided by Indian River Shores Public Safety Department and School District of Indian River County
This story will be updated.