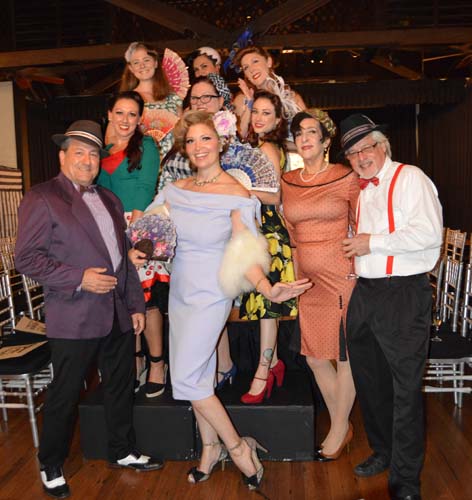 Francophiles took a virtual trip to France last Thursday evening at the second annual An Evening in Paris fundraiser at the Heritage Center, a national landmark property built in 1935.
Proceeds from the evening benefit Vero Heritage Inc., which is dedicated to preserving, educating and celebrating local heritage. Vero Heritage maintains and operates the Heritage Center and its adjacent Indian River Citrus Museum, which chronicles the history of Indian River County as a leader in the citrus industry.
"There are an awful lot of amazing nonprofits in this town, and it's becoming more and more important to distinguish your fundraisers as being affordable and creative," said executive director Heather Stapleton, explaining that the Parisian theme enabled them to do something other than a gala or golf tournament.
"Oddly enough, this kind of harkens back to exactly what the Heritage Center used to be all about – folks coming together to have a good time with music and food. The Heritage Center is still such a vital part of the community. It has such amazing charm and is steeped in history," added Stapleton.
In the true spirit of community, when the food sponsor's refrigerator gave out, rendering them unable to provide the anticipated French-inspired hors d'oeuvres, other local food vendors stepped up to help out.
Fruit and Nutella filled crepes and cheesy profiteroles from Bistro Fourchette, and a shitake, leek and crumbled Stilton cheese tart from Blue Star were among the petites bouchées savored by guests.
After enjoying a glass of bubbly, hors d'oeuvres and French wines, l'amour et l'amitié (love and friendship) filled the air as guests enjoyed an evening of Parisian-style shopping along les rues de Paris beneath twinkling lights and bead-draped chandeliers, La Tour Eiffel looming nearby. The marketplace overflowed as nearly 30 local vendors showcased their wares, including vintage clothing, scarves, handcrafted jewelry, homemade jams and essential oils.
A street mime mingled among the crowd, paying homage to Marcel Marceau and speaking volumes without uttering a word in the "art of silence." Les Femmes de Moulin Rouge cabaret-style dancers from Power Entertainment Productions also took to the stage to high-kick the evening off in une grande manière (a big way).
Later, models from the Parisian Hostess presented a saucy selection of vintage French couture – the laissez-faire attitude of the ladies as they strolled along the Champ de Mars catching the eye of two hommes de charme (charming men) enjoying an outdoor café.
Leaving the intensity of la Ville de L'Amour (City of Love), guests were given a taste of Cognac, France, known for the brandy produced in that wine-growing region. The terrace overlooking the Heritage Center lawn underwent a continental transformation, becoming Cognac Courtyard for the evening. Guests savored their drinks while listening to French-inspired jazz played by the Indian River Charter High School Jazz Band.
On New Year's Eve, the Heritage Center will host an elegant dinner show with Broadway-style entertainment in conjunction with the Main Street Vero Beach street party, culminating with the Vero ball drop and centennial fireworks at midnight.
For an event schedule, visit veroheritage.org.
Photos by: Denise Ritchie
Click HERE to see more or buy photos