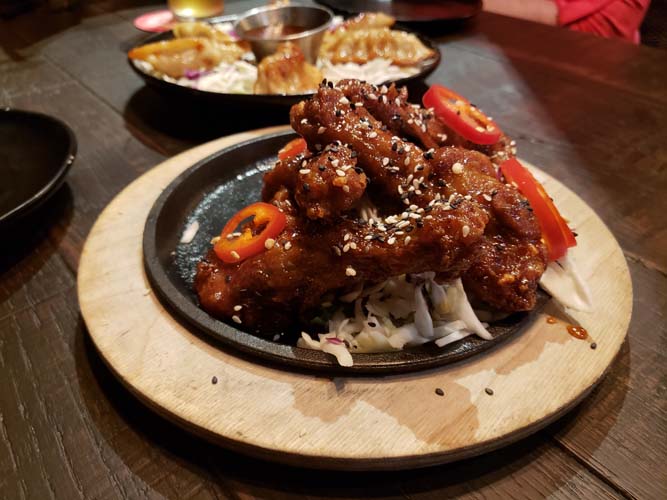 When the American Icon Brewery opened a year ago in a hulking old building that had once been Vero's diesel power plant, we confess we were a bit apprehensive.
Oh, the renovation of the historic building – which had rotted on the edge of the Old Downtown for years – was nothing short of sensational, and our early experiences with the micro-brewery's beers, bar food and burgers were all positive.
But was quiet Vero – a place teens used to call Zero Beach – large enough to support such a large trendy space when the initial excitement wore off?
Well, we are happy to report that a visit last week – when the American Icon Brewery was close to full on an off-season Wednesday night – left us extremely encouraged. The long bar in front of the beer taps was packed as our party of four weaved its way to one of only a couple of booths still available at 7:30.
Server Matthew quickly appeared, and suggested we try the Icon's six-pack sampler ($14) – a flight of six hand-crafted beers. He also offered us tastes of the Icon's new fall release:  Salem's Rope Red Pumpkin Ale. To each his own, I guess, but no one at our table asked for a full glass of the pumpkin ale.
The six-pack sampler, however, is clearly a great idea. Matthew suggested we try the six in reverse order, since the first three were stronger tasting (hoppier, the beer expert in our group said) and would likely mask the nuances in the lighter beers.
To accompany our drinks, we ordered four appetizers:  crispy duck wings ($14), lobster and crab dip ($16), pork potstickers ($11) and fried calamari ($13).
The lobster and crab dip served with pita was excellent, though the duck wings drew high marks as well.
Then for main courses, I ordered a trio of sliders ($15), my husband went for the lamb and beef burger with honey goat cheese ($15), one of our companions opted for the 10-inch Brooklyn hot dog ($11) and our other friend decided to try the truffle pizza ($16).
I liked my sliders – one Icon burger slider, one buffalo chicken, one short rib, all on buns branded with the American Icon logo – but would have to go along with the table consensus that the best of these dishes was the pizza. Topped with a creamy white garlic sauce, mushrooms, artichoke hearts and truffle oil, it was yummy.
While one member of our party, not much of a beer drinker, accompanied his dishes with glasses of quite decent wine ($8), the votes of the rest of us on the beers diverged sharply.
The expert in our group said his two favorite beers of the flight of six were the Brave World Belgian Wit (5 percent), and the 1926 Hef (named after the year in which Hugh Hefner was born). "I would recommend the Hef to anyone," he said.
One of our companions enjoyed the American Blonde Ale, a good light beer, and my favorite was a light-bodied ale not included in the flight, a Kolsch. Very nice.
Not only does the American Icon offer a beer for every taste, but it has food and music specials for just about everyone as well. A way to sample its diverse offerings would be to drop by this weekend, when the brewery is holding its first anniversary celebration.
Maybe it's the something-for-everyone approach that has made the American Icon Brewery such a hit.  Having a spot like this in Vero is certainly something to celebrate.
I welcome your comments, and encourage you to send feedback to me at tina@verobeach32963.com.
The reviewer dines anonymously at restaurants at the expense of Vero Beach 32963.
American Icon Brewery
Hours: Monday – Thursday, 11:30 a.m. to 11 p.m., Friday 11:30 a.m. to 1 a.m., Saturday 11 a.m. to 1 a.m., Sunday 11 a.m. to 10 p.m.
Beverages: Beer & Wine
Address: 1133 19th Place, Vero Beach
Phone: (772) 266-5507