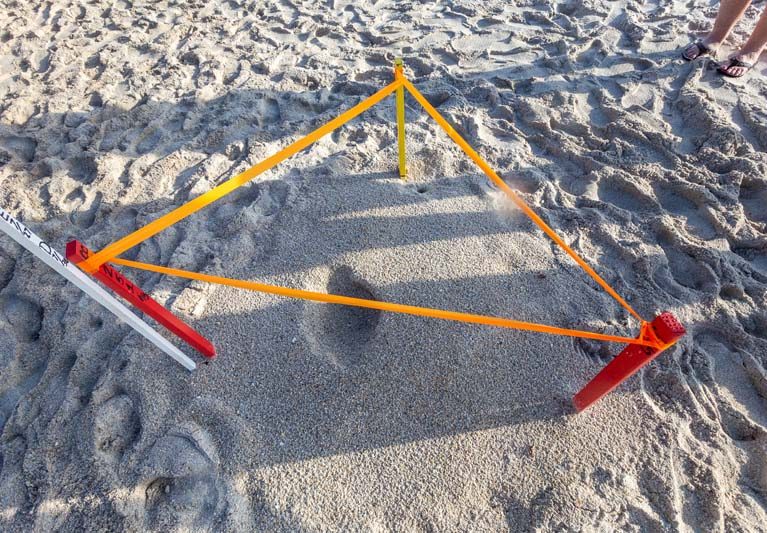 INDIAN RIVER COUNTY — The 2018 sea turtle nesting season shows a stable increase in nesting numbers on Indian River County beaches, according to Kendra Cope, the county's sea turtle coordinator.
Total number of nests counted as of mid-October are 5,753 loggerheads; 233 green turtles; and 46 leatherbacks.  The season officially began May 1 and ends Oct. 31.
The number of green turtle nests was much lower than the 2017 total of 2,651, but Cope said that was expected because of their biennial nesting pattern of extreme highs and lows every other year. Loggerheads – the most common nesting species in Florida – were down from their record of 6,024, but still showing an overall upward trend, she said.  Leatherbacks – the largest and least common of the nesters – were pretty much unchanged.
"There's a generally positive increase in nesting numbers," Cope said.  "Our nesting populations are stable which is good."
The numbers cover about 22.5 miles of beaches, extending from Sebastian Inlet south to Round Island Park, which have been monitored by the county for the past 14 years.
Sea turtles have been protected under the U.S. Endangered Species Act since the 1970s after their numbers plummeted due to pollution, overfishing and loss of habitat. Florida's Atlantic coast is their prime nesting ground; females that hatched here return to lay eggs year after year after travelling the world's oceans and reaching maturity at about 20 years.
Only about one in 1,000 hatchlings survive to adulthood; most get run over by cars, eaten by sea birds and fish, or poached.
Cope says it takes a long time for the creatures to benefit from conservation measures.
"We're just starting to see positive consequences from being listed on the U.S. Endangered Species Act and all the state, local and federal protections that came after that for beaches, nearshore estuary nurseries and offshore nurseries," she said.
Cope will deliver her annual sea turtle habitat conservation report to the public sometime in early 2019.