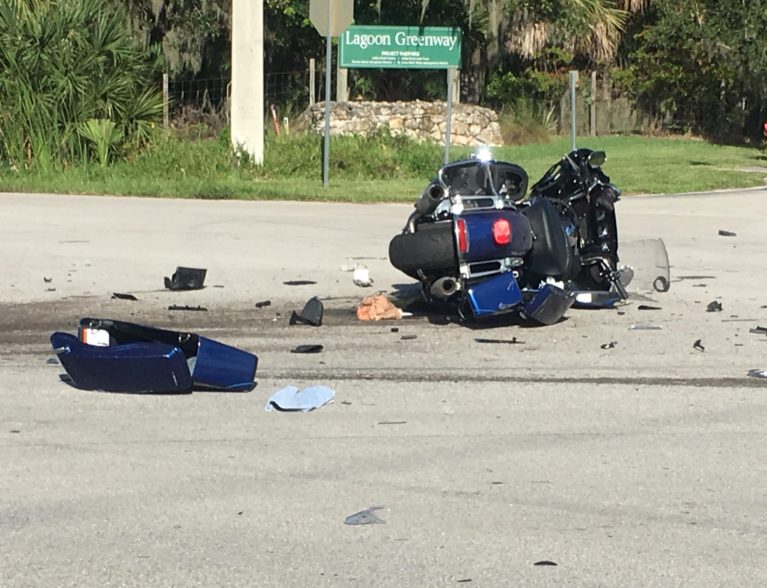 INDIAN RIVER COUNTY — Indian River Boulevard reopened late Tuesday after being closed for several hours from a fatal multi-vehicle crash that killed a motorcyclist.
The motorcyclist – a man – was pronounced dead at the Indian River Medical Center, Florida Highway Patrol Sgt. Fred Jones said. A woman who was driving a car involved in the crash was also taken to the hospital; her condition was not immediately available.
The identities for both will be released after family members are notified, Jones said.
The collision shut down Indian River Boulevard from 12th Street to 4th Street, Indian River County Fire Rescue Battalion Chief Kyle Kofke said. The road reopened by 7 p.m., according to the FHP traffic site.
*Note for videos – Click the audio icon in the lower right hand corner for sound.  
Fire rescue crews responded to the crash about 3 p.m. Tuesday at 8th Street and Indian River Boulevard. A blue Harley Davidson motorcycle and a green Chevy Cobalt were involved in the collision.
The crash occurred in front of the Lagoon Greenway trail.
There was only one person in each vehicle, Jones said. Both were taken by ambulance to the hospital, Kofke said.
Music could be heard coming from the motorcycle, resting on its side surrounded by debris and mangled pieces of metal. A rear part of the vehicle could be seen in the grass median.
Two shoes – spread out from each other – and an upside down helmet laid in the roadway just a few feet from the motorcycle. Troopers could not immediately confirm if the motorcyclist had the helmet on during the crash.
Skid marks from the vehicles could be seen in the road. The crash jolted the car halfway into a grassy area in front of the River Park Place Apartments.
Patrol cars from the sheriff's office and FHP were still at the scene about 5 p.m. Tuesday. A FHP traffic homicide investigator was headed to the scene Tuesday afternoon.
Highway troopers continue to investigate the crash.
Photos by Nick Samuel