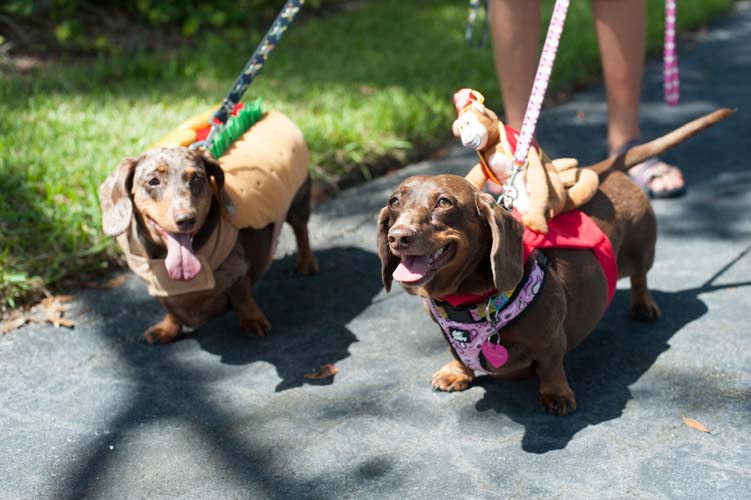 "And we have a wiener!" bellowed Pete Anderson, after one of several heats in the Pareidolia Brewing Company's fourth annual Running of the Wiener Dog Races last Saturday afternoon, to benefit the HALO No-Kill Rescue Shelter.
"This is our new location; it's working out really well," said Lynn Anderson. Pareidolia owners Pete and Lynn Anderson moved the craft brewery last year to the larger facility on Cleveland Avenue. The new setting was perfect, with an area large enough for the straw-lined 'race track,' pockets of tree shade and the brewery's dog-friendly deck, where people could refresh themselves with food and a cold brew.
Dachshunds of all colors and coat types competed in the wiener class, vying for bragging rights and a Golden Wiener Dog trophy plaque. So as not to leave out other pooches itching to stretch their legs, there was also an open class for all breeds.
In between heats, folks were entertained by great music by the Sebastian band The Mixers, as their four-legged friends – all on their best behavior – partook of the traditional wag-and-sniff ritual with fellow competitors and accepted friendly pats from admiring fans. Some got into the Halloween spirit early with creative costuming, including Great Danes Maddie and Gator, dressed as colorful hot dogs, who towered over their short-legged compatriots.
"The starting gate is new this year; Jill Jones of the Vero Beach Dog Park loaned it to us," said Pareidolia assistant brewer Lee Spitzkopf, ready to wield the checkered flag. He added with a laugh, "they have to cross the finish line completely – so they're going to win by a tail, not by a nose."
Animated owners attempted all variety of coaxing to lure their dogs down to the finish, often to no avail as some of the little wieners ran in circles or off the course completely.
"Come to grandpa!" yelled Delainey Ankney, cheering on Tessa, a therapy dog at the Willow School in Vero Beach. "It's her first race and we're so excited about this."
"Pareidolia puts this event on for us. We need these events to gain exposure in our community," said Jacque Petrone, who founded HALO in 2005. She brought along two oh-so-sweet puppies that are currently being fostered and will soon be up for adoption. "These are from a litter of 9 rescued pitties born on 9/11."
The nonprofit has expansion plans for a HALO Enrichment Center next to its current facility on Jackson Street in Sebastian, where she says they will offer high-value, free to low-cost spay and neutering, as well as an indoor training center for the rescues.
"Our builders, architects and engineers have already started on the plan and we expect to break ground January 2020," said Petrone, noting that the need is great. "We're getting a big rescue load from the Bahamas next week; 18 are flying in."
For more information, visit halorescuefl.org or pareidoliabrewing.com.    
Photos by: Benjamin Thacker
Click HERE to see more or buy photos