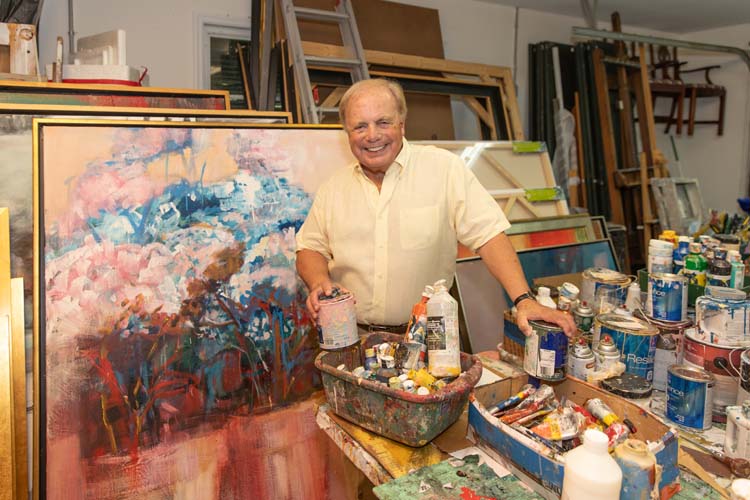 Tim Sanchez needs no introduction to his Vero Beach public. His paintings, which comprise expressionist abstracts with collaged-on elements, as well as moody landscapes and spare interior scenes, can be seen in a number of private collections in the 32963 area, as well as a public one; the Vero Beach Museum of Art added a large Sanchez painting to its permanent collection in 2014.
"The collectors here have responded to my work so positively," says Sanchez.
He notes that demand for his work – especially his collage paintings – is associated with the increased sophistication of art lovers who, like him, have come to live on the barrier island.
When Sanchez and husband Jim Haigney moved here from Long Island 17 years ago, a taste for nonrepresentational painting had not yet been established among the art-buying public.
"People looked at art in a more decorative way," Sanchez says, tactfully.
He attributes the rise in interest in post-World War II art, from abstract expressionism to digital projection, to Vero's Museum of Art, as well as its contemporary retail galleries.
With affection, Sanchez recalls gallerist Martha Lincoln, whose eponymous gallery was located at 675 Beachland Boulevard (a real estate office now occupies the building). In the early aughts, the gallery specialized in works by living artists whose oeuvres featured bright, impressionistic landscapes and floral pieces. The abstracts sold by the gallery had pleasing and clearly definable subject matter.
"Martha was very good to me; she gave me a little show in 2002. She understood my work, but she couldn't sell it. She knew what was marketable in that time and place," Sanchez says.
Today, he notes, not only is there more new art to see in Florida, there are more opportunities to buy it.
That includes the big art fairs in Palm Beach or Miami, but also the number of contemporary artists right here in Vero who, like Sanchez, open their studios to those who not only want to see where the sausage is made, but purchase it fresh off the easel.
Sanchez welcomes collectors year-round to his studio by appointment, but the annual reception at his seaside residence is a must-have invitation for cognoscenti who crave the artist's boldly visceral work. On that date, existing clients and collectors intent on buying their first Sanchez flock to the house, which is hung from parlor to pantry with the prolific painter's recent work. The home's garage is Sanchez's studio, proper. There, stacks of canvases lean against the walls and a paint-spattered easel holds the latest work in progress.
One of the paintings currently on display in the master bedroom is hot from the easel. There is a reason why Sanchez has placed this newest of paintings in seclusion.
In the mid-1970s, while working toward a degree in art education at the State University College of Buffalo (he subsequently received his MFA from Long Island University), Sanchez first experienced the issue of not knowing when to deem a painting "finished." That's when his teacher, a recent Yale Art School graduate named Richard Baumlier, offered Sanchez some memorable advice. "He said, 'Hang it on the wall and live with it,'" Sanchez recalls.
And what better way to consider the "doneness" of an artwork than to confront it first thing in the morning (before coffee, at that) and prior to closing your eyes at night?
If the work is not finished, the artist will sooner or later detect the fact. For example if, after consideration, a color is seen to show itself too proudly, or to cower when it should be bold, the artwork is whisked off the wall and back into the studio for a revisit with the brush.
The painting currently on probation in the bedroom is named "An A and an Arrow" for two collage elements Sanchez has adhered to the painting's surface – a commercially printed arrow on a rectangle of metal and a similarly printed "A."
In an old apartment house, an "A" like this one might be stuck on the first mailbox in a foyer row, while an arrow would point the way to the nearest fire extinguisher. But this is a painting and, although they catch the eye, the symbols' conspicuous placement merely announces their superficiality. As in a McGuffin in film (think of that classic "Rosebud" in "Citizen Kane"), you are initially led to believe the story is about them, but soon find yourself engrossed in an entirely different adventure.
In Sanchez's painting, the journey begins with a color somewhere between salmon pink and paper-bag beige. A good deal of the canvas has been collaged over with translucent plastic sheeting which, in the lacunae between the passages of pigment with which it has been covered, is still tantalizingly see-through-able to an earlier paint strata.
The topographical aspect of this many-layered work is enhanced by a patina of age; it appears as though the work has languished for years in an atmosphere of dust and soot. Sanchez achieved the effect with an application of transparent acrylic gel medium into which he had mixed crushed particles of vine charcoal.
For now, Sanchez seems satisfied with the painting's current state; it just might be finished. A visitor gazing upon the unified complexity of the piece might wonder how it all began.
"I deliberately try not to make the process the same, so that the outcomes are unique and different unto themselves," says Sanchez, who is willing to speak in general terms about his method.
"Especially with the non-objective abstract expressionist stuff, I will start with collage, rather than paint. And then I'll draw on top of that. Sometimes I will just start drawing with brush or graphite and see where that takes me, and then start adding paint and then adhere maybe collage pieces on top of that."
Leaving himself open to the possibly of change is perhaps the most important part of Sanchez's non-process process.
"This one came rather easily," he says of a 4-four-foot tall, nearly 7-foot-wide abstract diptych he calls "Two Connected Panels."
Each of the diptych's panels was intended as a stand-alone piece, though Sanchez, who likes to have a few paintings in progress at one time, worked on the two pieces simultaneously.
The two were united only after one of the paintings was all but declared finished; the other was still in progress.
The paintings were at opposite ends of the studio when, says Sanchez, "I thought, 'Wait a minute!' and I pulled them together."
After adding some touches to the wider, right hand panel to complete the visual transition between its serenely open composition and the left hand panel's dynamically active one, the two paintings became one.  "It gives the viewer a tremendous amount of power to be able to look at these pieces (together) and pull what she, or he, wants from them," Sanchez enthuses.
And that is "so much more delightful" than the way they started out.