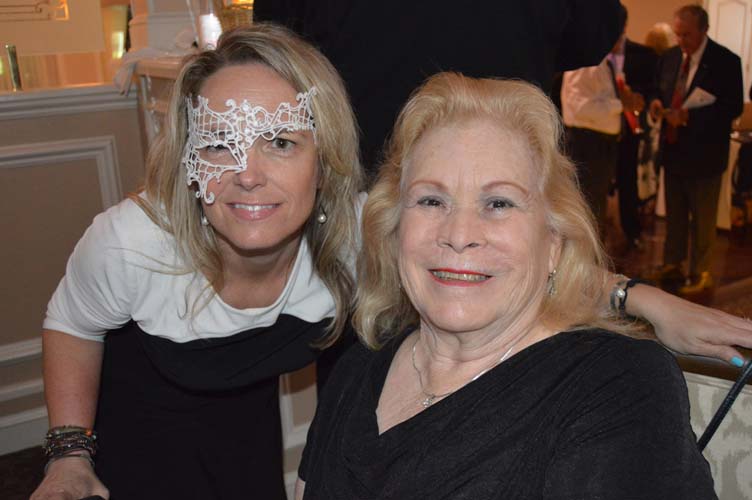 The Vero Beach Country Club was brimming with glitz and glamour last Saturday evening at the fourth annual Black & White Masquerade Ball to benefit the various programs supported by the Exchange Club of Indian River Foundation.
"We do this to raise funds for the prevention of child abuse, which is the national project of the Exchange Club," explained Nancy Gollnick, current president and chair of the event. According to the American Society for the Positive Care of Children, a report of child abuse is made every 10 seconds in the United States, with five children dying every day as a result of that abuse.
"Locally, we support Youth Guidance, Children's Hibiscus Center, CASTLE and Dasie Hope Center; as long as a nonprofit has a program that is helping prevent child abuse," said Gollnick.
More than 100 guests attended the festivities to help shine a light on the reality of the issue, even in our community, with proceeds from the event supporting programs that assist affected youth or that have a focus on its prevention.
On the brink of Halloween, guests donned masks of gold and silver, black and white and every other color imaginable, with many elaborately adorned with feathers, sequins and filigree; spotlighting the concept of 'unmasking' the nonprofit's mission to protect children.
After dining on a gourmet dinner of filet and shrimp, guests enjoyed an evening of dancing to the tunes of DJ Fuzzy and could take on a new persona in the photo booth. Lucky winners received raffle prizes and others bid on assorted auction items, including wine tastings, a Jake Owen package, diamond earrings, vacation packages and more.
"The work we do is important. We've become a family, but it's more than the camaraderie. It's about being part of a civic organization that gives back to the community," said Gollnick.
She added that the Exchange Club also honors veterans and local students. "We give the ACE (Accepting the Challenge of Excellence) Award to a student that's had to struggle with something but has been able to stay on track and in school. We give a Student of the Quarter Award to an outstanding student who has accomplished a lot in school."
Upcoming events include a beach cleanup on Oct. 27 with students from Youth Guidance as part of the National Day of Caring. Then on March 9 you have a chance to throw your most 'amaizing' bean bag toss during the third annual Cornhole Tournament at Walking Tree Brewery.
For more information, visit exchangeclubofindianriver.org.
Photos by: Stephanie LaBaff
Click HERE to see more or buy photos