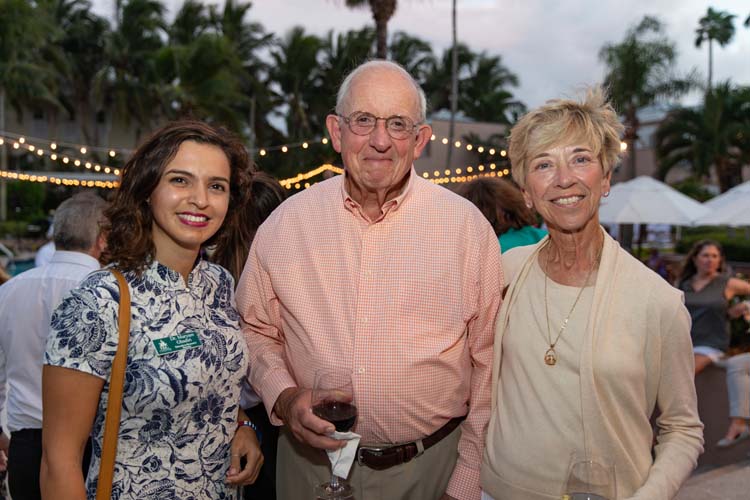 The Orchid Island Golf and Beach Club pulled out all the stops last Thursday evening with a Welcome Reception for competitors and supporters of the 57th U.S. Senior Women's Amateur Championship.  Earlier in the day, some of the 132 competitors, representing six countries and 34 U.S. states, had teed off for some practice rounds, gearing up for the actual tournament, which began Saturday, Oct. 6 and ends with the Championship Match this Thursday, Oct. 11.
The setting couldn't have been more perfect as guests enjoyed the impeccable hospitality of the club, mingling poolside while relishing a lovely ocean breeze, visiting with some delightfully friendly parrots, and listening to charming Caribbean-style music. Led by General Manager Robert Tench, the wonderfully efficient food and beverage staff presented a huge assortment of delectable passed and buffet-style hors d'oeuvres and cocktails to close to 300 invited guests.
"The Environmental Learning Center is the charity beneficiary; all proceeds in excess will go to them," said Ted Hutton, chair of the Orchid Island host committee. "This has been a great partnership. It benefits the club, it benefits the ELC and it gives back to the game of golf. The generosity of the Orchid members has been incredible. Between contributions and volunteers, easily two-thirds of club members were involved. The membership was very much behind the effort."
A section in the artfully designed Championship program notes that their support of the Environmental Learning Center, which advocates for everyone to become active stewards of the environment, ties into the environmental stewardship of the Orchid Island Club, a certified Audubon Cooperative Sanctuary, with its conservation, protection and preservation efforts.
Laura Carson, the only local golfer in the tournament, said she was looking forward to representing Vero Beach as she competed on the Arnold Palmer-designed course; her husband Bruce served as Orchid Island Club's first director of golf.
"It's just been beautiful; the course is in excellent shape," said Carson. "It will be a good test of golf. It's going to be a great championship."
"Every championship has its own personality, from the Men's Open to the Women's Open. There's about 14 championships and each one has its own personality," said Marcia Luigs, explaining that each venue club has its own committee that is in charge of all the local details. "This has been absolutely lovely; everything is in tip-top shape. I think Orchid and the USGA have done a great job of organizing the championship."
A Vero resident, Luigs began volunteering with the United States Golf Association in 1985 and, as a highly-respected rules official, has volunteered at innumerable USGA-related events, from junior championships to U.S. Opens, including a stint as chair of the USGA Women's Committee.
"It's like old home week. We get to see each other every year," said Judith Lyn Stine of Mesquite, Nev., another USGA rules official volunteer. "We have a great committee; there's about 35 of us from around the country. I've been on the committee about 13 years; it's a lot of fun."
For more information, visit orchidislandgolfandbeachclub.com.     
Photos by: Denise Ritchie
Click HERE to see more or buy photos