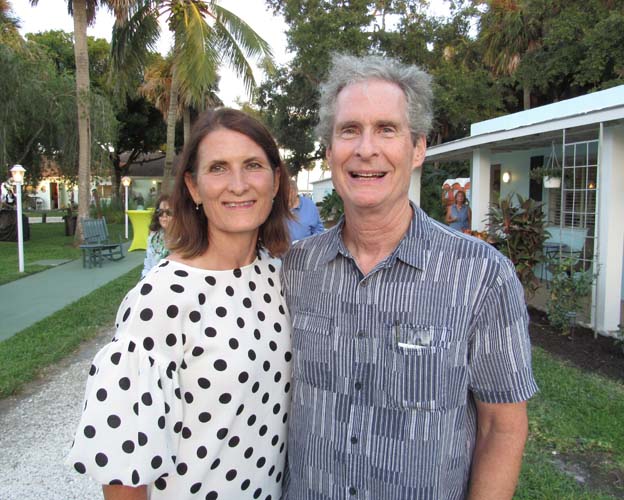 Dr. Neil and Christy Heskel hosted Design for a Cause last Saturday evening, treating guests to a Grand Reveal unveiling of their new venture – the stunningly redesigned Island View Cottages in Sebastian, which will officially open in November. After almost seven decades, the cottages of the former Ferndale Lodge, built in 1949 along the Indian River Lagoon, have been spectacularly transformed by a group of über-creative local and national decorators.
More than 200 guests enjoyed hors d'oeuvres donated by Sebastian River Medical Center, kegs of local craft beers donated by Mash Monkeys and Pareidolia, and music by the nationally acclaimed band Naked Blue as they wandered throughout the charmingly renovated property, which maintains its old Florida charisma.
"So many people have contributed to this; it's the work of a lot of people," said Dr. Heskel, a Vero Beach dermatologist, who was quick to give credit to his wife. "It was all her idea to get the decorators in, for each one to have a room, and to have this Grand Reveal party for Haiti Clinic."
He said they took possession of the property after Memorial Day. "Everybody laughed and told her 'You can't get this done in four months.' I said, 'That's the wrong thing to say to Christy.' So guess who got it done."
Of the former 12 cottages, two were combined into one, a resident home for the full-time manager was renovated, and a garage was converted into a social room.
"We didn't want to change it too much; there's so much history in this old place," said Christy Heskel, a territory manager for gen-E. "The rooms now are just amazing. They've all incorporated something that's Haitian-themed, which is really awesome. It's been a community effort getting ready for this event. It's been incredible."
All money raised at the event will benefit Haiti Clinic, a nonprofit dear to their hearts.
Dr. Heskel has been involved with Haiti Clinic since its founding a little more than a decade ago by local physician Dr. Dirk Parvus. The clinic operates out of the Haiti Partners Children's Academy and Learning Center in Baocia and in the slums of Cité Soleil, near Port au Prince.
People receive a wide range of services at the clinics – staffed with Haitian physicians, dentists and other personnel – including primary, prenatal, pediatric and preventive healthcare, vaccinations and immunizations, medicines and nutritional supplements, and desperately needed dental care.
"They saw up to 15,000 people last year, so they're quite busy," said Dr. Heskel, who just recently returned from his 30th trip there.
He explains that in addition to conditions such as heart disease, diabetes and cancer, they must also tackle diseases of poverty created by a lack of regular medical care, fresh water, nutrition and sewer systems.
"The kids have worms; this is a third world. This is real poverty; some of these kids are really malnourished. I go down there and I say, 'This is why I went to medical school.'"
He said they envision Island View Cottages as another way they can support the clinic, adding, "I'm excited about it."
For more information visit islandviewsebastian.com or haiticlinic.org.    
Photos by: Mary Schenkel
Click HERE to see more or buy photos