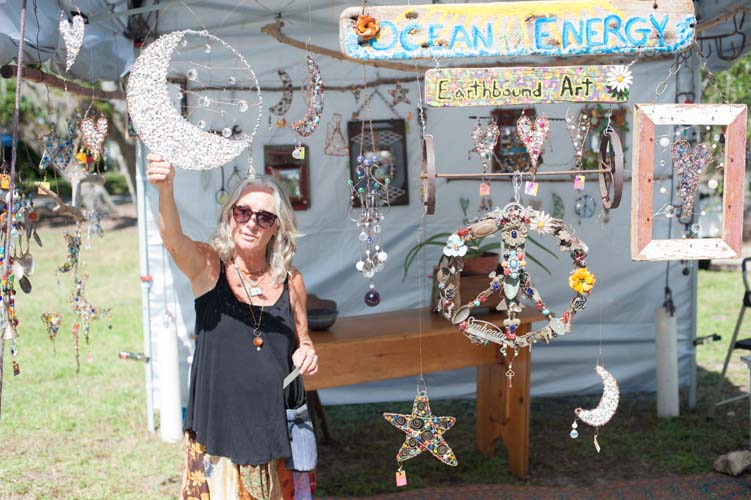 Unlike last year, when torrential rains forced a cancelation of the event, Mother Nature christened the 31st annual Autumn in the Park, hosted by the Treasure Coast Pilot Club, with just a sprinkling of rain this past weekend.
Sandie Davis and Donna Ganley were delighted that the two-day juried arts and crafts show at Riverside Park, an annual fall favorite, was able to return better than ever, with nearly 100 vendors showcasing their wares from near and far.
"We love craft shows," Ganley exclaimed, clutching a cache of purchases. "We come out looking for unique items; whatever jumps out at us."
Davis added, "I have four daughters and I always try to buy them a different kind of jewelry. This year I found beautiful bracelets made from recycled bits of glass."
An eclectic array of handcrafted items was available for attendees to peruse – everything from wind chimes and furniture to jewelry, photography and fine art. Sui generis finds included pallet furniture, liquor bottle lamps, charm earrings, sea glass sun-catchers and copper yard art.
Much of the artwork was ocean-themed, featuring flora and fauna native to the area along with tropical fish, seabirds and native reptiles. Palm fronds were painted to resemble local fish and serene beach scenes were captured with the stroke of a paintbrush or snap of the camera shutter.
A touch of shabby chic décor was prevalent in the offerings, with painted mason jars and reclaimed wood, wind chimes and sun catchers crafted from repurposed chandeliers, candelabras and vintage pins attracting a crowd. For nature lovers, there were plants, shell art, birdhouses and bat houses, too.
After shopping their fill, attendees took a break in the shade to cool off with ice cream, nibble on authentic Greek fare or treat themselves to sugary funnel cakes.
Local artist Barbara Sharpe said that for her, the show serves two purposes – showcasing her work and exposing it to a different group of buyers, while also supporting the Pilot Club's mission to "sponsor worthwhile service projects to improve the quality of life in their communities."
The Treasure Coast Pilot Club, founded more than 20 years ago, is a group of professional businesswomen who support the community through service projects and financial contributions. The club's primary focus is on projects that benefit people with brain disorders, but they also encourage leadership development, community service and patriotism.
Proceeds from Autumn in the Park help fund Project Lifesaver, a program administered by the Alzheimer & Parkinson Association of IRC that provides radio-frequency tracking bracelets to residents at risk of wandering off. If that should happen, the transmitters help the Sheriff's Office to locate them.
The Pilot Club also supports student scholarships, Special Equestrians of the Treasure Coast and bike safety. They collect socks for the homeless and canned goods for food banks, host a dinner and party for lower-income senior citizens, volunteer at the Firefighters' Fair, and participate in the Walk to Remember and Making Strides Against Breast Cancer walks and the Cookies for Soldiers program. The group's annual Pancake Breakfast at the Community Center during the Hibiscus Festival helps fund these and other efforts.
"We're a group of women dedicated to service and friendship," explained Tammy Bursick, event chair. "It means so much to me to be able to give back to the community."
For more information, visit tcpc.info.    
Photos by: Benjamin Thacker
Click HERE to see more or buy photos