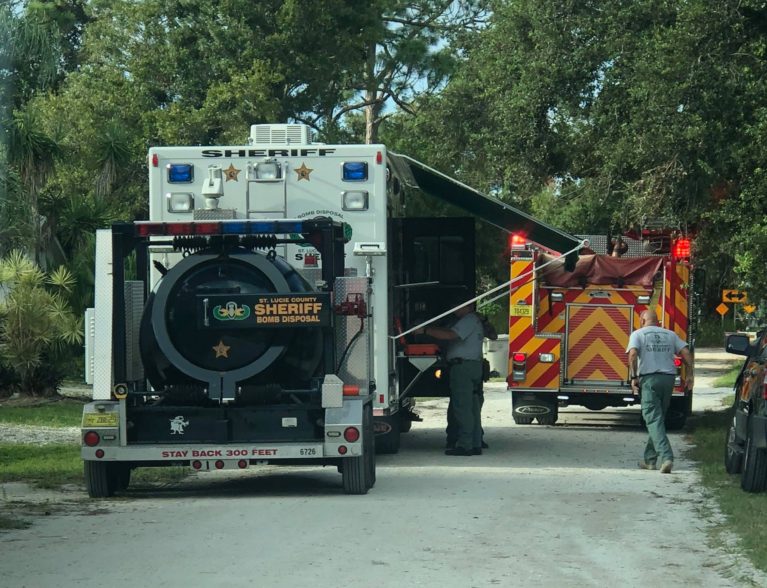 Photo provided by Fire Rescue Battalion Chief Kyle Kofke
INDIAN RIVER COUNTY — Authorities said a 34-year-old man holding an explosive device and a lighter while hallucinating last week ended up prompting a bomb squad sweep and the evacuation of nearby homes, reports show.
The Oct. 1 incident caused homes on 26th Avenue Southwest and 26th Court Southwest to be evacuated for several hours. The man, along with a 34-year-old woman who was also hallucinating, were treated for a mental health evaluation.
Details on if the two will be charged were not available.
Deputies received calls from the man about 3 p.m. Oct. 1, where he said several people with firearms were surrounding his home in the 1300 block of 26th Avenue Southwest. The man told dispatchers he was going to "throw a gasoline bomb," reports show.
A woman who was also at the home called dispatchers and said there were people at the residence last night trying to break in.
Deputies went to the home and saw there were no other people surrounding the residence, reports show. Deputies spoke with the woman outside, who was frantic and "was seeing people that were not there," authorities said.
The man then walked out the front door with a glass Mason jar containing gasoline, oil and a fertilizer in his right hand and a disposable lighter in his left hand, reports show. Deputies ordered the man to drop the items, and he complied.
Deputies spoke with the man, who appeared nervous and agitated. Deputies searched the home and found several knives out and smelled a strong odor of gas, reports show.
Deputies took the man and woman to the Indian River Medical Center for a mental health evaluation. Indian River County Fire Rescue crews responded to the scene and evacuated homes nearby.
Deputies then called the St. Lucie County sheriff's bomb squad, which safely removed three Molotov cocktail-like items from the residence.  The bomb squad and the Bureau of Alcohol, Tobacco, Firearms and Explosives continue to inspect the devices found at the home.