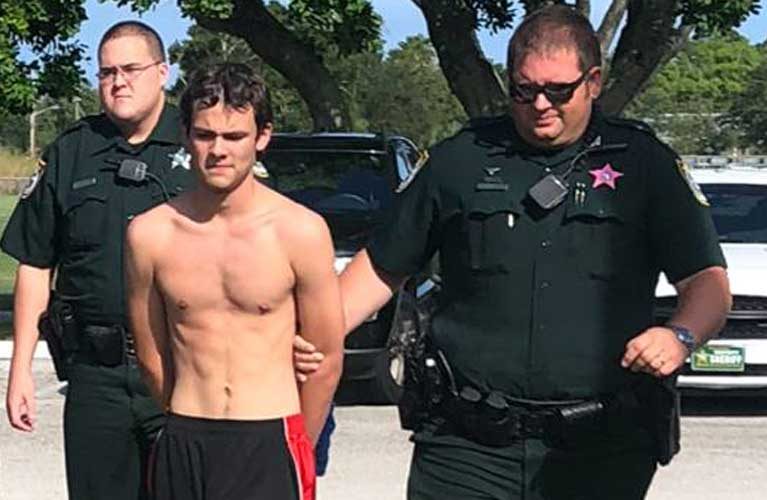 INDIAN RIVER COUNTY — A 15-year-old student suspected of taking a video of himself holding a gun he pulled out of a backpack during a high school lunch period, was arrested Thursday, deputies said. The teen told deputies he took the cell phone video under the cafeteria table and no one saw him.
This is the fourth reported gun-related incident at Vero Beach High School this year.
The student – identified as Richard Garmon – posted the video to Snapchat, a mobile app, about noon Sept. 27, reports show. Students showed school resource officers the video, and also a photo that showed Garmon with a red bandanna covering his face and holding the gun on a school bus.
"By contacting their SROs, the students sent a clear message that they will take an active role in preventing school violence. This incident is a great example of students not willing to tolerate firearms in their schools," Indian River County Sheriff Deryl Loar said in a statement. "This case came to a successful conclusion because of the cooperation between students, law enforcement, and school officials."
Deputies on Thursday arrested Garmon at his home, in the 700 block of 19th Street, on charges of possession of a firearm by a minor, possession of firearm on school grounds and theft of a firearm. Garmon was booked in to the Indian River County Jail and then taken to a juvenile detention center in St. Lucie County.
School resource officers received information about Garmon having the weapon at the Vero Beach High School Freshman Learning Center, 1507 19th Street.
Garmon initially told deputies the weapon was a BB gun. Deputies later learned the firearm was a silver Lorcin 9 mm, reports show.
Garmon admitted to deputies he stole the gun from his grandmother's bedroom, brought it to school and filmed himself with the weapon, authorities said.
"Make no mistake, the Indian River County Sheriff's Office takes a zero tolerance approach to weapons on our school campuses," Loar said in the statement. "Those who bring a gun or other weapon to school or who make threats to do violence, on social media or otherwise, will be arrested and taken to jail."
This story will be updated.