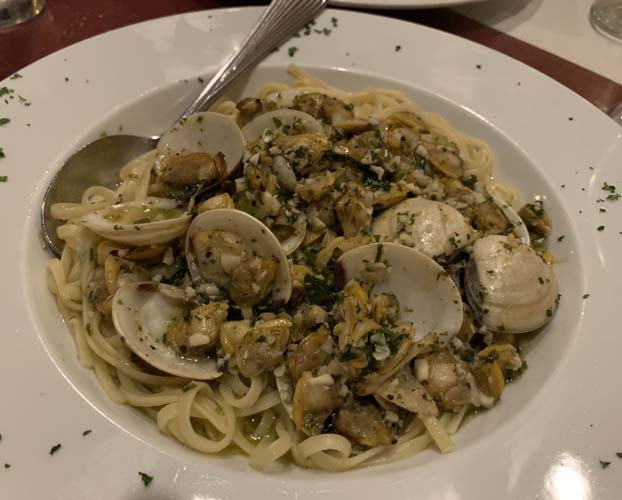 For going on a quarter century, we have been dining every couple of months at Pomodoro, an unpretentious restaurant tucked back in the corner of an office building at the southern end of Cardinal Drive.
We don't just go there for reviews.  We dine there regularly for consistently well-prepared seafood, veal, chicken and pasta dishes at reasonable prices.  I love Chef Amedeo Amelio's light, flavorful sauces.
After a couple of visits in recent weeks, I would have to say the dishes have never been better.
An evening at Pomodoro starts with the smell of garlic knots.  You pick up the scent of these hot baking rolls the minute you come through the door of the attractively decorated Tuscan trattoria.
As soon we placed our wine order last Thursday night, a couple of these olive oil-based beauties arrived on the table.  "Going to need more of these," my husband muttered.  Fortunately, our excellent server twice returned with reinforcements.
For appetizers, we started by sharing an order of cozze bianco and the pepperoni abbracciati all' Italiana
The Prince Edward Island mussels, sautéed with garlic and white wine, were plump and juicy. The fire-roasted tri-color bell peppers, marinated with extra virgin olive oil, capers, calamata olives and fresh herbs, were delicious.
Following the appetizers, we moved to the field greens-and-tomato salads that are included with entrées – I had mine with a tangy tomato basil vinaigrette, while my husband opted for the creamy Vidalia onion dressing.
Then for entrées, I chose the eggplant parmigiana and my husband went for the linguine vongole.
My entrée consisted of slices of breaded eggplant layered with fresh basil, Romano and mozzarella cheese, topped with Pomodoro's marinara, and baked in their oven with a side of rigatoni. This is one of the best eggplant parms to be found anywhere. My husband's linguini in a white clam sauce was also excellent.
On an earlier visit, I opted for the Oceano – little neck and baby clams, jumbo shrimp and mussels over penne served with fra diavolo sauce – and my husband enjoyed the veal piccata, a scallopini sautéed in a very tasty lemon butter caper chardonnay sauce.  Both were winners.
I would also be remiss if I didn't mention Pomodoro's excellent pizzas, which typically come with a very thin crust, neither limp nor cracker-like, but crisped to perfection. One of the best around.
Dinner for two, accompanied by a modest bottle of wine, generally comes to about $100 before taxes and tip.  In addition to its colorful dining room, Pomodoro has an attractive outside garden that when the weather cools is perfect for dining al fresco (or enjoying a cappuccino after dinner).
I am frequently amazed when I encounter friends from mainland Vero who have never visited this island favorite. For a great selection of Italian dishes in a casual yet elegant trattoria setting, Pomodoro is a restaurant that is hard to beat.
I welcome your comments, and encourage you to send feedback to me at tina@verobeach32963.com.  
The reviewer dines anonymously at restaurants at the expense of Vero Beach 32963.   
Pomodoro Grill
Hours: Monday to Saturday, 5 p.m. to 9 p.m.
Beverages: Beer & Wine
Address: 3055 Cardinal Drive
Phone: 772-234-1123