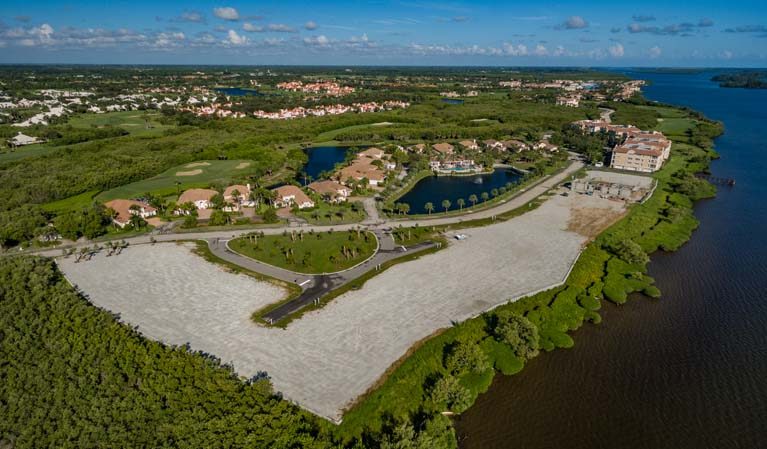 Grand Harbor developer GH Vero Beach Development LLC is launching a new effort to "increase awareness of Grand Harbor near and far." To that end, the company is ramping up its building program in three neighborhoods within the sprawling country club community on Indian River Boulevard, and has hired island real estate brokerage Treasure Coast Sotheby's to market and sell the new homes.
"The developer told us that when we sell one, they will start two," says Sotheby's co-owner and broker Michael Thorpe. "There are about a dozen new homes under construction and they just pulled 10 new building permits."
New homes in three distinct architectural styles priced from about $450,000 to $2.5 million are going up in The Falls, The Reserve and Laguna Village.
The Laguna village offerings are the most dramatic – big modernist homes between 4,000 and 5,000 square feet, most with direct river frontage. There will be 23 homes in the community, with 3, 4 or 5 bedrooms and between 3 ½ and 5 ½ bathrooms. With glass rear walls overlooking the Indian River and a full suite of luxury features and finishes, the homes fill a gap in the riverfront luxury market.
"There are no new, direct riverfront communities on the island," says Sotheby's co-owner Kim Thorpe. "If you want to build a new riverfront home on the island, you have to tear something down."
The developer's website shows list prices for three Laguna Village models that range from $1.78 million to $2.49 million, though Thorpe says those prices may be adjusted.
In The Reserve, located at the end Indian River Boulevard, where it makes a 90-degree bend and becomes 53rd Street, the developer is offering beautifully designed and finished "transitional" homes, with many modernist features, that range in size from 2,690 square feet of air-conditioned space with 3,775 under roof, to 3,560 under air with 5,250 under roof.
Base prices for these golf-course homes range from $825,000 to $919,000. Four builder inventory homes with options such as swimming pools are currently listed on the MLS at prices from $924,547 to $1,079,000.
Fifty-nine homes are planned in the first phase of The Reserve, which is bordered to the north by hundreds of additional buildable acres that belong to the developer.
The Falls, which is laid out between Indian River Boulevard and U. S. 1, will have 64 homes at buildout and is about two-thirds complete. The houses, which have a bright Florida Cottage look, come with courtyards and small pools and have 2 or 3 bedrooms and 2 ½ baths. A number of houses are under construction in the neighborhood and builder inventory homes are offered from $426,500 to $615,000.
Sotheby's new sales office is in The Falls.  Joe Colasuonno, president of GH Vero Beach Development LLC, says his company chose Sotheby's to broker its new homes because "we wanted a fresh approach that matches our plan to increase awareness of Grand Harbor near and far. The Sotheby's brand and resources as the World's Luxury Real Estate company made our decision easier. We are investing and building in anticipation of a record result for the 2018-19 season!"
The Thorpes say their approach will center on selling Grand Harbor's country club lifestyle, as opposed to simply marketing the houses based on their features and value.
"Grand Harbor offers so much – two golf courses, 10 tennis courts, two beautiful clubhouses with restaurants, including a beach club, a deep-water harbor on the river and a full slate of social events," says Michael Thorpe. "Those amenities are our superpower when it comes to selling homes here."
"We are coordinating closely with the club to market the community," says Kim Thorpe. "When one of our agents is working with a prospective buyer interested in the Grand Harbor lifestyle, the club will offer a round of golf, a tennis match, lunch or dinner at the main Clubhouse or Beach Club, and, of course, tours of their beautiful recently redecorated facilities. We are discussing with the developer the possibility of providing complimentary overnight stays in one of the models [for prospective buyers]."
The Thorpes say Sotheby's worldwide network of brokerages and auction houses will serve as feeder network to bring in buyers from the Northeast, South Florida and other regions.
"Our company will market Grand Harbor nationally and internationally, and corporate Sotheby's will be kicking in with additional advertising," says Mike Thorpe.
"They are very excited that we have been chosen to represent Grand Harbor," says Kim Thorpe.
Grand Harbor was founded in 1988, according to its website. It includes hundreds of single-family homes, townhomes and condominiums, including many waterfront and golf-course properties, in more than two dozen named neighborhoods. Besides its wide range of sporting and social amenities, the community is known for its lush landscaping and abundant wildlife. Much of the adjacent acreage to the north and south along the Indian River Lagoon is conservation land that has been preserved by the Indian River Land Trust and will never be developed.