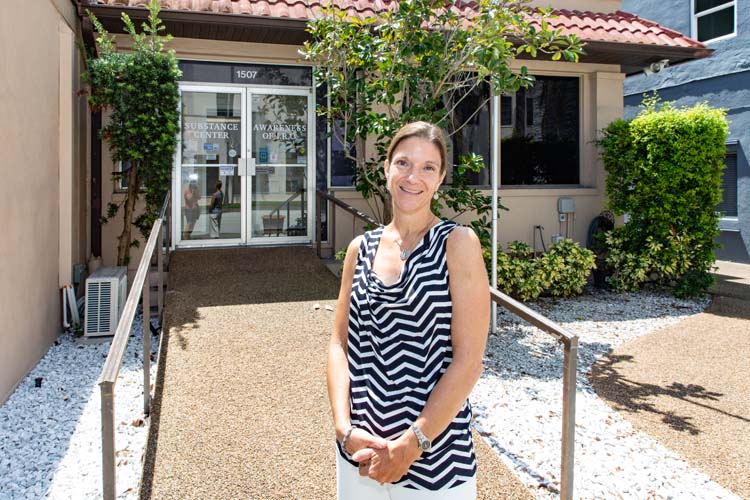 According to a Surgeon General's Report on Facing Addiction in America, "the number of people with a substance use disorder exceeds the number of people diagnosed with cancer – any kind of cancer." Even more frightening, opioid overdose deaths were five times higher in 2016 than in 1999.
But substance abuse is just a big city problem, right? Wrong. Indian River County has its fair share – from alcohol abuse to opioid overdoses.
The Substance Awareness Center of Indian River County, the lead agency of SAFIR (Substance Abuse-Free Indian River Coalition), is doing all it can to keep numbers down through its prevention, treatment and recovery programs.
"We, as an agency, follow the science that says that prevention works; that we can prevent substance abuse disorders," says Carrie Lester, LMHC, CAP, who was appointed executive director in July when Robin Dapp retired.
"It's our mission to lead our community to a healthier lifestyle by reducing the incidence of substance abuse," says Lester. "Nationally, the problem is that a significant number of people who have a substance abuse disorder, whether alcohol or opiates, don't see that they have the disorder and so don't get treatment."
They clearly have their work cut out for them. According to Assistant Chief Cory Richter, IRC Fire Rescue Division, there were 139 drug overdose deaths in 2017; 74 of those in the first six months. Yet as of mid-September 2018, there were already 130 overdose deaths; 96 in the first six months.
As in most of the country, the majority of those deaths involved heroin laced with either fentanyl or carfentanil, extremely powerful synthetic opioid analgesics. Richter explains that fentanyl is 200 times more potent than morphine. Carfentanil – "what they use to knock out elephants" – is 5,000 more potent than heroin and 10,000 more than the same unit of morphine.
These devastatingly destructive drugs depress the vital portions of the brain that control breathing, heart rate and body temperature, causing them to stop functioning.
"That's why it's killing these people," says Richter. "It's a huge sedative that is knocking out their respiratory drive; they die of hypoxia."
In 2010, the Substance Awareness Center began instituting a Prevention Works initiative primarily aimed at adolescents.
Currently, every sixth- through eighth-grade student receives 30 weeks of the evidence-based, comprehensive Lifeskills Training (LST) curriculum, a national substance abuse and anti-violence prevention program that builds through grade levels. It was extended this year to include fifth-graders in the majority of elementary schools.  An additional ReDirect Counseling Program targets youth who have indicated risky behavior.
"Science says that it's really about skill building, behavior rehearsal, social skills training. One-shot presentations aren't proven to have long-term effectiveness," Lester explains. "The research behind Lifeskills Training  is that it is going to have long-term impact, carrying our students all through high school."
The results are encouraging as far as young people are concerned. In 2017, as tragic as they were, there were just 5 deaths under age 21, versus 75 drug overdose deaths between the ages of 21 and 54 and a surprising 50 people aged 55 and older.
Additionally, prior to LST, Indian River County's reported 30-day use of alcohol was ranked one of the highest in Florida for underage drinking. It is now at about state average, according to a Florida Youth Substance Abuse survey.
However, alcohol abuse is still the county's No. 1 problem for adolescents and adults, says Lester.
"Some people believe that alcohol isn't as harmful, or kids are going to drink anyway so we might as well have them drink at home. A lot of parents do it with the best of intentions, but science says a consistent 'no' message reduces substance use. Teens who are allowed to drink in the home will actually drink more outside of the home than teens who aren't allowed to drink."
Adults and teens are sometimes referred to SAC as a result of DUIs, says Lester. "People come in not identifying at all, and then as we really peel it away, they maybe start to look at the truth. They see the way the alcohol was impacting different areas of their life."
And, like a bad game of whack-a-mole, while tobacco use among young people is down, vaping has become a problem, says Lester. "Our big concern with vaping is that what ultimately happens is once you're addicted to something you're going to go to the cheaper alternative, which might ultimately be cigarettes."
Similarly, as prescription opiate restrictions continue to increase, limiting their availability, people are switching to heroin as a cheaper, more accessible alternative.
To help counter overdoses, the SAC makes Narcan – a potentially lifesaving, non-addictive nasal spray – available to anyone at risk of overdosing, their friends, family members or just concerned citizens.
Opiates sit on receptor cells in your brain, Lester explains. When someone overdoses, those receptors are blocked and begin to shut down involuntary receptors – such as breathing. Narcan counters those effects.
"But what we drill into people, is call 911," says Lester. "Because you're going to have someone who wakes up in withdrawal; they're going to need medical attention and you're going to need assistance. But it saves a life, and people can't enter recovery if they're not alive."
Narcan isn't a fail-safe. When fentanyl or carfentanil is involved, the normal 0.4 mg. dosage may not be enough. Richter says they sometimes have to administer up to 10mg just to get someone to breathe.
Lester says Vivitrol, a longer lasting medication, also non-addictive and without street value, can be administered in conjunction with Treasure Coast Community Health. A once-monthly injection, it has been found effective in significantly reducing drug and alcohol cravings by blocking opiate receptors for about 28 days.
"It's an expensive injection, but we have funding through the Florida Alcohol and Drug Abuse Association if we have to offset insurance copays, or 100 percent for people without insurance," says Lester. "They would get all their medical work done through Treasure Coast Community Health and they would participate in our Substance Abuse Treatment program."
They also partner with TCCH to make it available to inmates before they leave jail.
"Everyone has the greatest of intentions when they're in jail and they walk out those doors. But then the pathways light up in their brain and they see the street corner and they're right back doing what they were doing," says Lester.
She stresses that, to be effective, any medication-assisted treatment must still be combined with a comprehensive counseling program of treatment and recovery. "They really need to learn the coping skills; a new way to react to life. How do you live sober? It's a whole new way of thinking and behaving."
Lester says the SAC provides drug-testing services, explaining "we look at it as the intersection of prevention and treatment, because it supports both. It supports our prevention methods with the kids, and with the adults it supports our treatment program. We use it therapeutically to drive treatment or prevention."
Program costs are zero to minimal. "We don't refuse services based on inability to pay," says Lester. "We really serve the underserved; those who are most in need. We serve that gap of people who don't have insurance and don't qualify for Medicaid."
Recognizing that juvenile arrest records can hinder college, employment or military applications, the SAC advocates with law enforcement for civil citations in lieu of arrests for misdemeanor adolescent offenses, such as possession of marijuana, alcohol or petty theft.
"It's about that lack of impulse control, that risk taking, that sensation seeking," says Lester. "With a civil citation for risky behaviors those kids will not have a criminal history if they complete the program."
A criminal history can also be daunting for adults, she adds, especially for somebody newly sobered and in recovery.
For adults, SAC counselors provide outpatient substance abuse treatment programs, and they operate several Recovery Assistance group homes – MAP (Men's Assistance Program) and WRAP (Women's Recovery Assistance Program).
Lester says research indicates that about 90 percent of people released from a typical 28-day residential treatment program will relapse within the first year, whereas about 50 percent relapse after a minimum three month stay in a sober living environment.
"Our program is probably about a good nine months to move through. There's a lot to learn. The addiction takes you down roads that would have been unimaginable," says Lester. Noting that addiction hijacks the instinct portion of the brain, she adds, "and that's why you engage in behaviors you would have never thought possible."
Such was the case for Vero Beach resident Meghan Rose, whose life spiraled out of control after a series of bad choices. Her story is chronicled in the newly released book "Dancing with the Devil," written by her mother, Gretchen Rose.
Meghan Rose began abusing drugs and alcohol in high school, getting her first DUI at age 19, and for almost a decade it was downhill from there. Working as a stripper at a club in Daytona fueled her addiction, as did numerous, sometimes dangerous men.
She eventually sobered up at a faith-based rehab facility run by three caring former addicts, and in 2013 even completed a Navy SEAL Challenge. Today, she attends college and continues to face her biggest challenge – lifetime recovery.
They expect to host a book signing event at the Vero Beach Book Center in early 2019, in conjunction with the Mental Health Association.
 For more information about the Substance Awareness Center, visit sacirc.org.