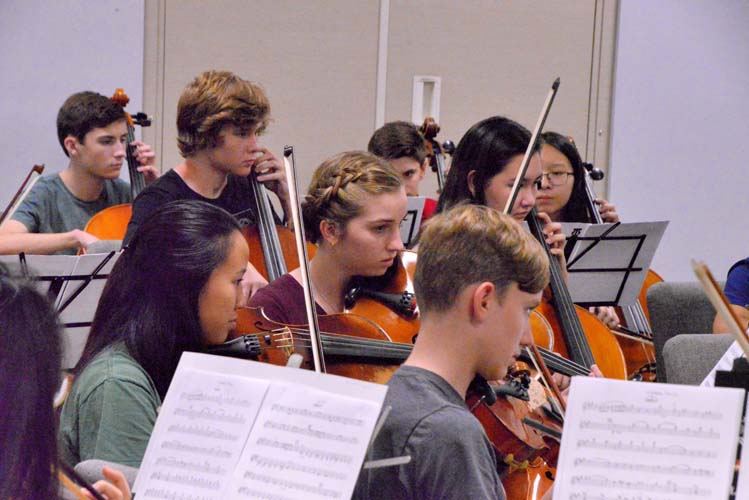 The talk at Faith Viera Lutheran Church was of bowings, beats and measures, tempos, codas, sharps and flats. It was only the second evening of rehearsals for the new Space Coast Symphony Youth Orchestra, but the young performers with their violins, violas, cellos and basses were serious and attentive as their directors helped them tune up.
"Our goal is to make sure everyone who wants to play, gets to play," says Program Director Jensee Lee, a music teacher at Holland Elementary in Satellite Beach. In all, there are 96-100 performers, ages third grade through 12th grade, with three levels of participation determined by the students' years of experience. The Academy Orchestra is for beginners, Symphonic Orchestra serves intermediate pupils and the Philharmonic Orchestra the more advanced musicians with five or more years of experience.
Renowned local conductors will lead the performers through a season of four performances. Among the pieces the orchestras are now working on are arrangements of "The Barber of Seville," by Gioachino Rossini, "Evening Prayer," by Engelbert Humperdinck, and "Stonehenge," by Michael Story.
Mark Nelson, artistic director for the top-level orchestra and longtime Brevard County conductor and teacher, says its members benefit because they "get to experience literature they normally won't get in public school." That will include standard and contemporary pieces approaching professional levels, along with "a few hidden gems." Ten of the Philharmonic players have already performed with the Space Coast Symphony, and more will do so next season, according to Nelson.
As for the benefits to the public from having such a challenging opportunity for young musicians? "There's lots of writing by Plato and Socrates about how a classical upbringing is very good for community," Nelson says.
The intermediate-level orchestra will be led by Samantha Felber, a violinist and native of Brevard County with a bachelor's of music education from the University of North Florida. She performs at numerous Space Coast venues and is currently the orchestra director at Heritage High School in Palm Bay.
At the practice session, she led the group in an arrangement of "Danny Boy," sure to tug the hearts of audiences. She plays along on her violin to help students stay in tempo, a feat made more difficult by the sounds of the Philharmonic students playing in a nearby room at the church.
The beginning-level orchestra, whose players already have a year or two of experience, show great maturity as they listen to the instructions of director Carey Moorman. Moorman is also Concertmaster for the Space Coast Symphony and string consultant for public schools that feed into Satellite High School, including DeLaura Middle School and Sea Park, Surfside and Ocean Breeze elementary schools.
The youth symphony is "a nonprofit organization and all about students," Moorman explains, "with low tuition fees and high-quality directors and music."
One grandmother standing at the door as the Academy players heartily agrees. "She just loves it," says Satellite Beach resident Mary Louise Cattaneo of her 9-year-old granddaughter. "She sleeps with her violin. We were amazed when she told us [she'd be part of the youth orchestra.]"
 For more information, visit spacecoastsymphony.org/space-coast-symphony-youth-orchestra.