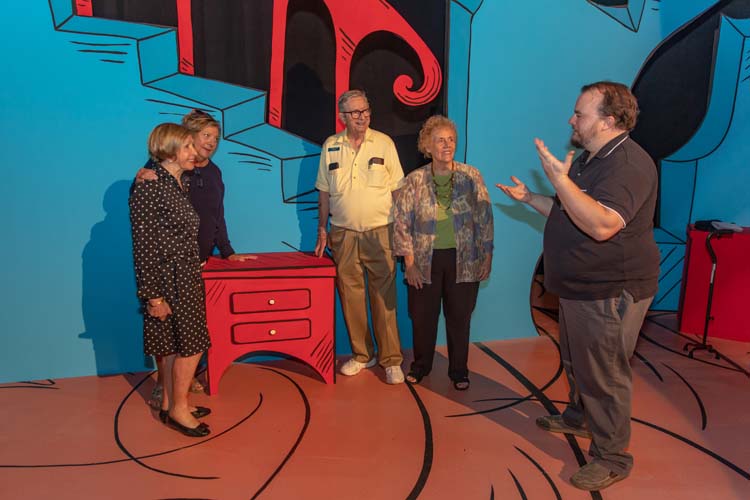 From Broadway-quality productions to better-than-Broadway comfort, Riverside Theatre has long set its sights on growing its audience.
With its electrifying 45th season of blockbuster shows, including "Evita," "My Fair Lady" and "Next to Normal," Riverside is about to pull even more people into its ranks of adoring patrons.
Add to the mix Riverside's innovative "Backstage Access" series of adult theater classes designed to educate and motivate, and resistance to Riverside's allure is, well, futile.
Just ask Patrician Harvin, who says that when she and husband Charles moved to Vero Beach from New York City, she felt lost.
"There was a gasp: 'What am I going to do now?'" she recalls. "I discovered Riverside and just ate it up."
The shows drew them in, but they're now also hooked on Riverside's Backstage Access classes. The couple is excited about the kickoff to the series. The first class begins Oct. 18 and will explore Riverside's production of "Smokey Joe's Café," which opens Oct. 23.
Led by Kevin Quillinan, Riverside's director of education, that class will focus on the popular music and writing team of Jerry Leiber and Mike Stoller, as well as Riverside's artistic goals for the production.
More than an intellectual pursuit, the Backstage Access also literally takes students backstage to see scenery being built or painted, lights being hung, or the sound being tested. Sometimes they get to watch a rehearsal and speak with the actors, dancers, directors or designers. And then, apart from the syllabus, there are the impromptu lunches with all those creative forces, which make the class experience even more fun.
"It's so diverse and it's never the same," says Mary Jane Grant, one of Riverside's patron producers and an avid class member.
The classes run from 10 a.m. to noon and are held once a week for three weeks beginning in the Richardson Room of the Agnes Wahlstrom Youth Playhouse. Each three-week class explores one production, including the show's history and famous names associated with it. Then, classes move into Riverside's own production of the musical or play.
Occasionally, students venture into the main Stark Stage venue or the smaller Waxlax Stage to watch a rehearsal.
"You get to go onstage and see the sets as they are being completed and find out how they're moving the stairway in, or how they change the furniture around between scenes," Harvin says.
"One time, during dress rehearsal, the director started walking through and he'd say, 'Wait a minute. We're going to change that.' That was fascinating."
The final class is held after the students have seen the show so they can share their unexpected insights into the production.
Quillinan also makes sure to always leave time for actors, dancers or singers to visit the class.
"That's a favorite part for the students," he says.
Grant agrees. She says at the "Gypsy" and "Private Lives" classes, popular director James Brennan spoke. Then, when the class for "Mame" was being held, music director Ken Clifton spoke for an hour.
"We have such a resource here," she says.
Backstage Access began three years ago and continues to grow in popularity. Students are so enthusiastic some are even expanding their own theatrical horizons into the children's theater productions, Quillinan says.
Students usually number between 15 and 25, but for the more "splashier" shows, that number can get as high as 30, he says.
This is all about staying true to Riverside's overall mission to broaden the cultural horizons of the general community, Quillinan says.
For "Evita," Backstage Access will focus on the life and times of Eva Peron and the challenges of adapting her story to the stage for this wildly popular Andrew Lloyd Webber and Tim Rice musical. It will also examine Riverside's artistic choices in its production and costumes, ranging from the working class and revolutionary to the political elite and powerful, will be studied.
With "Next to Normal," students will look at new works of the theater, such as this Pulitzer Prize-winning musical drama, the newest, most contemporary and most serious selection of the season. This 2009 award-winner borders on rock opera style in both composition and lyrics. The class will examine how style and substance might merge. The score's driving nature emphasizes the libretto's subject matter: a family striving to be as "normal" as possible in the face of crushing issues caused by the mother's bipolar disorder.
The classes exploring "My Fair Lady" will explore the history of this iconic 1956 Lerner and Loewe musical plus its source material, George Bernard Shaw's "Pygmalion." Sets and costumes are always a highlight of this elegant, fun show and will demand a lot of the class' attention, Quillinan says. Indeed, the 1965 movie adaptation won costume designer Cecil Beaton an Oscar. Expect to look at costume design transitions from flower girl street urchin to high tea elegance.
Finally, with "Legally Blonde," Quinillan will take students into a subject matter that has caused critics to shake their heads for decades – the Broadway trend of mounting musical productions of popular movies. Noteworthy adaptation strategies include how producers insert song and dance into their Broadway shows and how choreography moves a show.
The 2018-19 Season Lineup and Backstage Access schedule (classes all run 10 a.m. to noon) is below:
"Smokey Joe's Café" runs Oct. 23 to Nov. 11; Backstage Access are Oct. 18, Oct. 25 and Nov. 1.
The crowd-pleasing musical revue takes audiences into the world of famed American songwriting duo Jerry Leiber and Mike Stoller. The pair created a mind-blowing list of standards in the American rock 'n' roll songbook, including "Hound Dog," "Dance with Me," "Poison Ivy" and "Stand By Me."
"Evita" runs Jan. 8-27; the Backstage Access classes run Jan. 3, Jan. 10 and Jan. 17. This winner of seven Tony Awards, including for Best Musical, follows the life of Eva Peron through an electrifying score of music, from her penniless origins to the pinnacle of power as the first lady of Argentina and her early death.
"Next to Normal" runs Jan. 22-Feb. 10 on the Waxlax Stage; the Backstage Access classes run Jan. 7, Jan. 14 and Jan. 28. This 2009 rock opera musical has book and lyrics by Brian Yorkey and music by Tom Kitt; it scored them a Tony Award for best original score. The startling subject matter revolves around a wife and mother of two as she tries to cope with bipolar disorder. Although a musical, it won a 2010 Pulitzer Prize for drama.
"The Last Romance" runs Feb. 5-24. There is no Backstage Access class scheduled for this production. Written by popular playwright Joe DiPietro, the play concerns a love affair between two seniors. DiPietro is known for his sentimental works, including the popular plays and musicals including "Over the River and Through the Woods," "I Love You, You're Perfect, Now Change" and "Memphis."
"My Fair Lady" runs March 12-31; the Backstage Access classes run March 7, March 14 and March 21. This 1956 Lerner and Loewe musical is based on the 1913 play, "Pygmalion," by George Bernard Shaw. It concerns a London phonetics expert, Prof. Henry Higgins, who takes on the mission to improve the speech of flower girl Eliza Doolittle, thereby improving her lot in life. However, unlike Shaw's cynical attitude in "Pygmalion," Lerner and Loewe created a more sympathetic, albeit witty, story.
"Ghost Writer" runs March 26-April 14 on the Waxlax Stage. There is no Backstage Access class scheduled for this production. Written by the award-winning playwright Michael Hollinger, the play concerns Myra, a secretary to a writer who dies mid-sentence. Myra forges his work, leaving people wondering if she is trying to steal his legacy or his love. Hollinger has written multiple plays, all considered artful in their execution, including "Opus" and "An Empty Plate in the Café du Grand Boeuf" which Riverside produced in early 2017.
"Legally Blonde" runs April 16-May 5; the Backstage Access classes run April 11, April 18 and April 25. The Nell Benjamin and Laurence O'Keefe musical, book by Heather Hach, is based on the 2001 Reese Witherspoon movie about a blonde pre-law student who solves a crime while also giving advice in love and fun to her hairdresser. The popular, upbeat musical ran on Broadway for a year and a half and is a favorite of regional and community theaters. Riverside's show is being co-produced with Philadelphia's venerable Walnut Street Theatre, America's oldest theater.
Riverside Theatre is at 3250 Riverside Park Drive, Vero Beach. Backstage Access tuition for each three-week class is $70 with discounts for Riverside Theatre members; tuition is free to Patron Producers and Upper Level members. Class sizes are limited. Single tickets to the productions begin at $35. Call 772-231-6990 or visit RiversideTheatre.com.