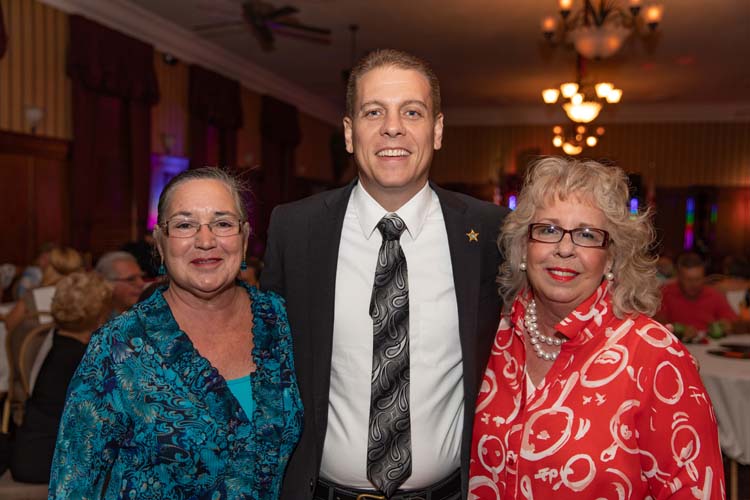 The Courthouse Executive Center was transformed into a dance space reminiscent of Soul Train last Saturday evening for a Super Fly Dance-Off fundraiser to benefit the Feed the Lambs Enrichment Program. Enjoying a blast from the past, guests danced the Hustle, Bump and Bus Stop to support the mission of the faith-based nonprofit to engage, educate and empower local youth.
Afros, miniskirts, bell-bottoms and platform shoes made a huge comeback as D.J. Lisa G invited partiers to the floor to show off their best moves. Everyone got their groove on as they danced the night away to soul, funk and disco music amid an array of pulsing lights and vinyl records, and couples showed just how 'super fly' they were as they 'boogied on down' to classics from the '60s and '70s during a Super Fly Couples Dance Competition.
Proceeds from the event will help fund the tutoring, mentorship, recreation and summer-camp programs they provide at no cost to underprivileged children, who would otherwise be unable to obtain these services.
Feed the Lambs was the brainchild of the late J. Ralph Lundy, who also oversaw Our Father's Table, a local soup kitchen. Since its 1996 inception, the program has grown to serve more than 130 children between the ages of 6 and 14, under the leadership of John May, Feed the Lambs board president.
"Without Feed the Lambs, these parents can't get the kids the help they need. Especially those with more than one child," said May.
The need has continued to grow over the years. According to the most recent United Way of Florida ALICE (Asset Limited, Income Constrained, Employed) report, 40 percent of Indian River County households do not have sufficient income to support a bare-minimum survival budget, placing tutoring out of reach for a large portion of the population.
To keep up with the demand, Feed the Lambs has expanded its tutoring programs this year from two to five days a week, providing services three days at Oslo Middle School and two days at the Preserve at Oslo Apartments.
"That way we can reach those kids who don't participate in the tutoring program at school. We've also added a new program for parents, PIE (Parents Improving Education). If the parents are educated on what the kids are doing in school, they can help them at home," said May.
Parents have been required to volunteer a minimum of five hours to help with fundraising efforts, but the PIE reading, math and computer classes will now also count toward volunteer requirements.
"These classes will help parents understand today's math, improve their reading so they can read with their children and teach them basic computer skills. This is only possible through our volunteers and our collaboration with Oslo Middle School teachers," said May. "We need volunteers and donations to support the program, tutoring, mentoring services and summer camp."
For more information, visit feedthelambsep.com or call 772-501-2617.    
Photos by: Denise Ritchie
Click HERE to see more or buy photos