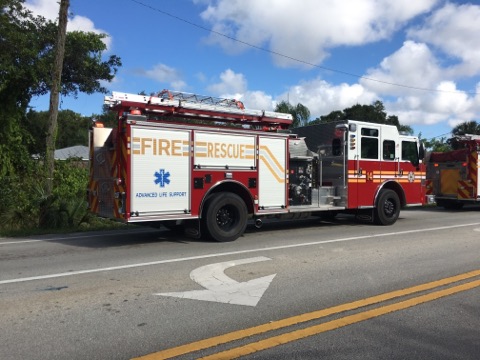 INDIAN RIVER COUNTY — An 83-year-old man died after being hospitalized from a Tuesday afternoon house fire that blocked 43rd Avenue for several hours and temporarily caused officials to shut down power in the area, fire rescue crews said.
Crews reopened 43rd Avenue about 8:40 p.m., Indian River County Fire Rescue Battalion Chief Kyle Kofke said.
Upon arrival, fire rescue crews found the unidentified man – who was the only person home at the time of the blaze – unresponsive and in cardiac arrest, Kofke said. The man was taken to the Indian River Medical Center, where doctors pronounced him dead.
Fire Rescue crews responded to the blaze about 3:30 p.m. Tuesday at a home in the 700 block of 43rd Avenue, near 8th Street, Kofke said. Fire crews saw thick, black smoke billowing from the fully engulfed residence upon arrival, Kofke said.
Nearly 25 firefighters and about seven engines helped to knock the flames down in about 30 minutes. The fire was completely extinguished about 8 p.m., Kofke said. The blaze caused heavy fire and smoke damage to most of the home, leaving it uninhabitable.
*Note for videos – Click the audio icon in the lower right hand corner for sound. 
43rd Avenue is closed at 8th Street from a house fire, Indian River County Fire Rescue officials said. One man inside the home was taken to the IRMC. His condition was not immediately available.

Posted by Nick Samuel on Tuesday, September 25, 2018
Fire rescue crews made contact with the victim's wife, who went to the hospital, Kofke said. The wife denied assistance from Red Cross South Florida Region.
Fire crews shut down power in the area for about 20 minutes as a precaution, Kofke said. No other homes were threatened from the flames.
The state fire marshal was at the scene investigating the cause of the blaze, Kofke said.
Photos contributed by Stacy Cardell