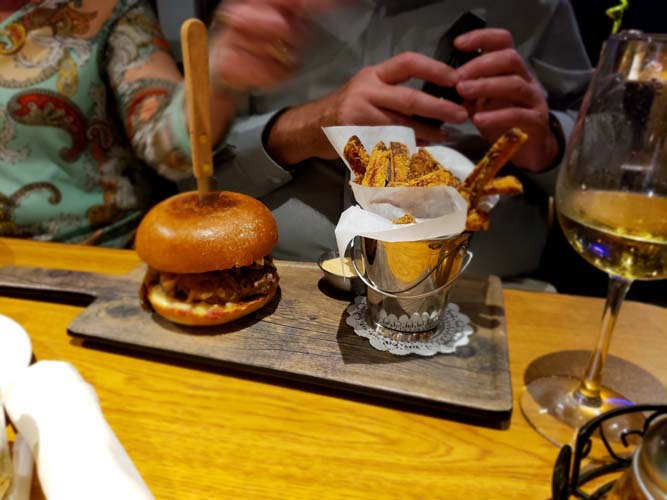 Ever notice how when a restaurant closes, other eateries that follow in the same location frequently struggle?
Well, down in Vero's South Square, a new restaurant – the American Grill & Bar – recently sprung up in the cavernous space that in recent times has housed Blue 42, JR's and YNOT.
Owner-chef Arturo, an enterprising Sicilian, is pulling out all stops to make his effort the one that succeeds.
Headline news: Beyond serving an amazing variety of dishes, Arturo hopes to lure customers into the American Grill & Bar with jazz brunches, nights featuring country music and rock, all manner of cocktails (including several featuring the psychedelic spirit absinthe), and Hump Day (Wednesday) camel burgers.
Look & Feel: Even though the American Grill & Bar has closed off some of this enormous restaurant's space, it still has a rather industrial feel. OK for a bar, I guess, but not much ambiance for dining.
Food: Much of the food, as the name suggests, consists of typical American bar and grill fare. But the most interesting dishes feature a fusion of international flavors. The pan-fried veggie dumplings, for example, come stuffed with edamame, and are served with an Asian dipping sauce. And the Greek tacos take this Mexican dish to a new level with a tasty lamb filling.
Our visit with two companions this past Thursday got off to a good start, when we ordered three appetizers to share: Southern Shrimp ($14), the Vegan Dumplings ($9) and the Green Tomatoes ($7).
The large Florida coast shrimp were deep fried in a Cajun spiced tempura batter, and were served with a lemon sriracha aioli. Very nice. The dumplings were delicious, and the green tomatoes – with a very crisp seasoned breading and soft inside – were excellent.
Then for main courses, it was Thursday Taco night so I ordered the tacos ($14); my husband decided to try one of the many burgers on the menu, in this case the French Farmer ($13); one of our companions opted for the Palermo Pizzette ($12); and the other opted for the pub alfredo pasta topped by slices of chicken breast ($19).
My tacos – one chicken, one shrimp, one Greek (lamb) – were all winners.  My husband was less excited about his burger, topped with goat cheese, caramelized onions and honey-lemon aioli, but loved the crispy sweet potato fries.
Our companions' dishes – for one, a personal pizza with spicy Italian sausage, arugula, fresh mozzarella, Parmigiano Reggiano and homemade marinara; for the other, tagliatelle in a creamy garlic Parmesan garlic sauce tossed with mushrooms, and topped with chicken – both got high marks.
Drink: The American Grill and Bar has n endless variety of popular and half crafted local beers, offers wines by the glass as well as the bottle, and has a selection of cocktails that it would be hard to top anywhere.
Service: Service was attentive, and our server did a good job of guiding us through the menu and the evening's specials.
Prices: Food for our party of four ran about $25 per person; alcohol ran $18.
Initial impressions: The American Grill and Bar obviously hopes by offering almost literally something for everyone, it has found a formula for success. We hope so too, but there's work to be done – and we will check back in a few months to see how it's going.
I welcome your comments, and encourage you to send feedback to me at tina@verobeach32963.com.  
The reviewer dines anonymously at restaurants at the expense of Vero Beach 32963.  
American Grill & Bar
Hours: Daily except Tuesday, 2 pm to 1 am
Beverages: Full Bar
Address: 710 South U.S. 1, Vero Beach
Phone: (772) 410-8100