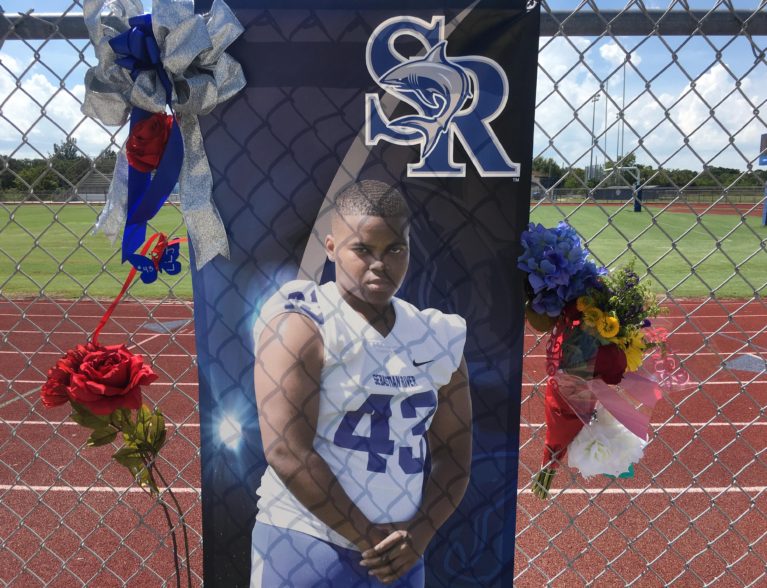 SEBASTIAN — A candlelight vigil for a student athlete who died after collapsing at a high school gym over the weekend will be held this Thursday, school officials said.
The vigil for 17-year-old Kamaree Jevon Lyons, of Sebastian, will be held from 8:15 p.m. to 9 p.m. Thursday at the football stadium at Sebastian River High School, 9001 Shark Boulevard, School District of Indian River County spokeswoman Cristen Maddux said. School administrators will organize the vigil.
The teen's death still remains under investigation by the Indian River County Sheriff's Office, sheriff's spokesman Maj. Eric Flowers said. It was not immediately known when an autopsy would be performed.
A poster of Lyons in his football uniform could be seen Monday at the front gate entrance to the football stadium, located right next to the school. The senior was a fullback for Sebastian River High School's Sharks football team.
Ribbons and flowers were placed next to his picture, which sits alongside posters of eight other teammates.
Lyons, a senior at the high school, was playing basketball at an open gym shortly before 7 p.m. Saturday on the campus. The teen then walked off the court and collapsed, Maddux said.
Another student flagged down emergency responders as they arrived at the high school campus, according to a sheriff's call for service report. Lyons was still breathing and lying on his side when emergency responders arrived.
The teen was taken by ambulance to a local hospital, where doctors pronounced him dead, Maddux said. It's still unclear what caused Lyons' death and if he had any known medical conditions.
Grief counselors were available to students, teachers and staff at the school starting Monday, Maddux said. Lyons was well-known in the area and his death impacted many people.
A Facebook post from the SRHS Touchdown Club on Saturday read, "I am at a loss for words, with a heavy heart, as we lost one of our SHARK WARRIORS tonight, Kamaree Lyons, #43." Lyons also played for the Sebastian River High School Sharks basketball team, Maddux said.
Lyons had attended the Gifford Youth Achievement Center since he was in kindergarten, GYAC officials said. The teen also was a lead mentee in the Boys 2 Men 2 Greatness Mentoring Program.
Lyons' family members were not immediately available for comment.
Photo by Nick Samuel