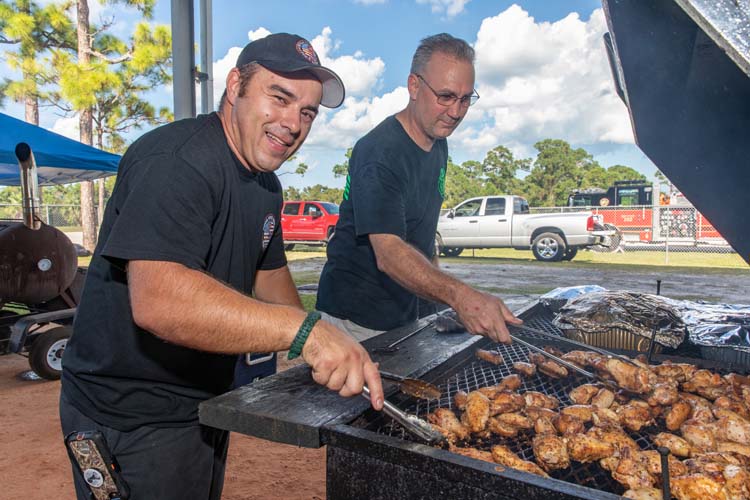 Passersby needed only to follow their noses to the Indian River County Fairground's Ag Pavilion for a barbecue smorgasbord like no other last Saturday evening at an inaugural First Responders Fall Cook-Off.
Proceeds from the carnivore's feast benefit will be distributed among the Fellsmere Police Department, Indian River County Fire Rescue, Indian River County Sheriff's Office, Indian River Shores Public Safety, Sebastian Police Department, Vero Beach Lifeguard Association and Vero Beach Police Department.
First responders are the individuals who risk their lives on a daily basis to assist others – the firefighter who pulls people from a burning building, the law-enforcement officer who runs toward danger in the night, the lifeguard who swims out to rescue you from a rip current or the EMT who performs CPR on the two-year-old who fell into the family swimming pool.
No matter the uniform, the brave men and women are there to offer aid during the worst of times and event organizer Devon Dupuis saw the cook-off as a way for the community to show their appreciation.
"We really just wanted to do something not only to raise money for them but also to bring the community together to show them gratitude," said Dupuis.
Unlike during emergencies, when first responders work as a team, this time each department adopted an "every man for him or herself" attitude as they competed for Judge's and People's Choice Awards.
Each team received ribs, wings and pork butt to create their culinary masterpieces, utilizing top secret ingredients that ranged from vinegar to Sriracha chili sauce, lemon pepper to onions. Some items were smothered in homemade barbecue sauces while others were injected with secret ingredients.
To top off the meal, a variety of sides were generously sponsored by Wilke's 14 Bones Barbecue.
"The support has been phenomenal," said Dupuis, noting that through sponsorships and the purchase of the meat at cost from Jimbo Carroll of Cafe 66, initial costs were fully covered.
"When it comes down to ticket sales and money made on the actual night of the event, not a penny of that will have to go to expenses. It all goes back to the first responders," she added.
"From the minute that we heard that this was something that they had put together and that the community wanted to be a part of, we've been excited about it," said IRCSO Maj. Eric Flowers. "It's a time for us to have positive interaction with the community. There are so many times where we see people at their worst, or people call us when they're having the absolute worst day of their lives, and this is an opportunity for them to see us as humans, just like everybody else. It's just a great day for the whole community all the way around."
With hunger satiated and globs of barbecue sauce licked from fingertips, the winners were announced – the Sebastian Police Department took home the People's Choice Award, and the Indian River County Sheriff's Office won the Judge's Choice Award.
Photos by: Denise Ritchie
Click HERE to see more or buy photos