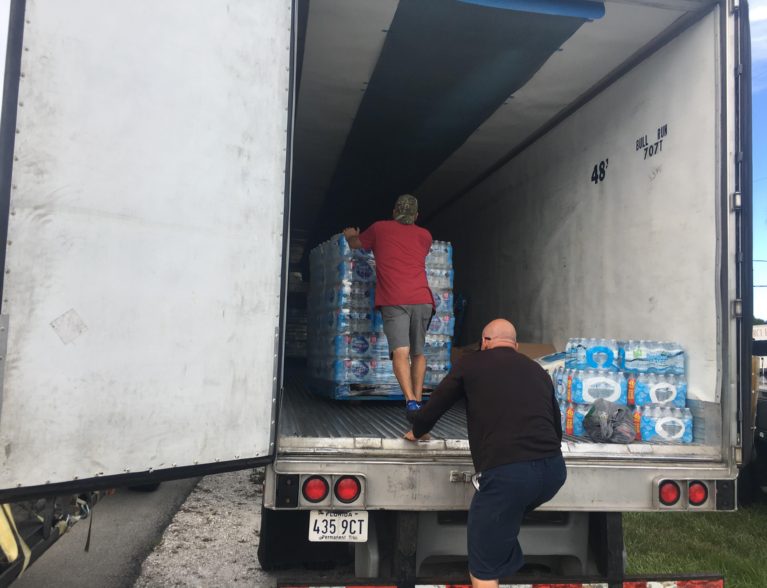 INDIAN RIVER COUNTY — For restaurant owner Wes Garcia, volunteering to gather supplies for residents who will be impacted by Hurricane Florence is "human nature."
"We don't need a pat on the back," said Garcia, who owns Wes Backyard BBQ & Grill with his wife Michele. "We have the ability to do it. It's human nature to help other people. It's what we do."
Residents can make donations to the Treasure Coast Hurricane Florence Relief Run from 2 p.m. Thursday until about 7 p.m. next Wednesday. The donations will then be delivered to South Carolina.
Those who have donated so far include independent business owners, neighbors and others across the Treasure Coast.
Donations can be dropped off at Wes Backyard BBQ daily from 7 a.m. to 7 p.m., the Garcia's said. The Garcias were born and raised in Vero Beach and have owned Wes Backyard BBQ since November 2017.
The couple is asking residents to donate toiletries, clothing, canned food, pet food and other non-perishable items to the eatery, located at 1430 16th Street, Vero Beach. On Saturday, Cap's Pizza will be donating pizza to all volunteers about 10 a.m., Garcia said.
"We did this last year with Hurricane Harvey and donated more than 200,000 pounds of supplies (to southern Texas)," Garcia said. The Garcias used five 28 foot U-haul trucks to help send the items to Texas residents.
This time around, the Garcias said they wanted to be ready for the anticipated devastation and be immediately prepared to send off items in coordination with the national guard and the emergency operations center in South Carolina.
"Anytime we reach out, we seem to get more and more help," Michele Garcia said.
*Note for videos: Click the audio icon in the lower right hand corner for sound. 
Wes Garcia with Wes Backyard BBQ and other volunteers have united to gather food and supplies to send to the national guard base in South Carolina for the Hurricane Florence relief. Hear what Wes has to say.

Posted by Nick Samuel on Thursday, September 13, 2018
Anyone donating more than three canned food items should bring them in a box, according to the Garcias. Clothes that are donated should be cleaned, boxed and labeled.
Garcia and other volunteers were loading up cases of water into a 53-foot long semi truck Thursday afternoon. The truck was donated by R-N-R Transport Inc.
Ken Raley Jr., owner of R-N-R Transport, and another truck company employee will drive the truck more than 500 miles to a national guard base in South Carolina, Garcia said. The national guard will then disperse the items where they are needed.
Garcia said he will be in constant communication with Raley as he makes the long drive toward the path of the hurricane.
Other locations also accepting donations for the Hurricane Florence Relief Run are Sailfish Brewery Company, Lenzi's Diner, both in Fort Pierce, Groza Builders and All Roads Truck & Auto Repair, both in Port St. Lucie.
Hurricane Florence was listed about 6 p.m. Thursday as a Category 2 hurricane with 105 mph maximum winds, weather meteorologists said. The storm was positioned late Thursday about 90 miles southeast of Wilmington, North Carolina.
Photos by Nick Samuel