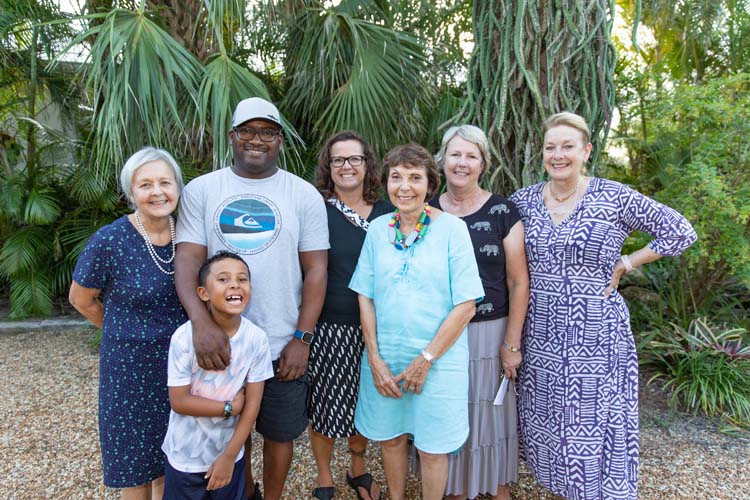 Talented members of the Cambridge American Stage Tour first hit our sandy shores in 2008 at the invitation of the Laura (Riding) Jackson Foundation, and the response to the British theater group – a not-for-profit society at the University of Cambridge founded by Dame Judi Densch – was so positive that they have been invited back every year since.
Unlike last year, when Hurricane Irma curtailed some activities, this year's tropical storm had already washed through by Monday evening, when the 18-member troupe arrived and began settling in with their host families.
In addition to a performance of Shakespeare's "The Tempest" at Sebastian River High School's Performing Arts Center last Wednesday, their whirlwind visit included a welcoming picnic hosted by longtime LRJF board member Charlotte Terry, as well as acting workshops for local high school and college students.
"It's amazing; we're having a great time," said Teuta Day, CAST education officer. She explained that the workshops use various techniques to familiarize students with Shakespeare's works.
"They use a lot of the movement work that the cast has been doing and introduce students to that process. And then we slowly allow them to work with the text and to not feel quite so daunted by it," said Day.
She said the company – a new cast and crew perform a new play every year – is comprised of Cambridge students and recent graduates who have mastered their skill sets.
"They've climbed every rung they can at Cambridge and they're just waiting to tip over to the professional level now," said Day. "It's quite exciting; it's a nice group."
In England, students perform in numerous productions at all their local performance venues.
"All of us are quite heavily involved in the theater scene in university," said Louis Norris. "There's a really massive, bustling student theater scene at Cambridge."
Performances here have taken place at each of the various high school auditoriums over the years.
"We try to spread it around, so that everybody in the county can have access to it," said Marie Stiefel, LRJF board president. "It's been a wonderful collaboration. They approach theater education from a different point of view; sort of a holistic point of view."
Workshops ranged from tips on working as an ensemble to writing and moving with the language.
"It's always very interesting; very instructive. It's fun to learn Shakespeare that way and that's why we do it," said Stiefel. "Laura Riding Jackson has two focuses. One of them is enrichment; we do things that the public schools don't have time to do. The other is instruction; and CAST comes at it from a different way of teaching English. And that helps the kids advance their skills, so it's a fun project."
In addition to preserving the historic home of poet Laura (Riding) Jackson, the foundation promotes the written word through teen and adult writing workshops at their Writing Center on 14th Avenue.
"It's getting busier and busier," said Stiefel. "I think it's going to be a good year. And we need to move the house, so we need to have it be a good year."
For more information, visit lauraridingjackson.com.     
Photos by: Denise Ritchie
Click HERE to see more or buy photos