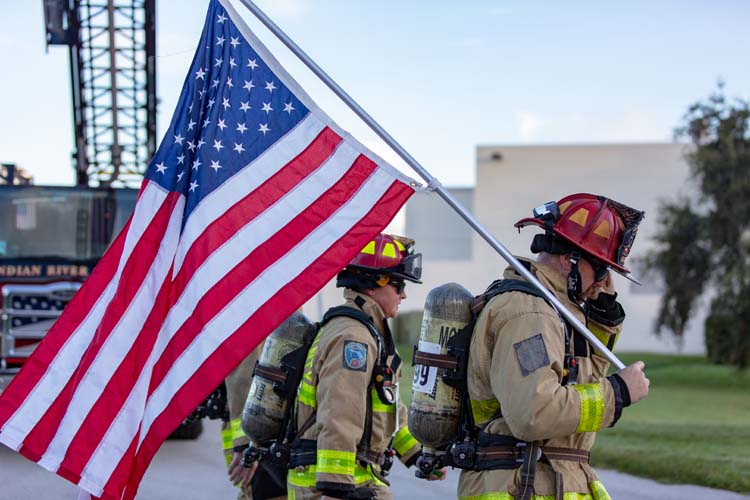 A line of flags fluttered in the morning breeze as runners lined up at Riverside Park for the annual Tunnel to Towers 5K Run & Walk Vero Beach, one of a nationwide series of events created to 'follow the footsteps' of Stephen Siller, a New York City firefighter who lost his life on Sept. 11, 2001. Upon learning of the attack on the Twin Towers, Siller strapped on his gear and, finding traffic into the city was blocked, ran through the Brooklyn Battery Tunnel toward the danger.
The mission of the Stephen Siller Tunnel to Towers Foundation is to honor the sacrifices of first responders and military heroes. In New York City, 343 firefighters were among the 3,000 whose lives were lost to the terrorist attacks in New York, Pennsylvania and Washington, D.C.
A record-breaking 529 runners rose with the sun Saturday to honor their memory, the largest turnout thus far, according to Gina Kempf, race organizer.
Bagpiper Dennis McCarthy set a tone of somber reflection before Dustin Hawkins, Indian River County Fire Rescue chaplain, gave his moving invocation.
Firefighters from around the state joined a team of nearly 70 IRC firefighters, running alongside members of local law enforcement, veterans and the community. Many of the race participants donned full gear as they ran to honor Siller and other fallen comrades.
The sidewalk at the north end of Riverside Park was lined with images of the more than 400 first responders who lost their lives on 9/11, taking the 1-mile Memorial Walk participants on an impactful journey as the fallen became faces rather than numbers.
"Vero Beach has not forgotten. I'm so proud to be a part of this community and this event," said Kempf, who will run in the New York City Tunnel to Towers 5K later this month, carrying the same flag Vero Beach runners conveyed during Saturday's event.
"You think back to that day and where you were and what happened; how many people stood in line to give blood in the days after and how many fire departments from around the world sent people to Ground Zero to help with the cleanup efforts and the recovery efforts. The world truly became one through that act."
Race proceeds help support the families of first responders and military personnel who have died in the line of duty. In addition to a 9/11 Never Forget Mobile Exhibit, which educates citizens about the events of that day, the Stephen Siller Foundation assists injured service members through the construction of mortgage-free smart homes. Families of first responders lost in the line of service are helped through trust accounts and mortgage payoffs.
For more information, visit tunnel2towers.org.     
Photos by: Denise Ritchie
Click HERE to see more or buy photos