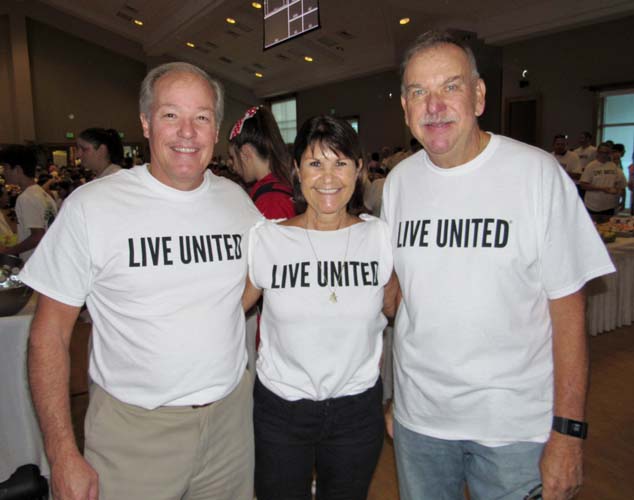 More than 1,300 volunteers took the message of the United Way of Indian River County to heart Saturday, joining together to Live United at the annual Day of Caring. Fully half that number gathered early in the morning at the First Presbyterian Church for a rousing kickoff.
Participants were fortified by a bountiful breakfast spread donated by McDonald's, before individuals and teams, children and adults spread out across the county to help spruce up the homes of fellow residents in need, churches, schools and nonprofit facilities.
"We have more than 75 projects, including the schools," said Tracey Segal, UWIRC Campaign director.  She said that 13 elementary schools and all middle and high schools had students participating, including many helping to assemble 1,000 homeless care kits.
"We had people calling yesterday to register another 50," said Katie Kirk, Day of Caring chair, who with co-chair Michelle Dion led an industrious committee. "So I'm excited; maybe we'll get to 2,000 next year."
"Make sure you take lots of pictures and then share them on social media. We want to celebrate Day of Caring with our community," encouraged Michael Kint, UWIRC CEO. Relating that the 2018/19 Campaign co-chairs are Kip and Mary Jacoby, and Randy and Marge Riley, he added, "this is not an honorary position; this is a lot of work."
"We've all worked at United Way for a number of years to support all the wonderful things that United Way does through people like you," said Mary Jacoby. She particularly thanked Publix for consistently being the largest single contributor to United Way, and also noted the generous contributions of Torchbearers and Elite Sponsors.
"The first step in the campaign is determining what our goal is going to be," said Jacoby. "The number is very important because it represents hope, and that hope represents the help that we can afford the community."
To introduce the goal with thunderous spirit, members of the Vero Beach High School Varsity Cheerleaders took to the stage, inviting the crowd to join them in an upbeat cheer: "Y-E-L-L everybody yell, Let's Live United!"
Following several other cheers and routines, ten young ladies overturned cards indicating that this year's goal was a whopping $2,970,000.
"Hopefully, with everyone's help, we'll be able to achieve that, because please dear Lord, we really need to," said Jacoby. "It's more than just a number; it's a community. It's Indian River County and we know that with wonderful people like you, we will achieve this goal and we will Live United."
Before volunteers departed for their various assignments, members of the Vero Beach High School Fighting Indians Band galvanized the crowd with yet more spirited numbers.
Photos by: Mary Schenkel
Click HERE to see more or buy photos