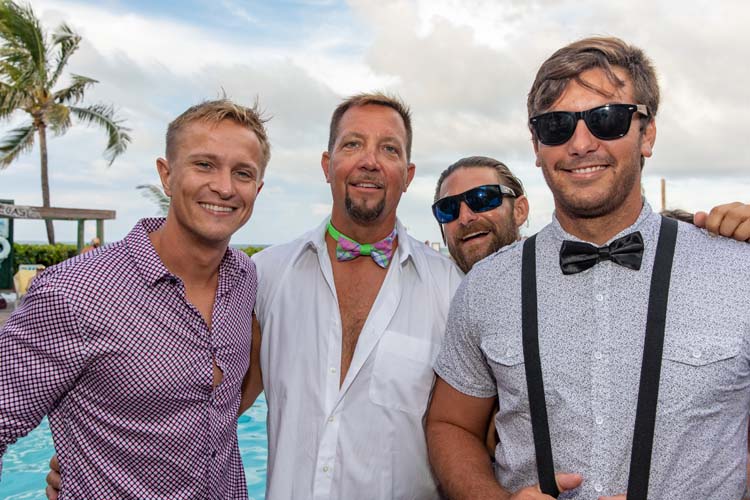 Last Sunday was wet and wild and filled with activities to support the Vero Beach Lifeguard Association. The day concluded with the fourth annual Barefoot Beach Ball at Waldo's Restaurant to help the VBLA keep the ball rolling for water safety.
Stormy weather that morning called a halt to the Race to the Wreck, a paddle and swim to the Breconshire, but the rain didn't keep supporters from playing their hands at the afternoon Poker Pub Crawl. Participants picked up their first card at Waldo's before making stops at the Wave Kitchen & Bar at Costa d'Este, Mulligan's Beach House and Grind + Grape, before returning to Waldo's to collect their final card and – if Lady Luck was on their side – prizes.
Players, joined by new partiers, then shifted gears to engage in the annual "abnormal formal" organized once again by Donna Roberts Mitchell and Sally Dillon of Idea Garden/Planet Vero, and Waldo's manager Lee Olsen.
"Our proximity to Humiston Park is very important as far as the lifeguards go," said Olsen. "Our hotel guests feel more secure because they know there's a lifeguard stand within vision range."
Souljam entertained the rowdy revelers, who were dressed in everything from full-length gowns to bow-ties and boas. Other amusements included a live mermaid, auctions and drawings, taco bar, pie-eating contest and bidding on dates with lifeguards.
At sunset, Souljam's Brandon Putzke led the crowd down to the ocean to the beat of a djembe drum for the 'Hunk Dunk Plunge,' with guests, still dressed in their finery, jumping in beside them.
"We need lifeguards; we need them on the beach. Not only is it good for tourism, but it's also good for our locals," said Mitchell. She shared that she broke her neck at age 16 after being hit by a wave at Jaycee Beach, which was then an unprotected beach.
VBLA statistics indicate that in 2017 more than 750,000 people visited the city beaches, keeping lifeguards busy with nearly 14,000 preventative actions, 350 medical assists and 19 rescues. The one fatality that year occurred in an unguarded area.
Since forming and beginning its fundraising and advocacy efforts seven years ago, the VBLA has restored 9 a.m. to 5 p.m. protection, increased the number of lifeguards on duty and added ATVs to every tower.
"This year the focus is to get the Humiston lifeguard tower built," said Erik Toomsoo, VBLA president.
Plans are underway to erect a tower reminiscent of the Bethel Creek House of Refuge – the area's first lifeguard station, built in 1876 at the location of the present-day Jaycee Park.
Toomsoo said the centrally located tower and command center would give the lifeguards a secure, sheltered location, would improve command and control during emergencies, and would expand their field of vision.
"Public safety is all about being proactive. We want to be proactive, as we keep seeing more and more people on the beach. There are four miles of beach in the city and only 600 yards of guarded area," said Toomsoo.
For more information, visit VBLA.org.     
Photos by: Denise Ritchie
Click HERE to see more or buy photos