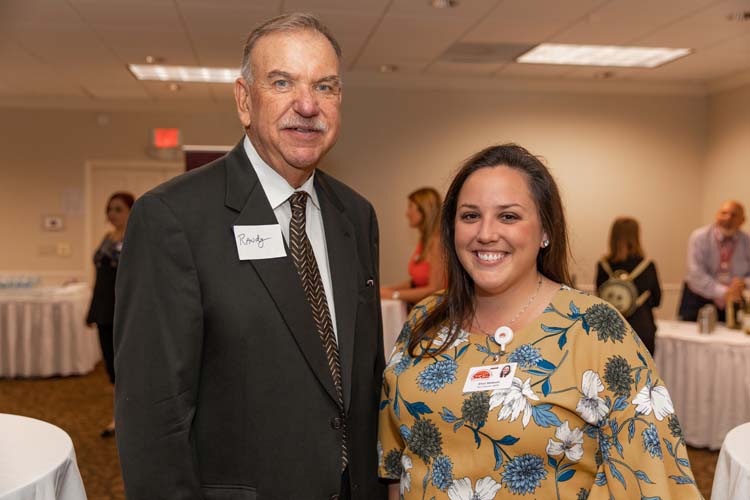 Invited guests gathered at a Cocktails and Conversations reception last Thursday afternoon at the Holiday Inn Oceanside, where Senior Resource Administration CEO Karen Deigl, a Hospital District board member, and Treasure Coast Community Health CEO Vicki Soulé gave informative presentations on the State of Healthcare in Indian River County.
"Sometimes the Hospital District is a little confusing; a lot of people don't understand who we are and how we affiliate with the Indian River Medical Center," said Deigl. As an independent special taxing district, she said they have taxing authority to support healthcare services for local residents.
Presenting some "fun factoids," Deigl said that the area's first hospital in 1932 had room rates of $4.50 and $5 per day. Over its first seven years, the average yearly number of patients was 1,986 and monthly operating expenses were $934.
After a new hospital was opened near the current County Administration complex, the Hospital District was created in 1959; its seven elected officials managed the hospital's operations. When Trustees opted to lease the facilities to then-Indian River Memorial Hospital in 1985, a hospital board began overseeing a management team that runs its operation.
District trustees continue to represent taxpayers as owners of the land and the facilities, leasing them to Indian River Medical Center. The Indian River Medical Center Foundation raises philanthropic dollars to provide funding for capital buildouts.
"We have a very broad spectrum of things that we actually can do as a taxing district," said Deigl. Their overall mission is to improve the health of the community, including through partnerships with healthcare providers such as TCCH.
When a 2016 Strategic Study indicated that IRMC could no longer fiscally sustain operations as a stand-alone hospital, the district, hospital and foundation boards established a partnership collaborative committee, which eventually chose to enter negotiations with Cleveland Clinic. Final documents will be disseminated to boards and the public on Sept. 27 at the IRSC Richardson Center, before final decisions are made by individual boards on Oct. 3.
"We are not selling the hospital; if this goes through, it is a leased situation," said Deigl. "We still will be a taxing district. We still want to continue to provide funding for programs like Treasure Coast Community Health. We want to provide services for everyone in our community, because it is still a community hospital. And that's the important thing."
Soulé spoke of the growth of TCCH, from its founding as a Fellsmere clinic 25 years ago to its status as a Federally Qualified Community Health Center with six care facilities, which in 2017 served 19,540 residents.
Its wide-ranging services include primary care, women's health, dental care, psychiatry, behavioral health, counseling, pediatrics, pediatric dentistry, pediatric psychiatry, on-site discount pharmacies, on-site labs, EKG, X-ray services and health navigation. Services are provided to individuals with and without insurance, with payments on a sliding scale based on an ability to pay. Thanks to federal funding, a unique benefit is that Medicare deductibles are always waived.
"I'm so pleased that we're able to help people," said Soulé. "All of the things we do, we do with clinical evidence. We know we live in paradise and we want our healthcare to be the best we can offer."
She said TCCH was recently presented with the Quality Leader Award from the U.S. Health Resources & Services Administration, placing them nationally in the top 30 percent of Community Health Centers.
"So I would encourage you to talk to your friends and neighbors to let them know of these benefits," said Soulé, adding that, with community support, they hope to continue to grow.
Photos by: Denise Ritchie
Click HERE to see more or buy photos