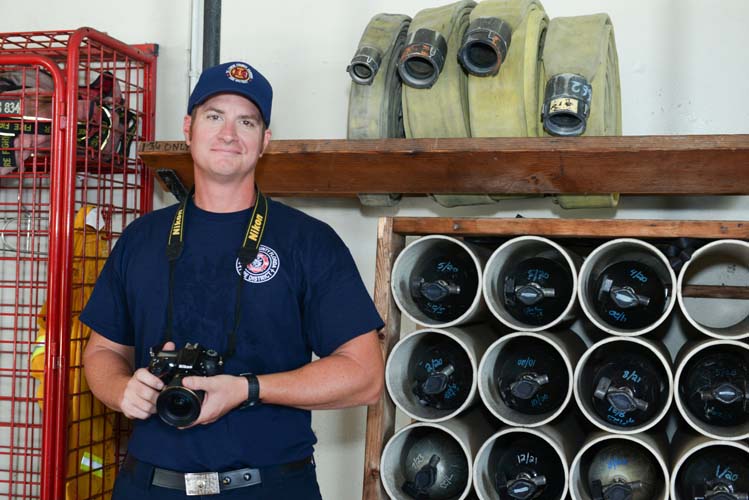 The slow month of September is usually when staff at the A.E. Backus Museum and Gallery in Fort Pierce closes to the public to rehang the permanent collection and attend to the myriad details concerning the upcoming season, which begins in October with its "Best of the Best" competitive exhibition.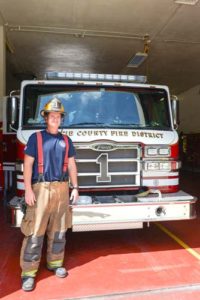 This year is different. Director J. Marshall Adams is reopening in mid-September for a pre-season exhibition of fine art photography by Rusty Wiles, a native of Fort Pierce who also happens to be a firefighter and paramedic with the St. Lucie County Fire District's Central Station in Fort Pierce.
Wiles' photographic imagery features close-up details of Florida's coastal architecture, rendered in intense color against flawless blue skies. With works like these, "First Response: The Photographs of Rusty Wiles" promises to be a four-alarm show.
An imaginative sense for color and composition comes naturally to Wiles, for whom a brief foray into abstraction in a high school art class was second nature. Still is.
"I've always seen in lines and angles and planes, so when I got into photographic minimalism – which I didn't even know was a thing – it all made sense. It's like, this is everything I've always seen."
An artist needs a public setting in which to show his work; for him, that venue is Instagram. Wiles uploaded his first photos there during Instagram's infancy in 2013 and now has an audience of 49,000 people following his work.
In addition to sharing images in friendly rivalry with other photographers on Instagram, art dealers have come a-calling via the digital medium. Wiles has been working with a company called Social Media Art Gallery, whose director has included his Instagram photos in group shows in Hamburg, Germany (where the company is based), and Johannesburg, South Africa. For both exhibitions his images were made into prints for real-time viewing; from the latter, two of Wiles' prints were sold.
Wiles did not see those shows in person and has never seen his images made into prints, until now.
"I feel honored to have my first solo show here at the Backus Museum in my hometown," says Wiles, confiding that he and wife, Melanie – known by many as the director of St. Lucie County's Boys and Girls Club – held their wedding reception at the museum some 10 years ago.
"First Response" will open in the museum's south gallery on Sept. 14-15. Also on those days, the unrelated Firefighter Combat Challenge will be held in the city parking lot adjoining the museum. Sponsored by 3M Scott, a major manufacturer of firefighters' respiratory equipment, the Combat Challenge will showcase the strength and endurance skills of firefighting teams from all over the U.S.
Wiles anticipates bouncing back and forth between the events on those days. Outside, he will be in the Combat Challenge audience, cheering for his buddies on the St. Lucie County Fire District team; inside, he will play host to the museum audience for his photographs.
Wiles' show in the Backus Museum will continue on Sunday, Sept. 15, and be open again on the following two weekends. Sunday, Sept. 30 is the show's final day.
Director Adams sounds exultant about this opportunity to show Wiles' work.
"It feels like Rusty's on the edge of something big," he says.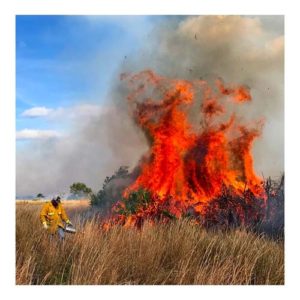 Adams explains that when he first met Wiles and saw his images last spring, he immediately wanted to exhibit them at the museum. There was one sticking point.
"I already had the next year's schedule blocked out and couldn't fit another feature show in."
When a city official alerted the museum that the Firefighters Combat Challenge would use the adjoining parking lot in mid-September, Adams did not envision an inconvenience. He saw a timely tie-in for a firefighting photographer's fine art show.
Five years ago, Wiles was a firefighter in Brevard County when he began to take pictures in his off-duty hours.
"I was up on Merritt Island, Cocoa Beach area – right there on the water. My shift change was at 7 a.m. When I would get off of work, a lot of times I would drive right over to the beach where it was all bright colors and shadows."
He was especially attracted to the Ron Jon Surf Shop, a neo-deco, baby-blue behemoth with yellow trim.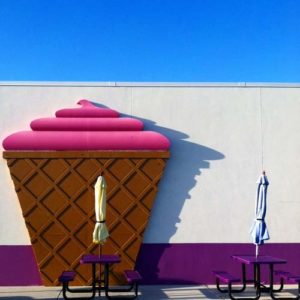 Wiles took all his photos with his cellphone, using it exclusively for about three years before he got his "real" camera, a Canon digital SLR.
People were his first subject matter.
Sometimes he would sit in his truck, waiting for someone to walk in front of a colorful wall or window, to inject some life into an otherwise rigidly architectural scene.
"There had to be some sort of composition in the background, and maybe somebody wearing a big hat or whatever," he says, adding that the cellphone made it easy to photograph people without spooking them, or feeling bashful himself, about taking candid pictures. He complains that his Canon camera is too big and obvious for comfort.
"People look at you weird when you are taking pictures. 'What is this guy doing?'" he asks in mock horror.
His "real" camera, however, is absolutely necessary now that Wiles wants to have his images enlarged to gallery-size prints. To help him learn the technology behind digital printmaking, Adams directed Wiles to Paul and Emily Kubica, the owner-managers of Laserchrome Technologies in Melbourne. Their company, which specializes in Cibachrome printing, is doing all the prints for Wiles' show. Some of his prints are on thin metal substrates with a reflective coating that will make the images glow as though on a computer screen writ large, but without electricity.
Wiles marvels that "before meeting Paul and Emily, I was just using the Instagram setting on my phone. I would add a little contrast, saturation, maybe brightness, maybe sharpen it, and that was it; I would put it out on Instagram."
Now he's shooting large, five-megabyte images on his Canon, and able to enlarge the image without losing detail. "Like, man, I can make this thing the size of a wall now!" he says.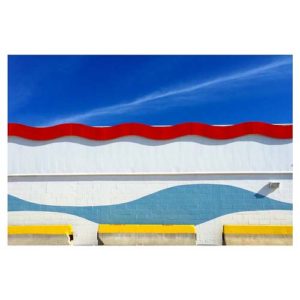 While he is understandably nervous about the reception for his work from his hometown fans, Wiles is excited about the doors his photography has opened him. Remember Social Media Art Gallery, which sold his work overseas? In conjunction with that gallery, on Sept. 30 Wiles will be in New York City for a live meet and greet with some of his Instagram fans.
Does our local scene have to worry about losing Wiles to the big time? If some gallery bigwig comes up to Wiles at that event and says, 'Rusty, I can make you an art star in New York City – but you'll have to give up your career in Fort Pierce,' would he do it?
After a pause Wiles says, "I don't know. I don't think I could give up being a fireman right now. I'm fortunate. I have one of those jobs where I get up in the morning and I look forward to going to work. I enjoy my photography, too. I'm very blessed."